To learn more about available works, please provide your contact information
Sébastien Gouju
Tout finit par se voir (Everything Ends Up Being Seen)
May 21 - August 28, 2022
Le Carré, Château-Gontier (FR)
Curator: Bertrand Godot
Sébastien Goujou delights in manipulating the naturalistically inspired forms present in popular culture. To be more precise, he playfully confronts the decorative representations of nature in the domestic environment. Minerals, flora and fauna are regularly called upon in his works for their ability to "create a decor".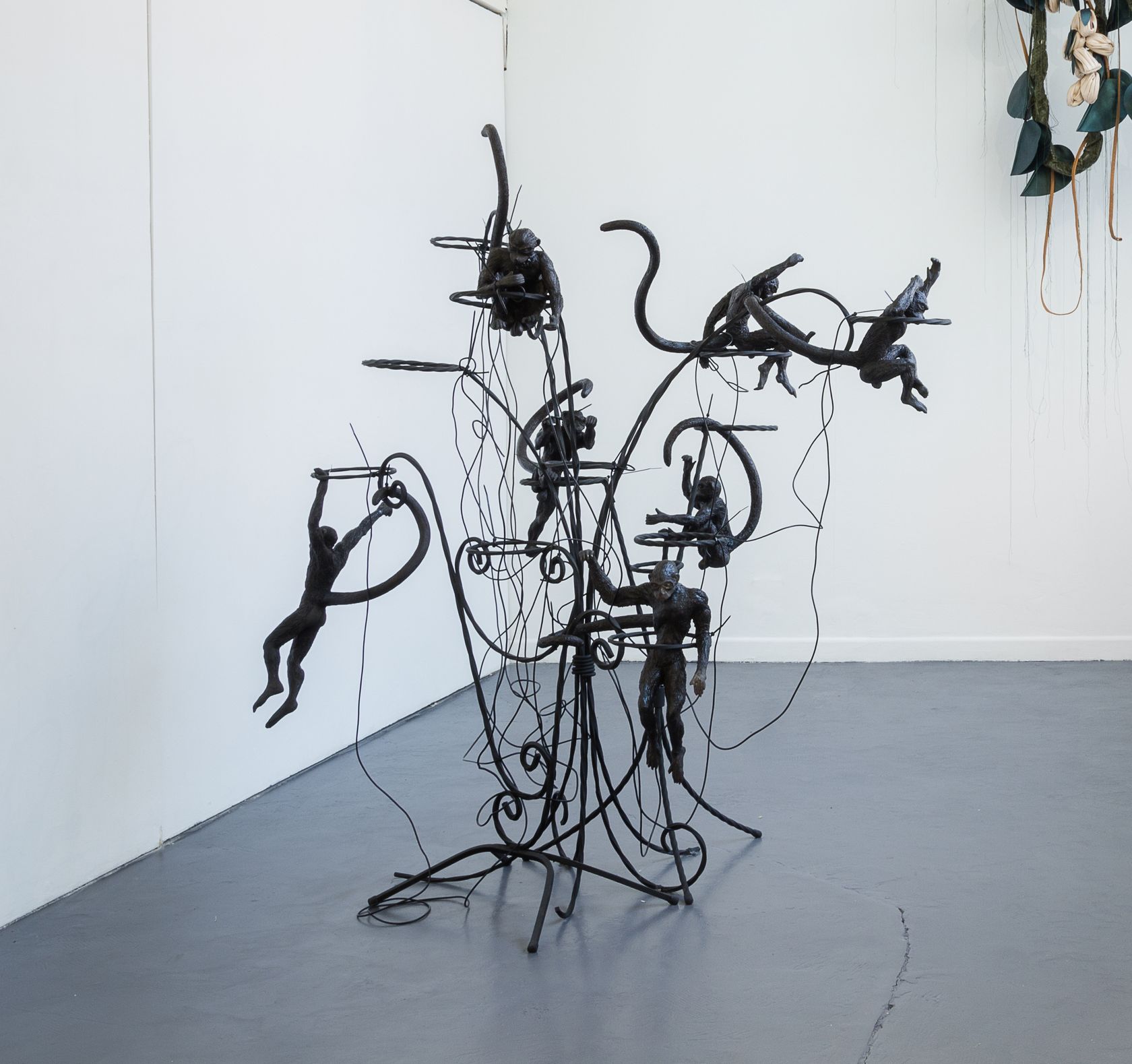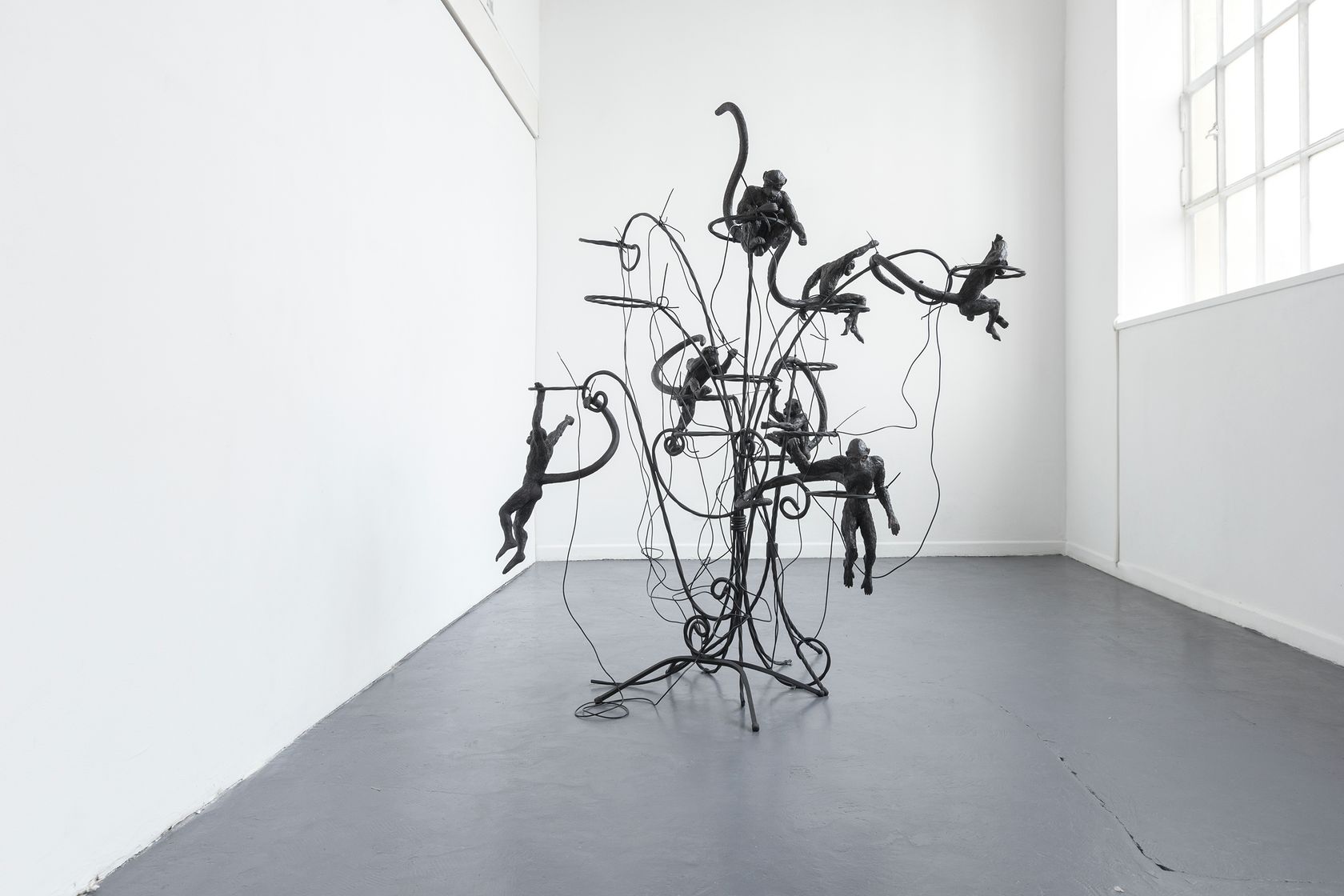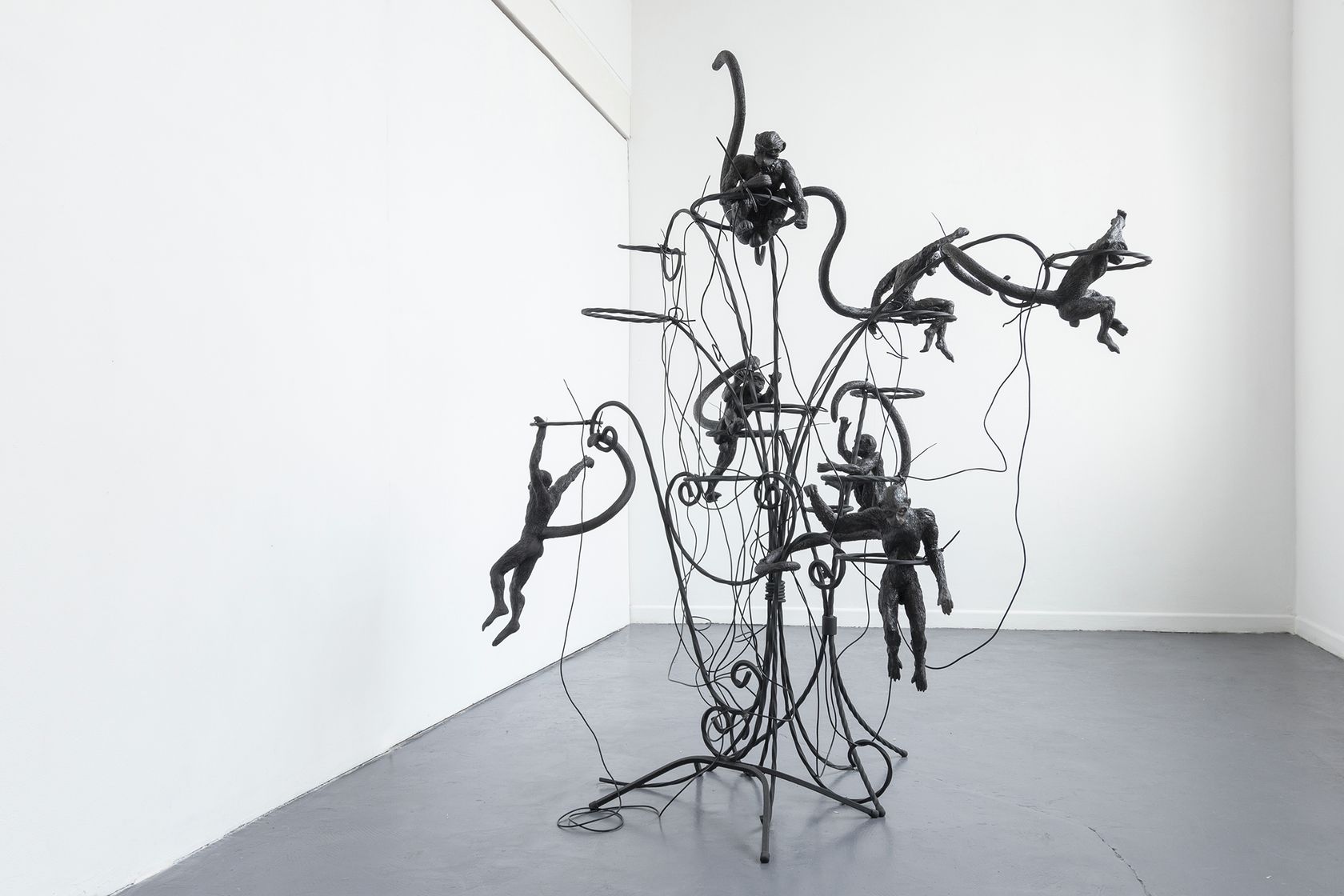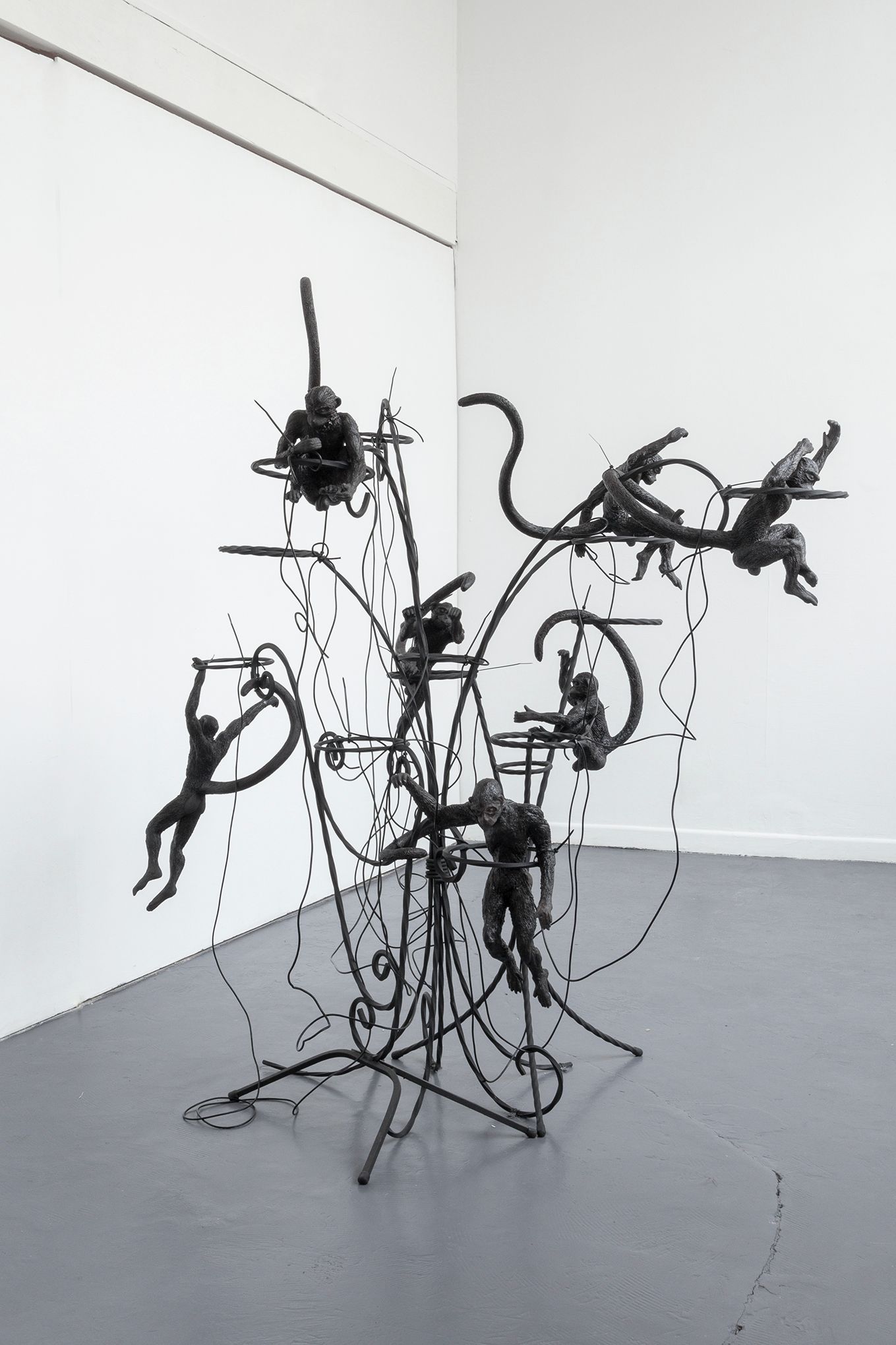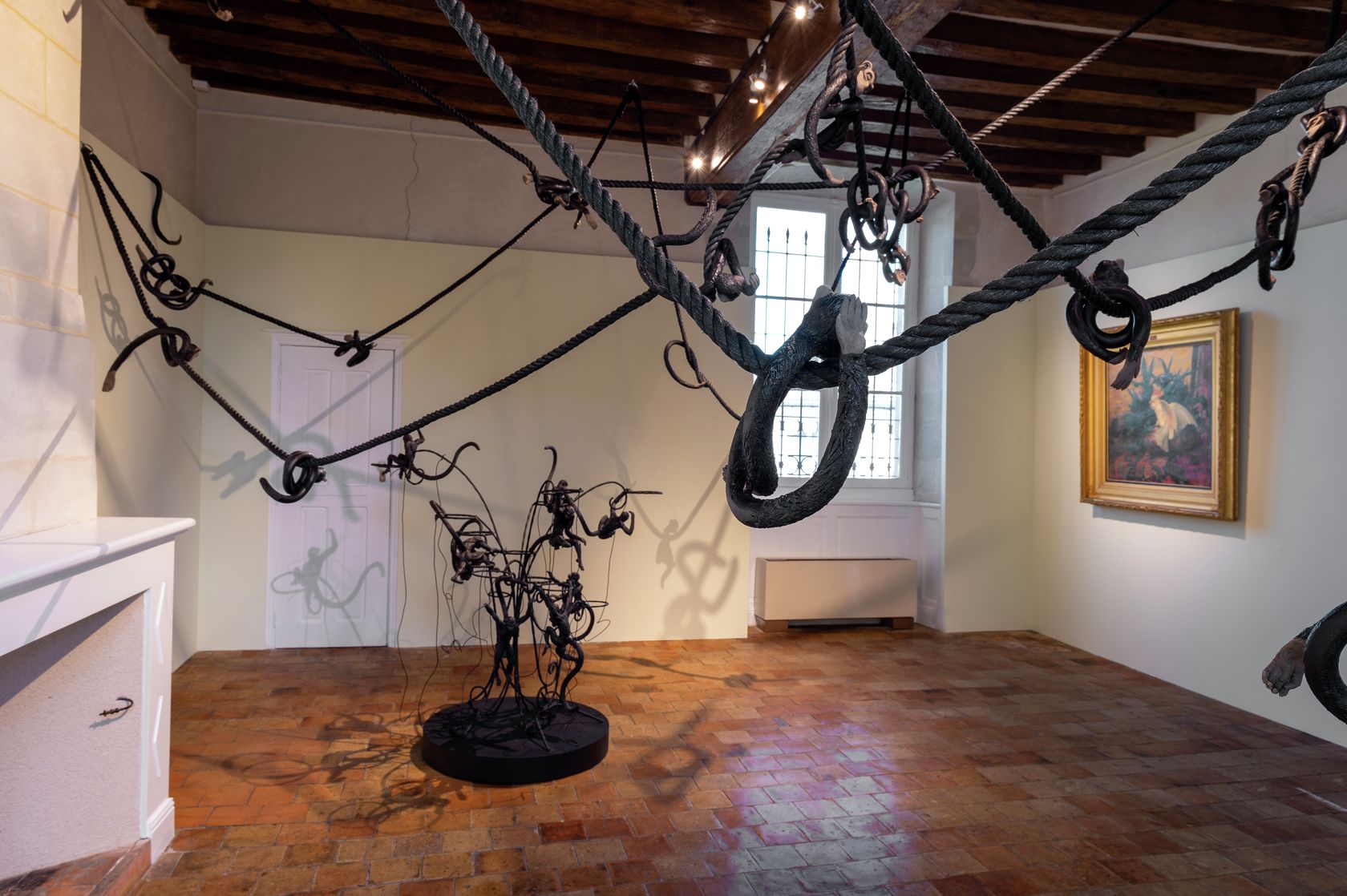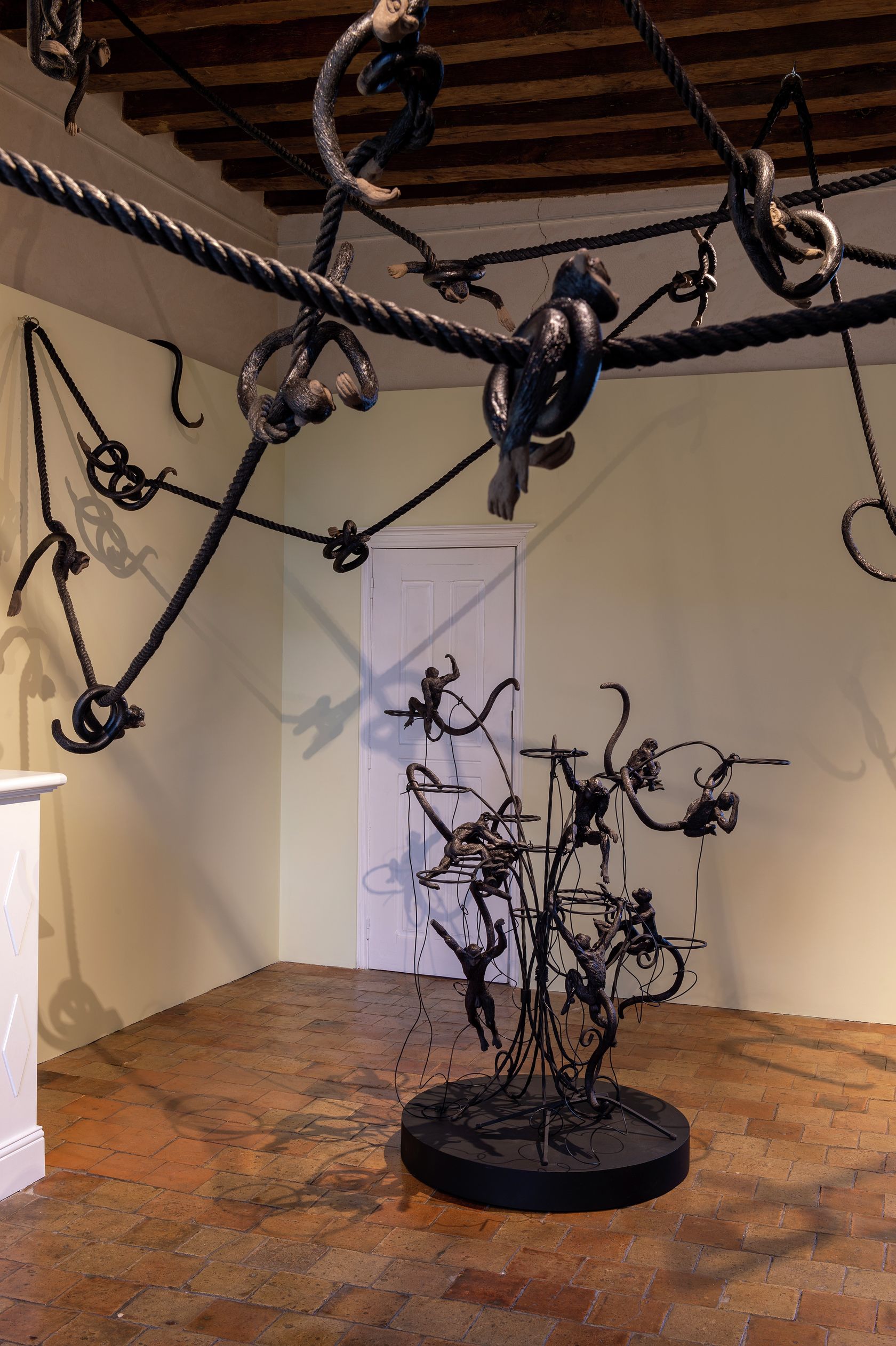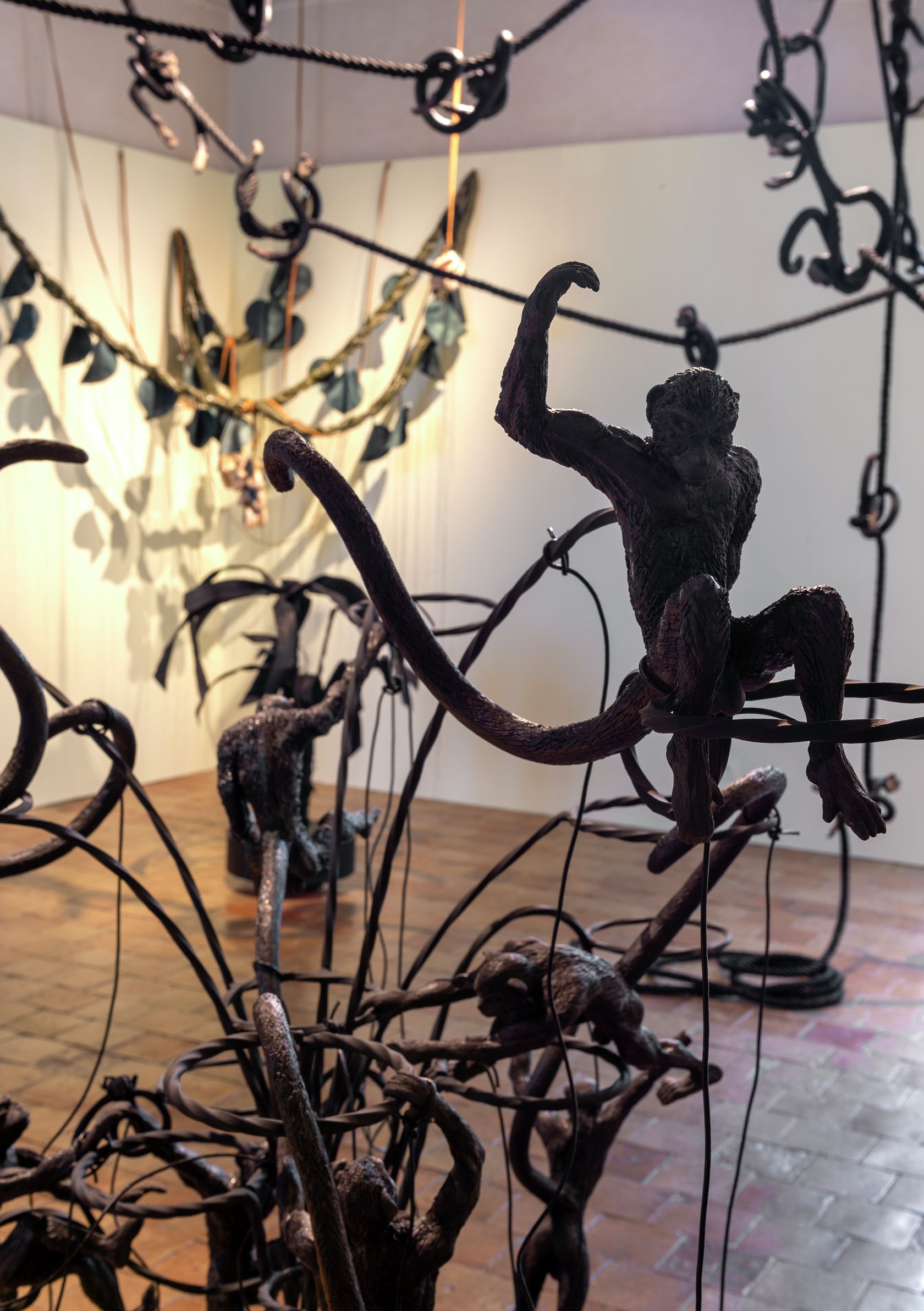 Sébastien Gouju
L'écueil des cimes , 2022
Glazed stoneware and wrought iron

/

59

×

31 1/2

×

31 1/2

×

inches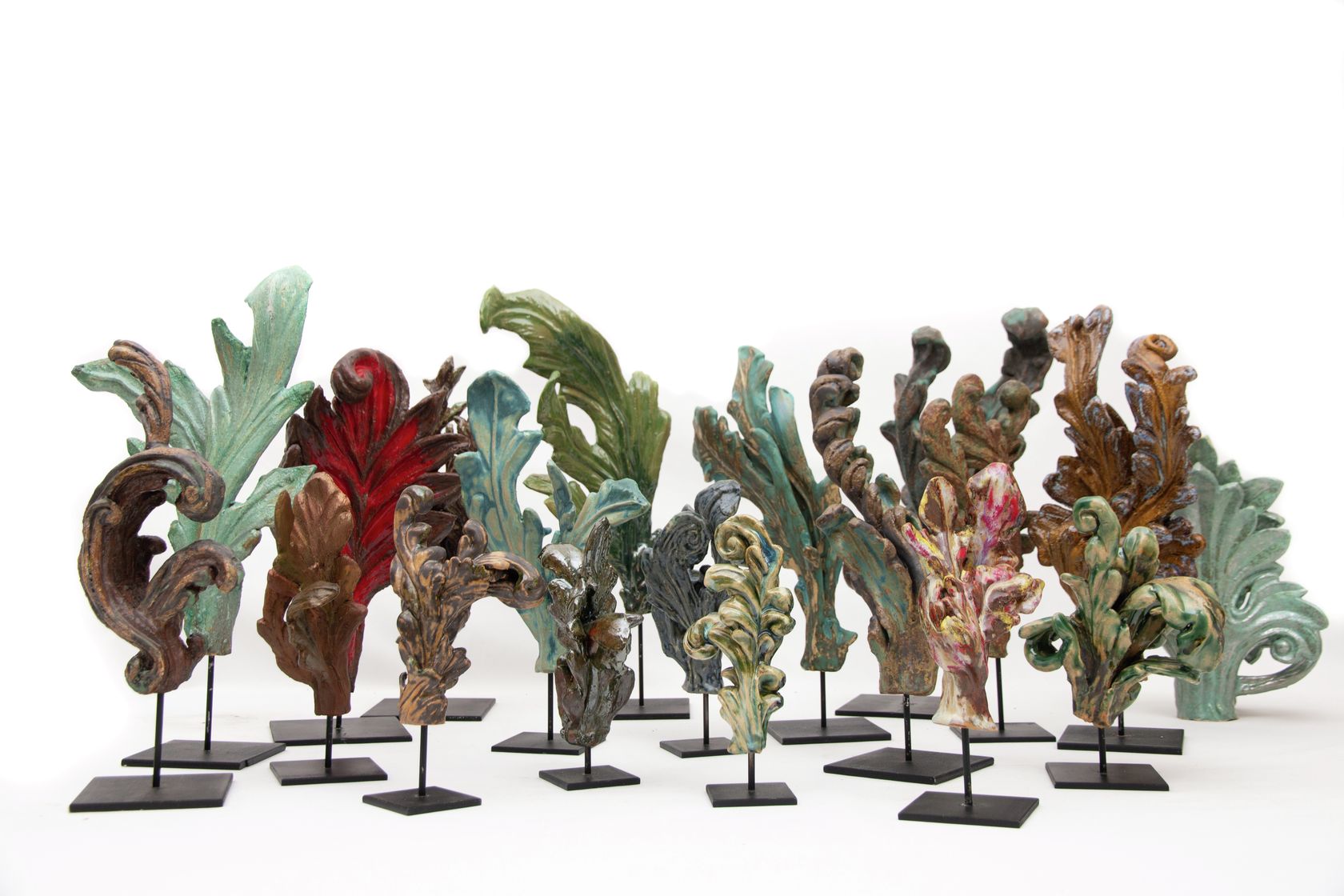 Sébastien Gouju
Verdures , 2019
Glazed stoneware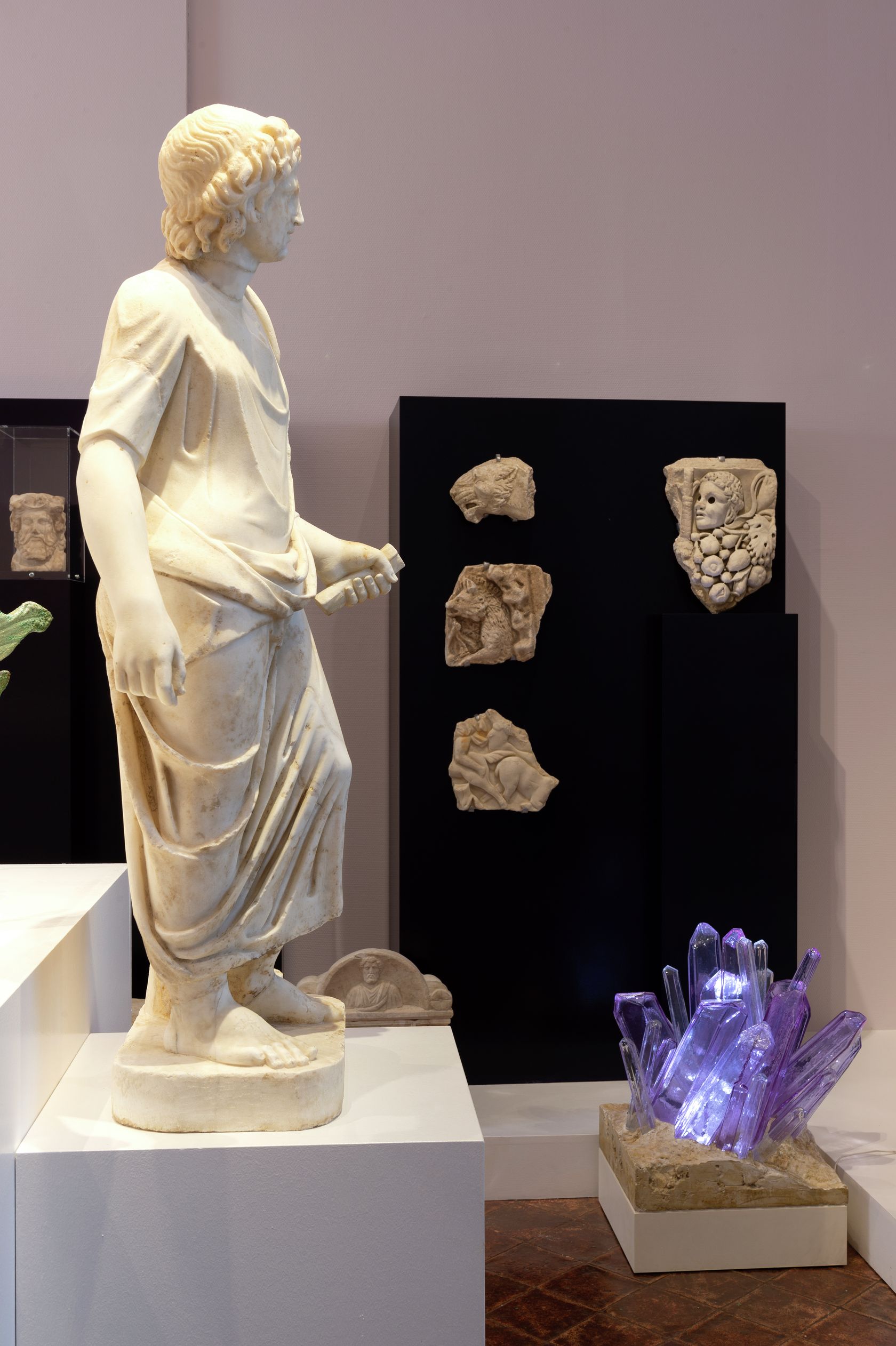 For his exhibition at the Musée d'Art et d'Histoire in Chateau Gontier, the artist, in his desire to overturn socio-cultural hierarchies, continues in his creation of works that dramatize to the point of absurdity the domesticity and servitude of living things. From a carnival performer to a caged animal, through his use of ornamental aestheticization, the artist does his utmost to humorously underline the all-too-human practice of creating decorative menageries within the domestic setting.
Through these observations on our habitat and its decorum, where animality and nature are bent to man's liking, Sébastien Goujou tries to abolish the illegitimate frontiers between culture and nature through the use of amplification. By intermingling the sinister figure of the performer and rustic animality with the gentility of the bourgeois environment, the artist creates works that are growing more and more wild, particularly in comparison with certain modernist utopias.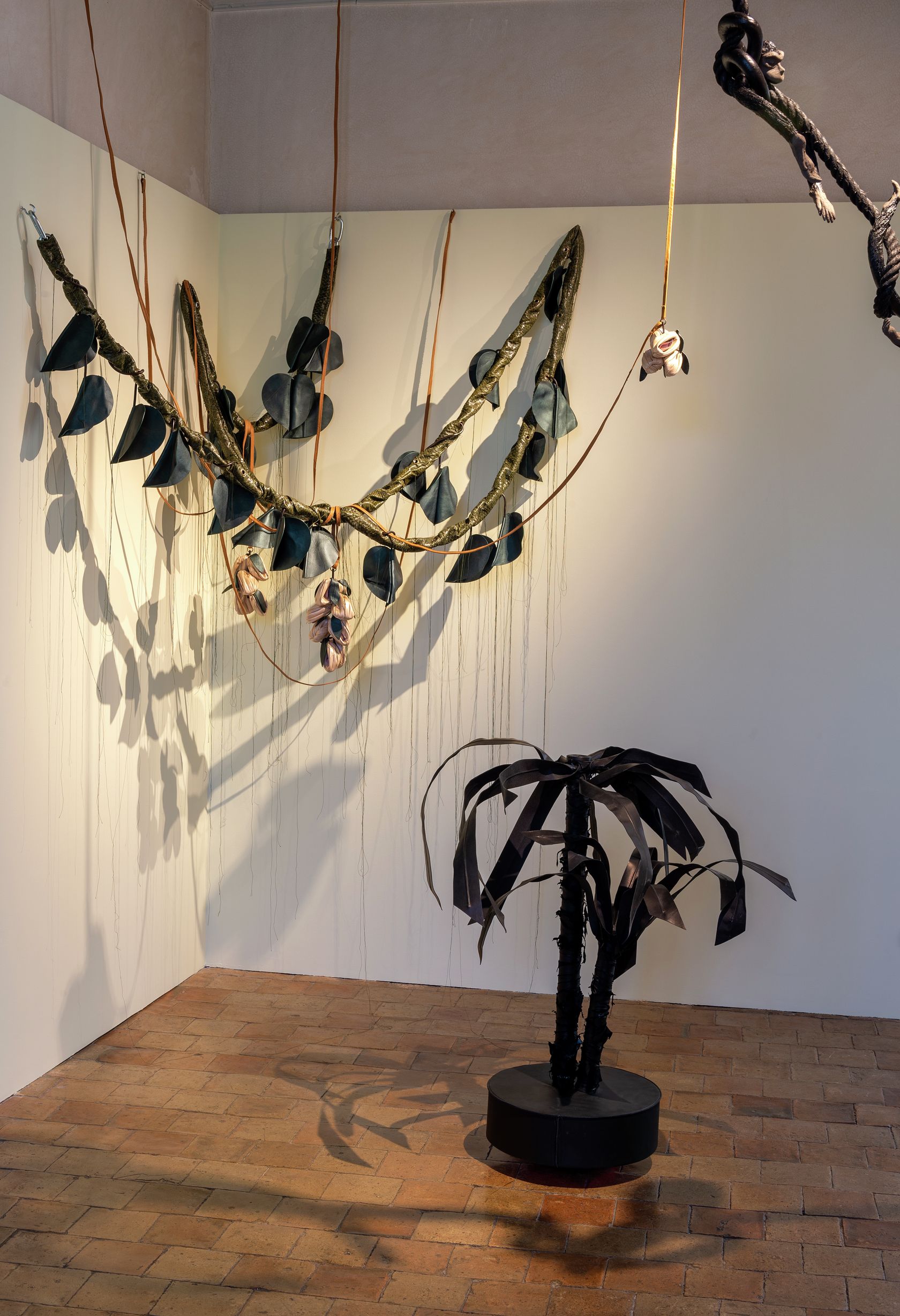 Sébastien Gouju manipulates elements of popular culture, misappropriating objects as familiar as the wine pitcher, the potted palm or decorative ceramic objects, clichés from the domestic world that we readily describe as kitsch. Using techniques derived from handicrafts such as earthenware glazing, embroidery, lace making and metal or leatherwork, the artist explores a world of incongruous hybrids and collisions of meaning and form. Once reconfigured, these elements take on the form of images that offer up narratives, sometimes lighthearted and occasionally frightening, situated at the crossroads of everyday life and the fabulous. Sébastien Gouju casts an amused and subversive eye over the world of decorative arts and dynamites the aesthetic qualities of everyday life and the decors that modern man has created for himself.
Sébastien Gouju's works have recently been included in exhibitions at Abbaye Royale de Fontevraud, Fontevraud (FR), Le Cylop, Milly-la-Forêt (FR), La Galerie – Centre d'art contemporain, Noisy-le-Sec (FR), Fondation Villa Datris, Isle-sur-la-Sorgue (FR), FRAC Nouvelle-Aquitaine MÉCA, Bordeaux (FR), FRAC–Artothèque Limousin, Limoges (FR) and Abbaye Saint André, Centre d'Art Contemporain, Meymac (FR). In 2018, Sébastien Gouju was part of the Artist Residency program of the Hermès Corporate Foundation. His works is held in the collections of the FRAC Alsace, Sélestat (FR), FRAC Champagne-Ardenne, Reims (FR), Centre national des arts plastiques (CNAP), Paris (FR), Collection HBK Saar, Sarrebrück (DE), Collection of the City of Diddeleng (LU), Musée de l'image, Épinal (FR), Colas Fondation, Paris (FR) and the artothèques (art lending centers) of Pessac, Caen, Auxerre and Strasbourg (FR).