To learn more about available works, please provide your contact information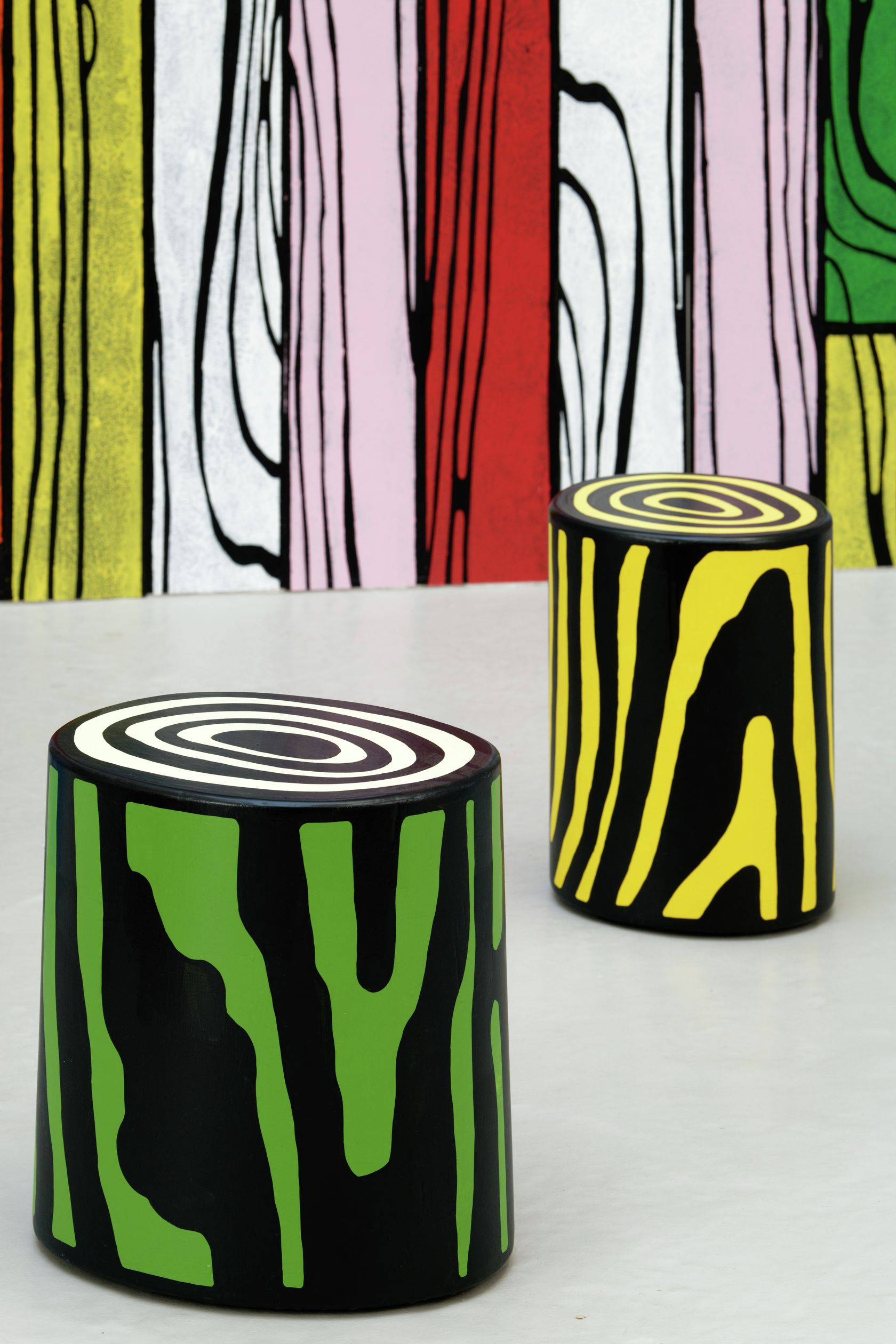 For his first solo exhibition at Semiose, Richard Woods has come up with an evidently fake décor that represents an idealized version of nature, made up of sculptures that, like tree stumps in a forest, provide a place to sit and reflect… Taken as a whole, this installation evokes impressions of timelessness, of a kind of shelter or protection, all of which add to the underlying tautology of the subject. For example, Richard Woods insists that the veined patterns of wood used for his planks and stumps should be… wooden. He thus encourages a conversation between the machined materials that cover the walls and the rounded stumps that sit on the floor, creating a simple demonstration of the idea of cause and effect. This conceptual aspect is complimented by a reference to the Arts & Crafts movement that was born shortly after the industrial revolution in Britain, and which reflected a certain anxiety concerning progress and a desire for a return to more poetic times, as well as being a project whose aim was to make beauty accessible to as many people as possible. The artist more readily cites William Morris—himself a devotee of the forest—than any of his contemporaries. It is also essential to him to be able to produce all his pieces in his studio.
This relationship with the actual making of things is underlined by his personal backstory, and his experiments with various mediums and scale are related to his own physical experience—during his studies and at the beginning of his career, he worked on construction sites. "When I started out, I was perhaps a little isolated in my thinking," the artist continues, "but today, there's a massive return towards manual work, while at the same time, digital technology is becoming more and more advanced. We find ourselves in the middle of a marriage of high and low technologies and practices, combined with a more laid-back aspect of being able to present works, which for some, might even seem utilitarian…"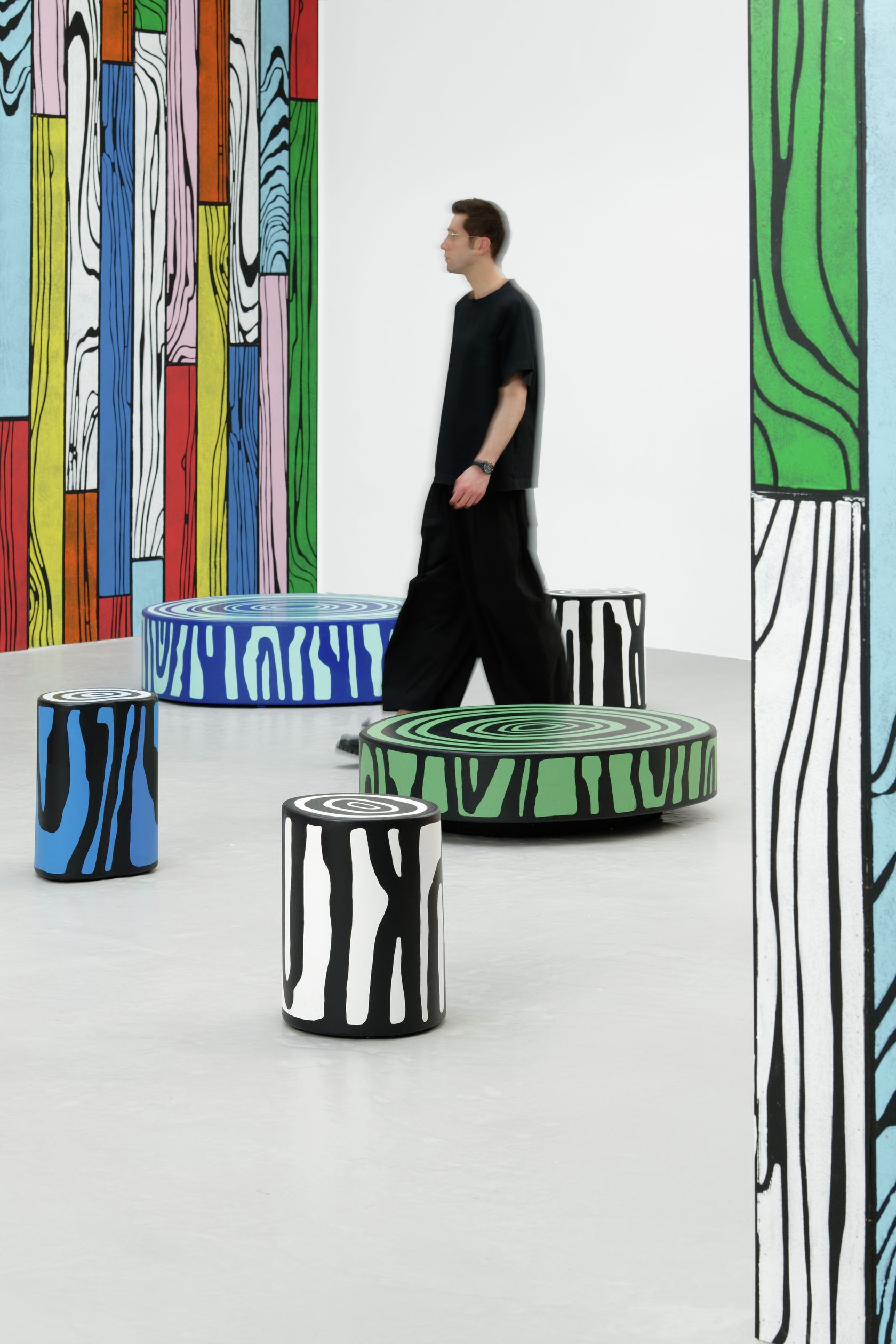 The British artist Richard Woods first came into the public eye through his architectural installations in a cartoonish mock Tudor style, saturated with patterns and motifs. His sculptures, architectural make-overs and fully-realized décors, re-interpret wall paper designs and wooden flooring in a pop romantic style. With his palette of vibrant colors, he radically transforms the spaces he invests into new realities, poking fun at the cult of home improvement and DIY aesthetics.

Richard Woods was born in Chester, England, in 1966 and graduated from the Slade School of Fine Art, London in 1990, where he trained as a sculptor. Woods completed a major architectural commission for the 2018 Winter Olympic Games in Pyeongchang (South Korea), designed an interior for the Comme des Garçons' flagship store in Osaka (Japan), orchestrated the mock Tudor overhaul of a private residence in New York and transformed the interior of Cary Grant's former Hollywood residence for its new owner, Jeffrey Deitch. Recent exhibitions and projects include Southwark Cathedral (2022), Sculpture Milwaukee (2019), Frieze Sculpture, London (2018, 2013), Chelsea Space, London (2017), Folkestone Triennial (2017), Eastside Projects, Birmingham (2016), Festival of Love, Southbank Centre, London (2015), Chapter Arts Centre, Cardiff (2015), Albion Barn, Oxford (2015), Bloomberg Space, London (2012) and Victoria and Albert Museum, London (2009). His works are held in major collections including the Saatchi Collection, London; Arts Council England, London; Victoria and Albert Museum; London; British Museum, London and the Museum of Modern Art, New York.