To learn more about available works, please provide your contact information
Moffat Takadiwa is known for his organically structured works, made up of objects salvaged from one of Zimbabwe's largest landfills, situated on the outskirts of Harare. Appropriating everyday consumer products and breathing new life into them, the artist denounces the prevailing dynamics of economic and political power. Situated between denunciation and sublimation, his works echo the remnants of colonial domination, the debris of an ultra-globalized world and the ecological challenges of overconsumption.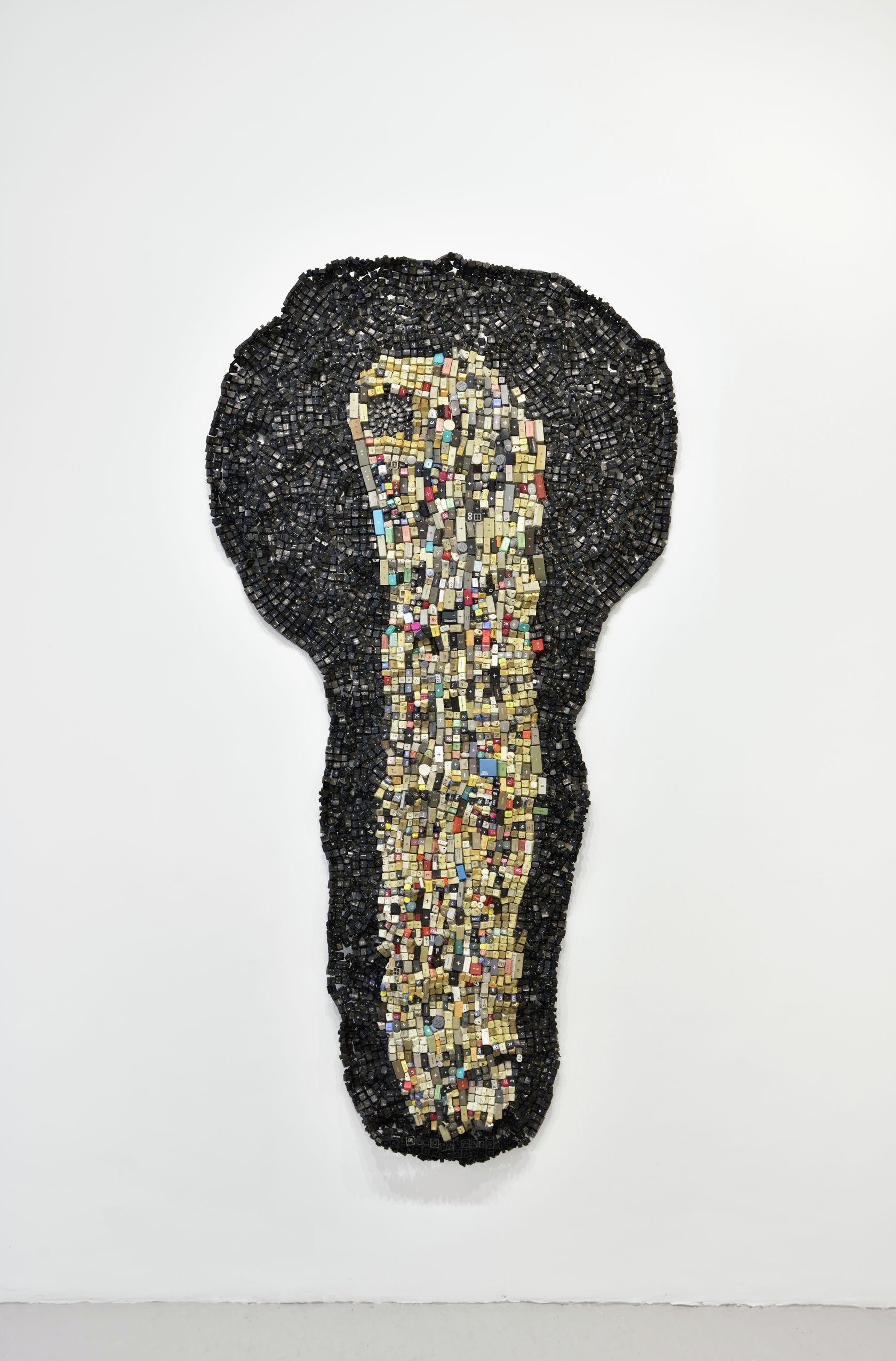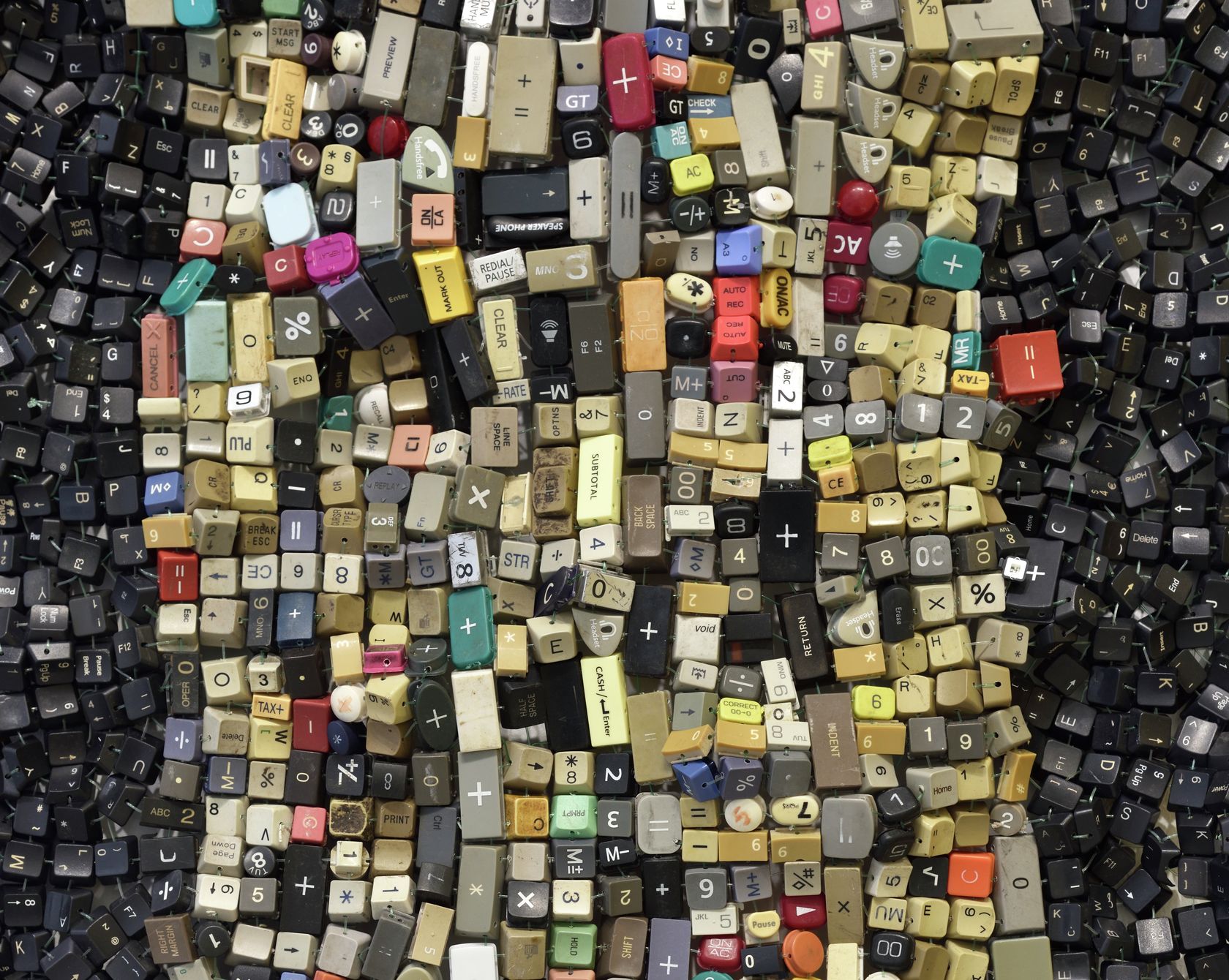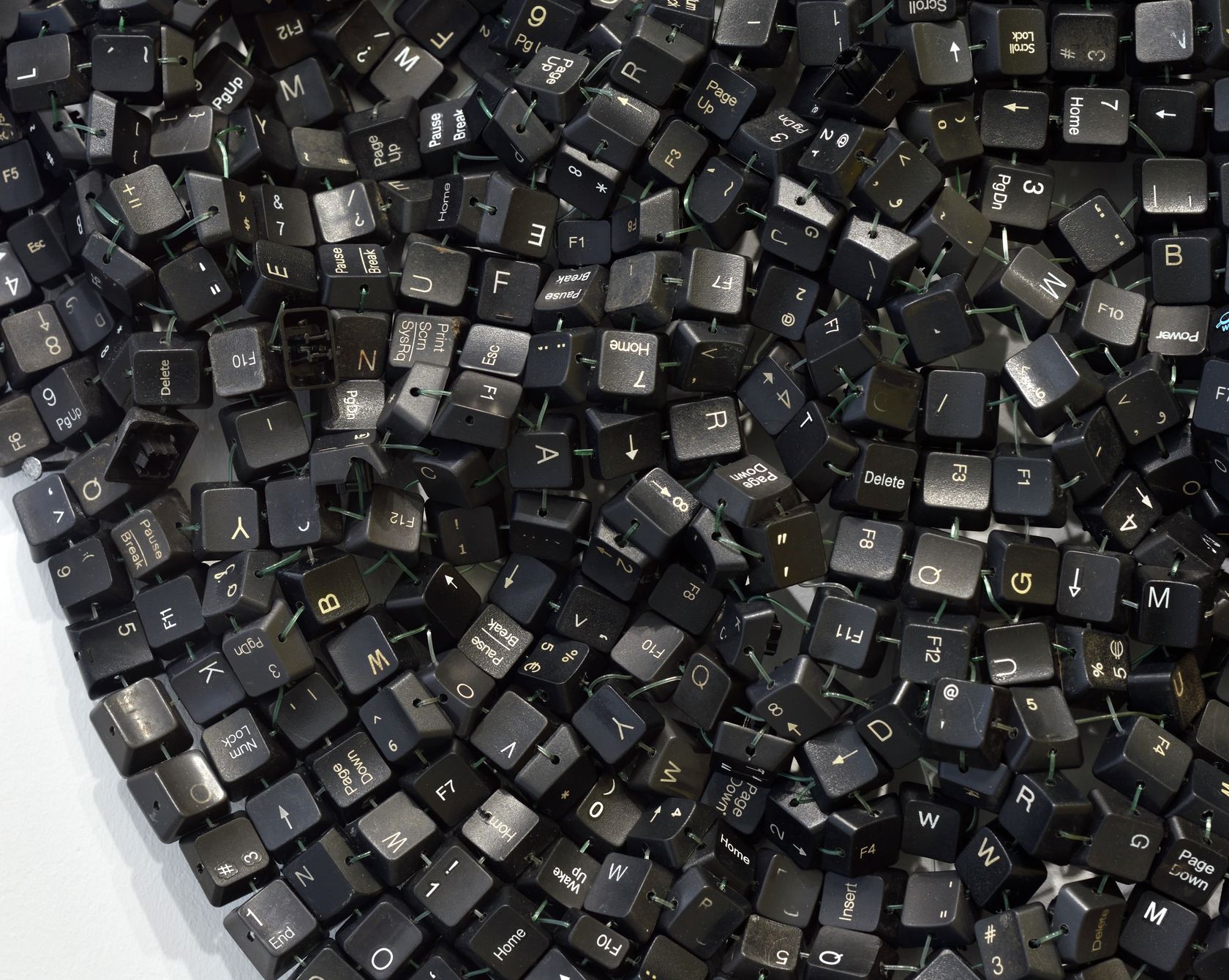 Moffat Takadiwa
Mbinga / rich man , 2023
Plastic computer, phone and calculator keyboard keys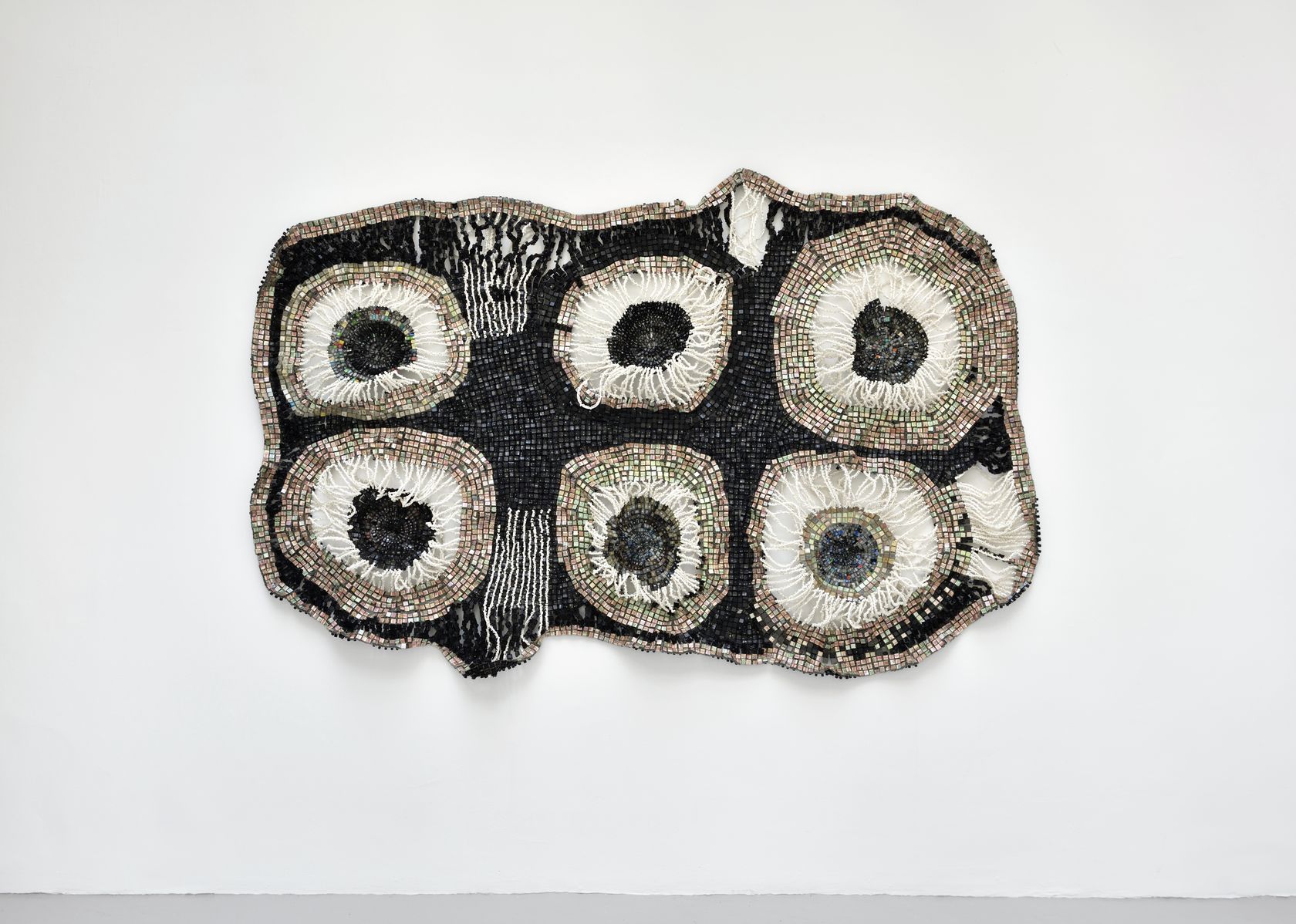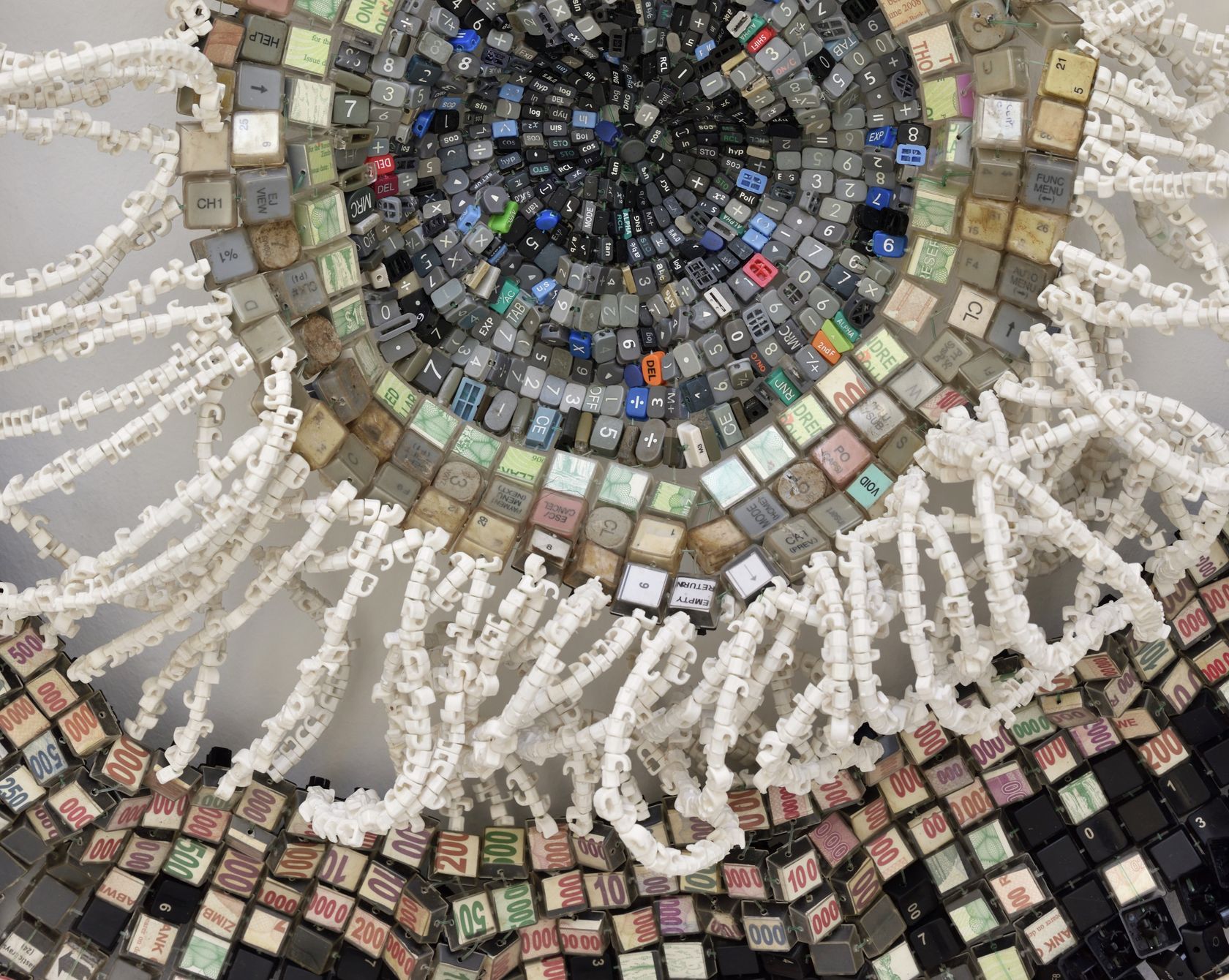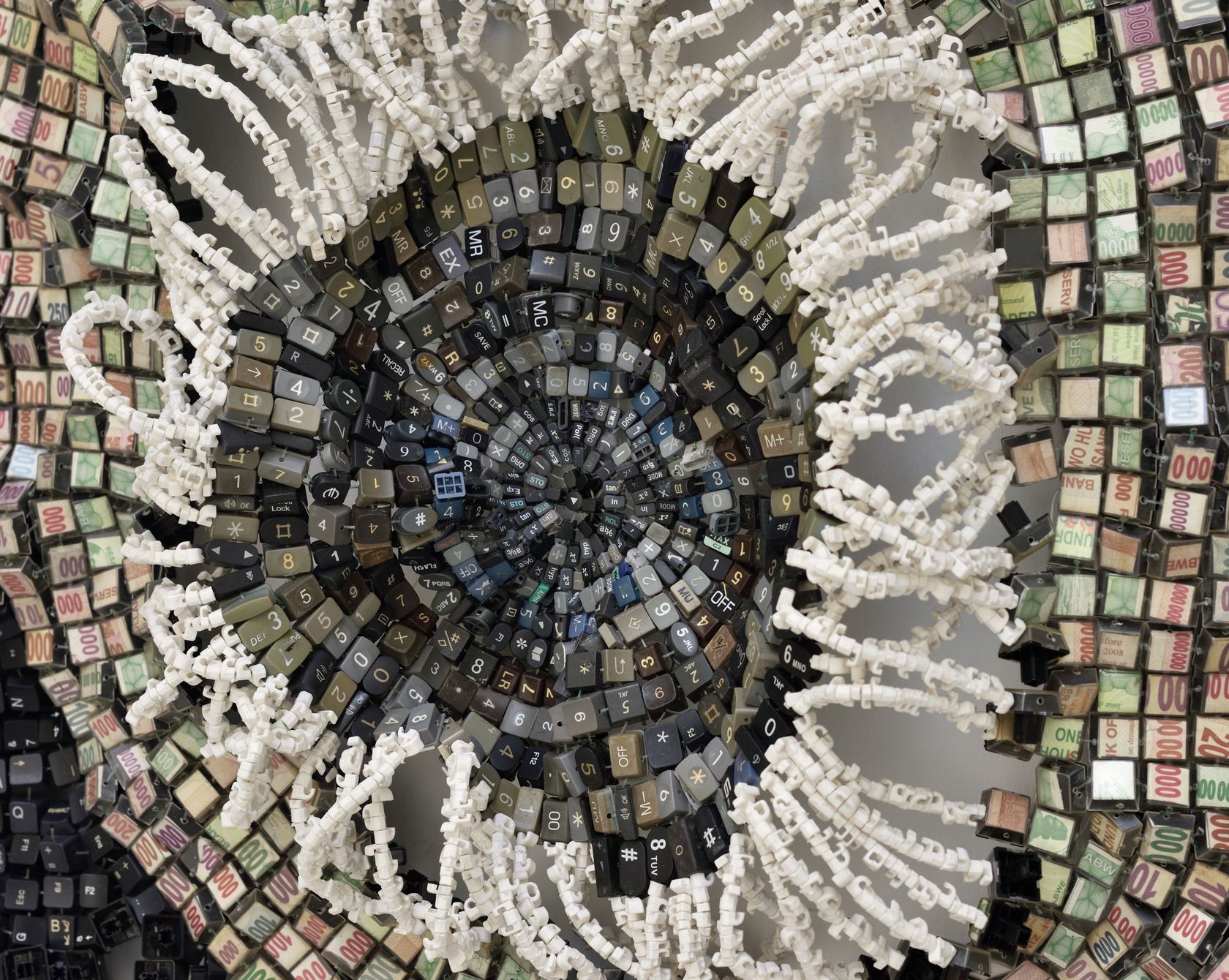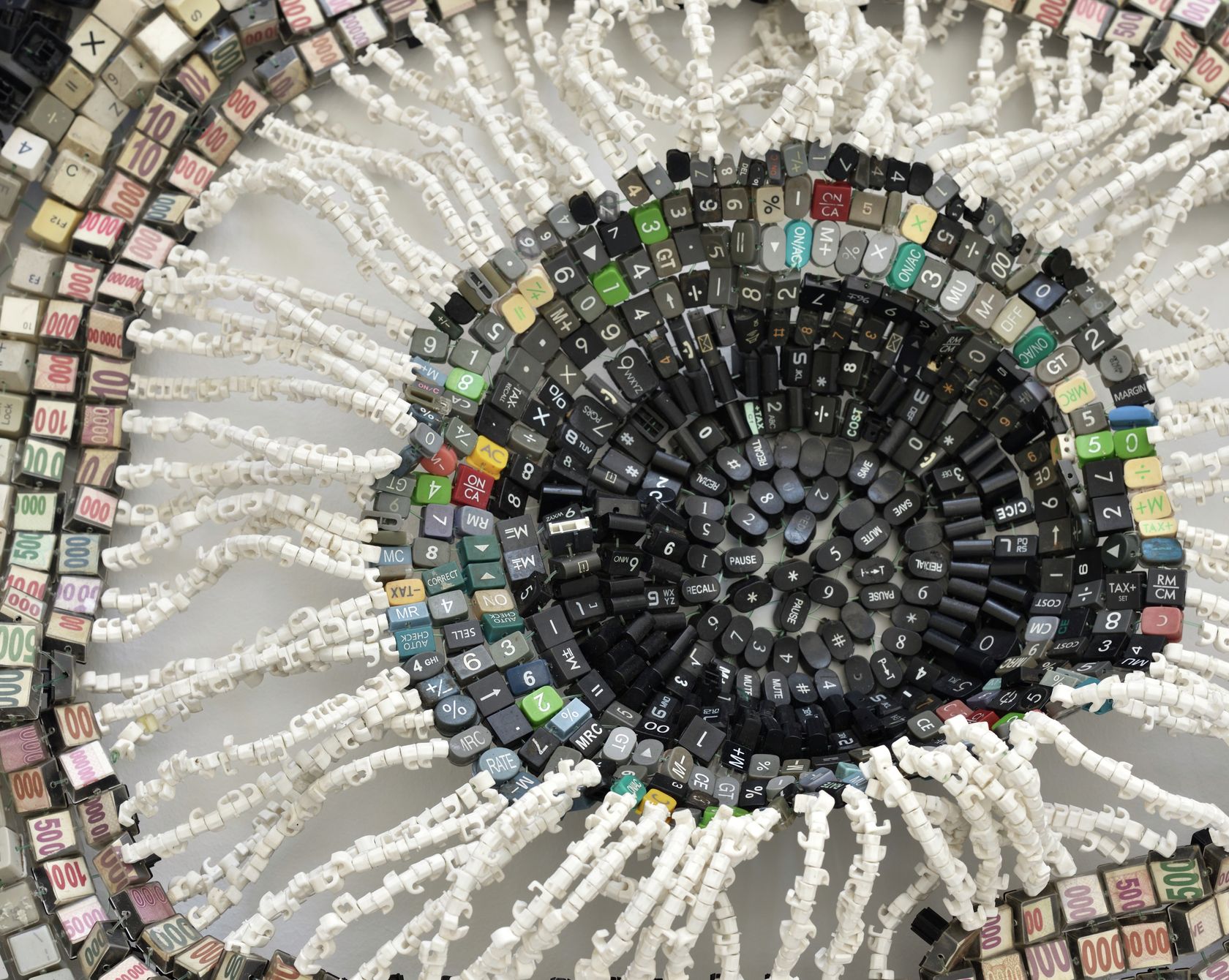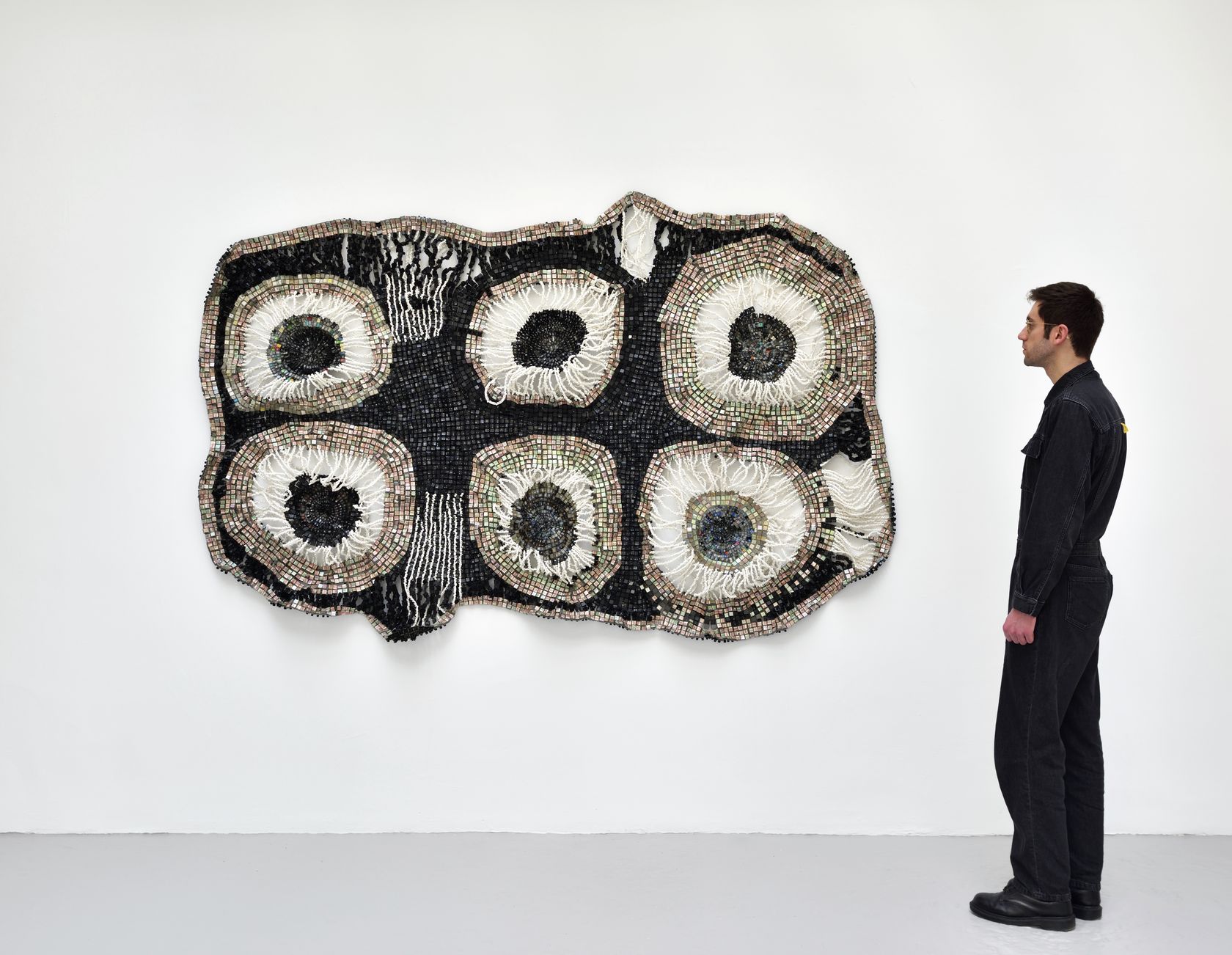 Moffat Takadiwa
Six digits , 2023
Plastic computer keyboard keys
Through his use of the computer keyboard keys that invade his compositions, Moffat Takadiwa accords language a fundamental role in his work. Resonating with constant movement, his oeuvres pit two cultures against one another: one based on an oral tradition, while the other stems from an ultra-digital landscape, perpetually inundated by a never-ending flow of words. Acting as metaphors of digital culture, these dismantled keys embody the new common language of the internet, one that is devoid of any geographical or cultural identity and whose vocabulary is subject to constant evolution and codification.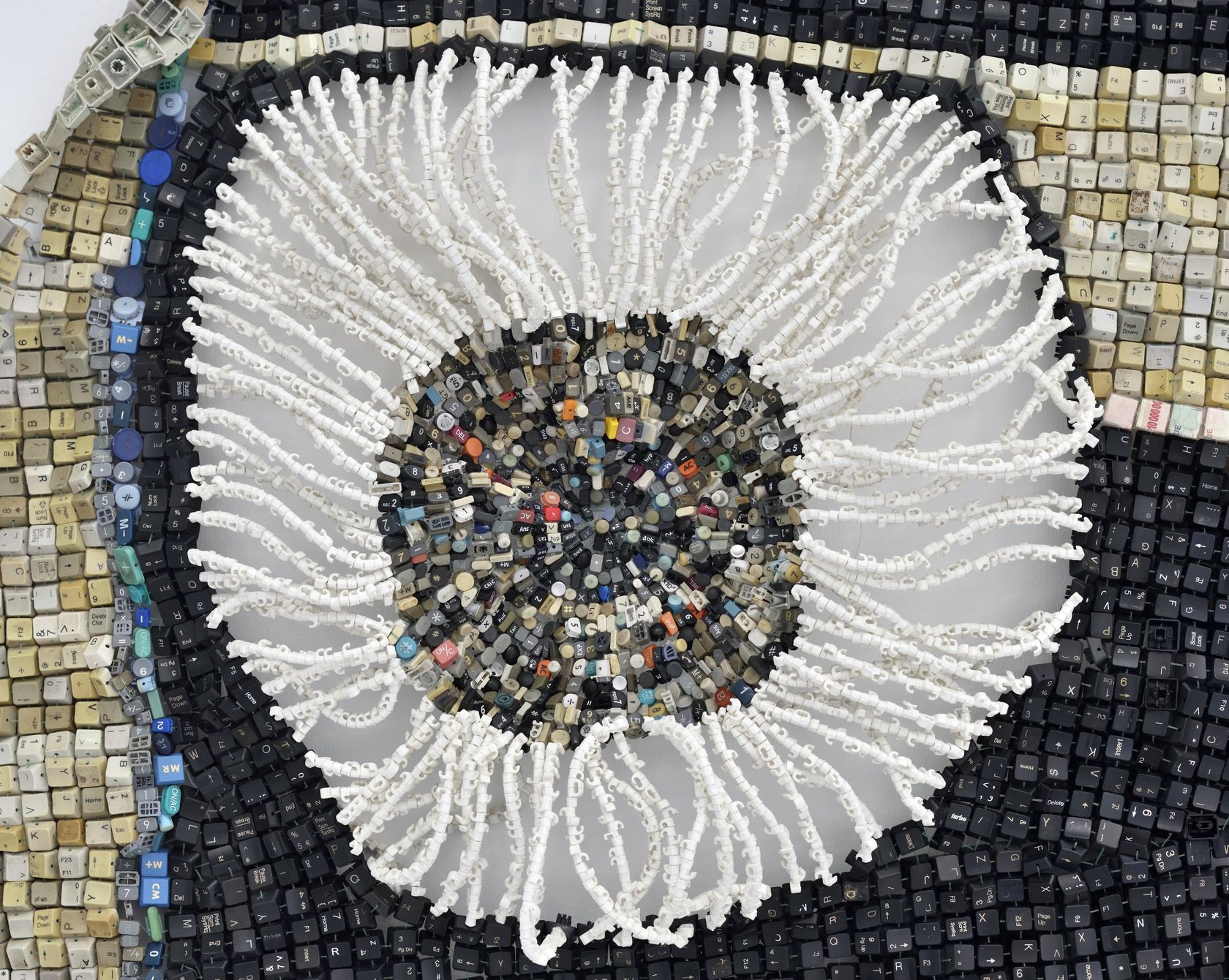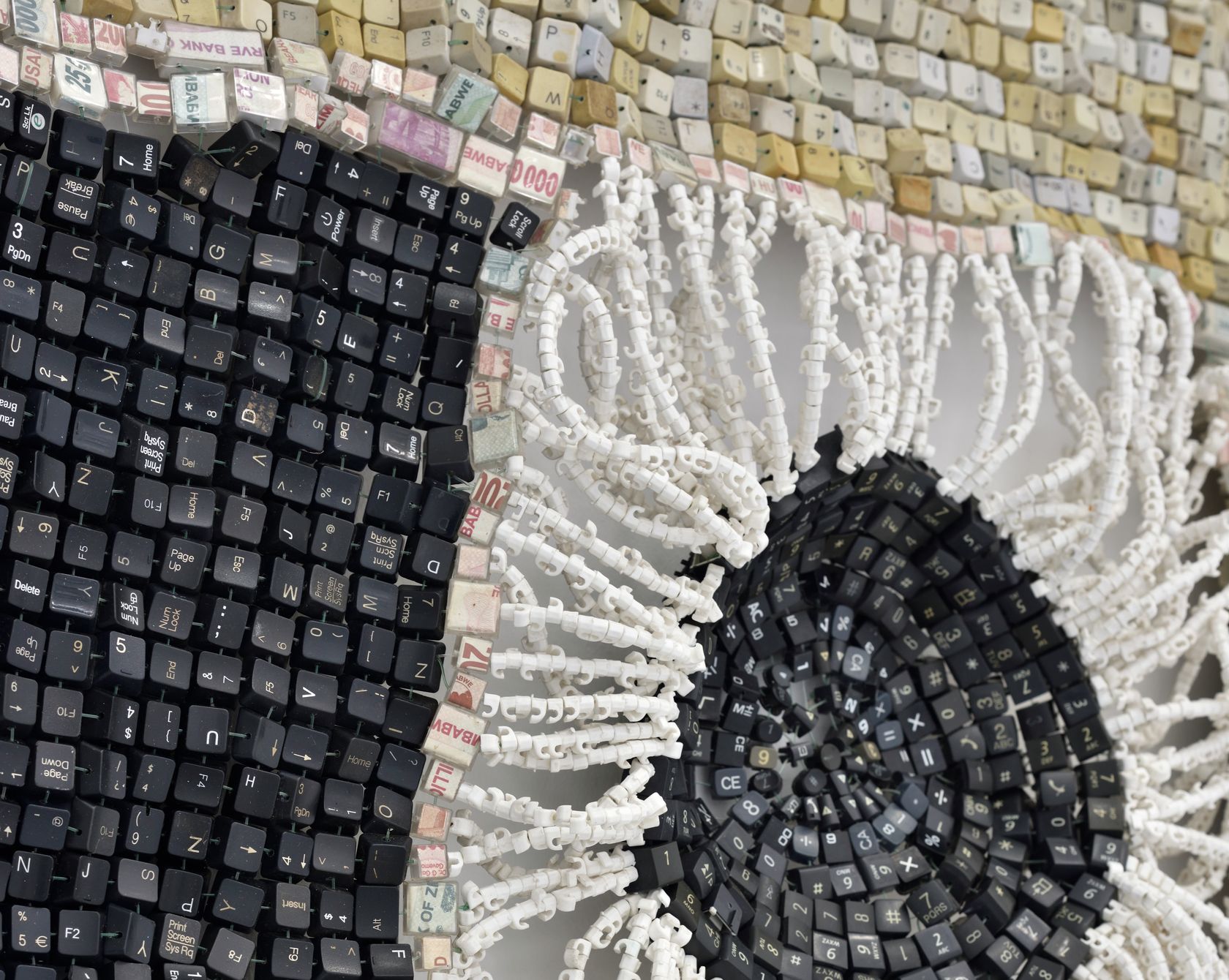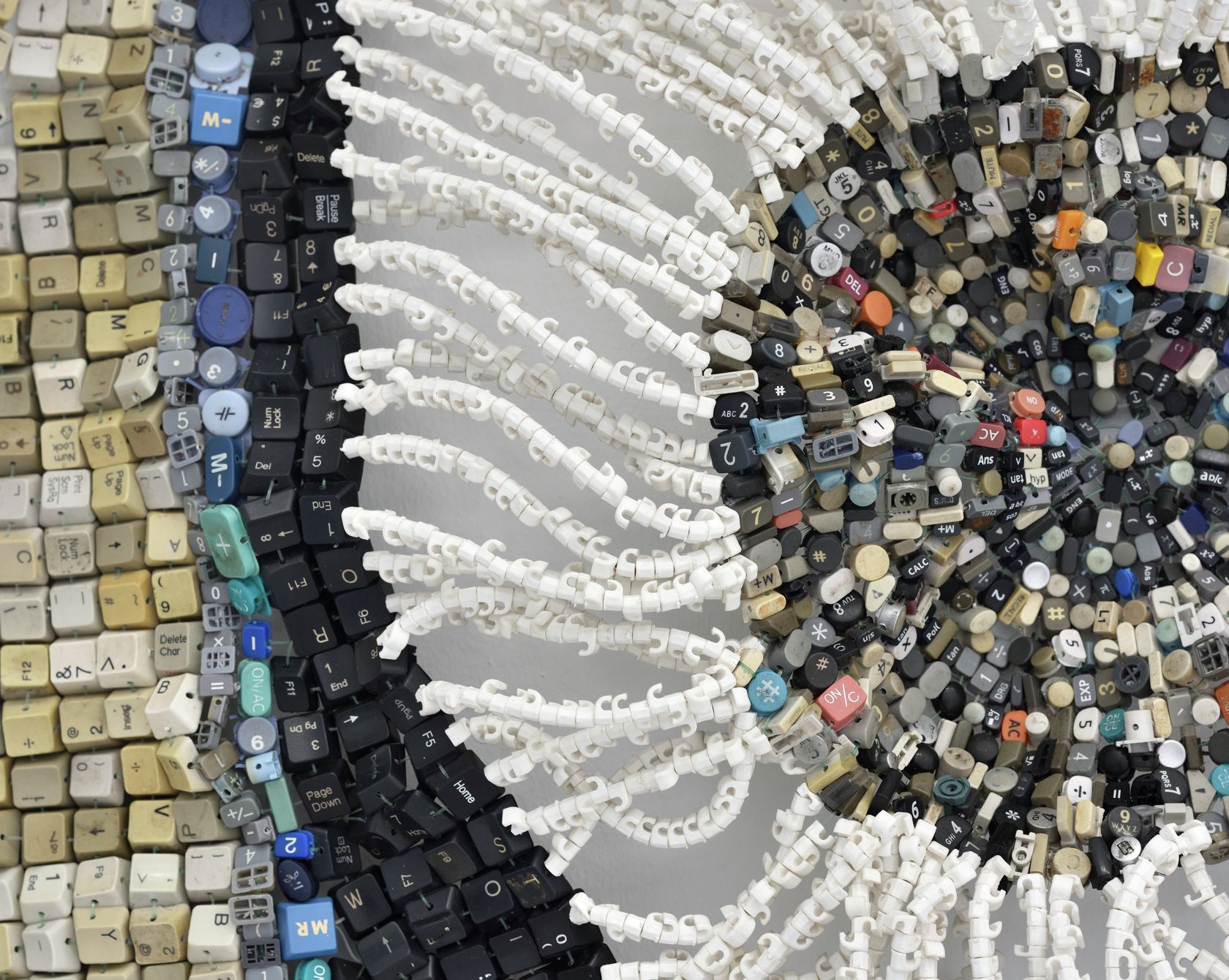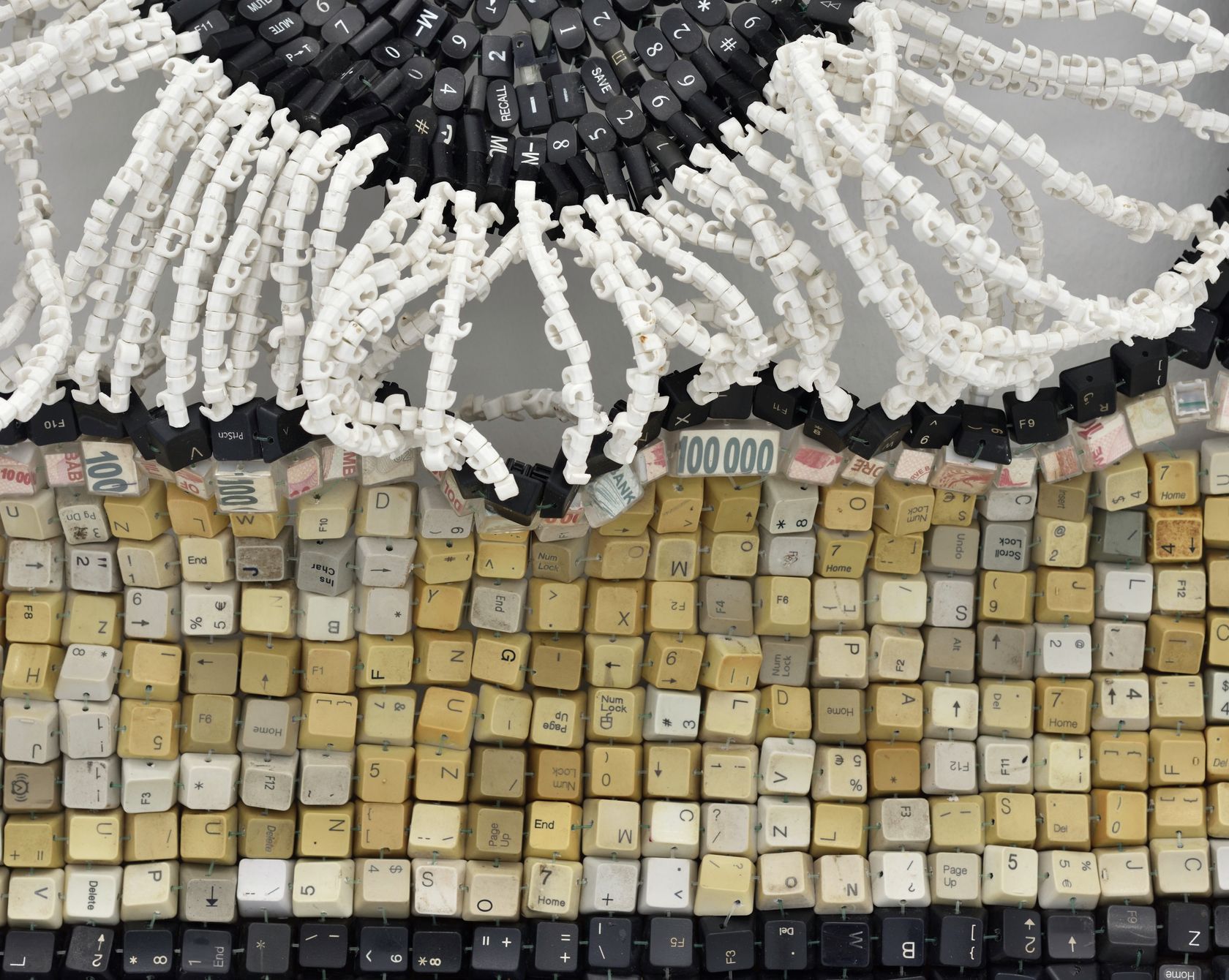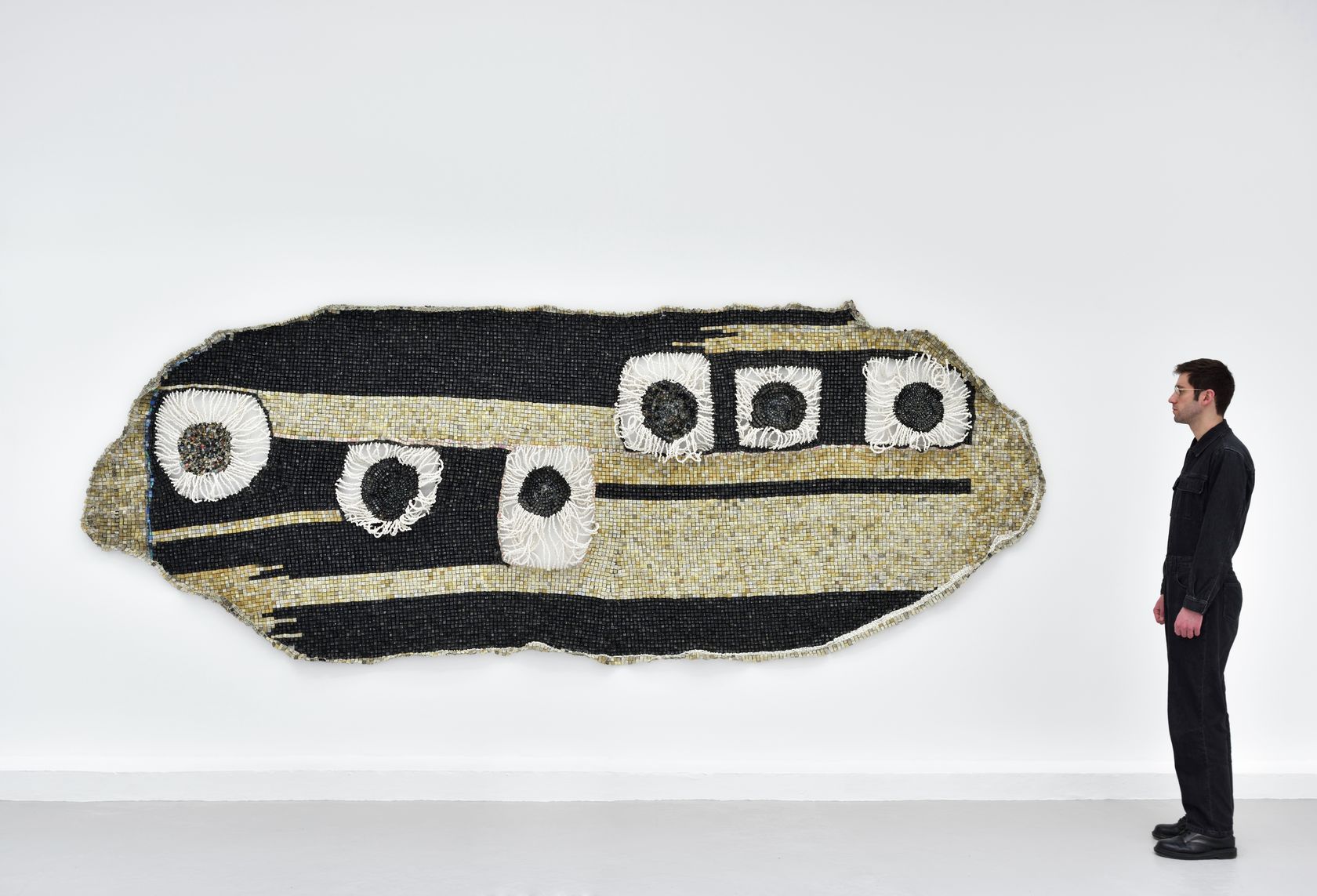 Moffat Takadiwa
Recording zero , 2023
Plastic computer keyboard keys
As a reflection of the Anthropocene age, his post-industrial fabrics evoke urban or rural landscapes, seen from above and revealing mankind's geological imprint. These damaged landscapes, colonized by objects and transformed into oceans of debris, are strongly reminiscent of the vortex of waste situated in the Pacific, a sixth continent made up entirely of plastic and whose surface area is six times that of France. His works appear to be in a state of overflowing, and thus bear a certain resemblance to the "all-overs" of 1950s abstract impressionism, as well as being intimately linked to the notion of the infinite. Takadiwa's oeuvre reveals the vast immensity of the devastation produced by man, in which the individual finds her or himself swept away or even drowned.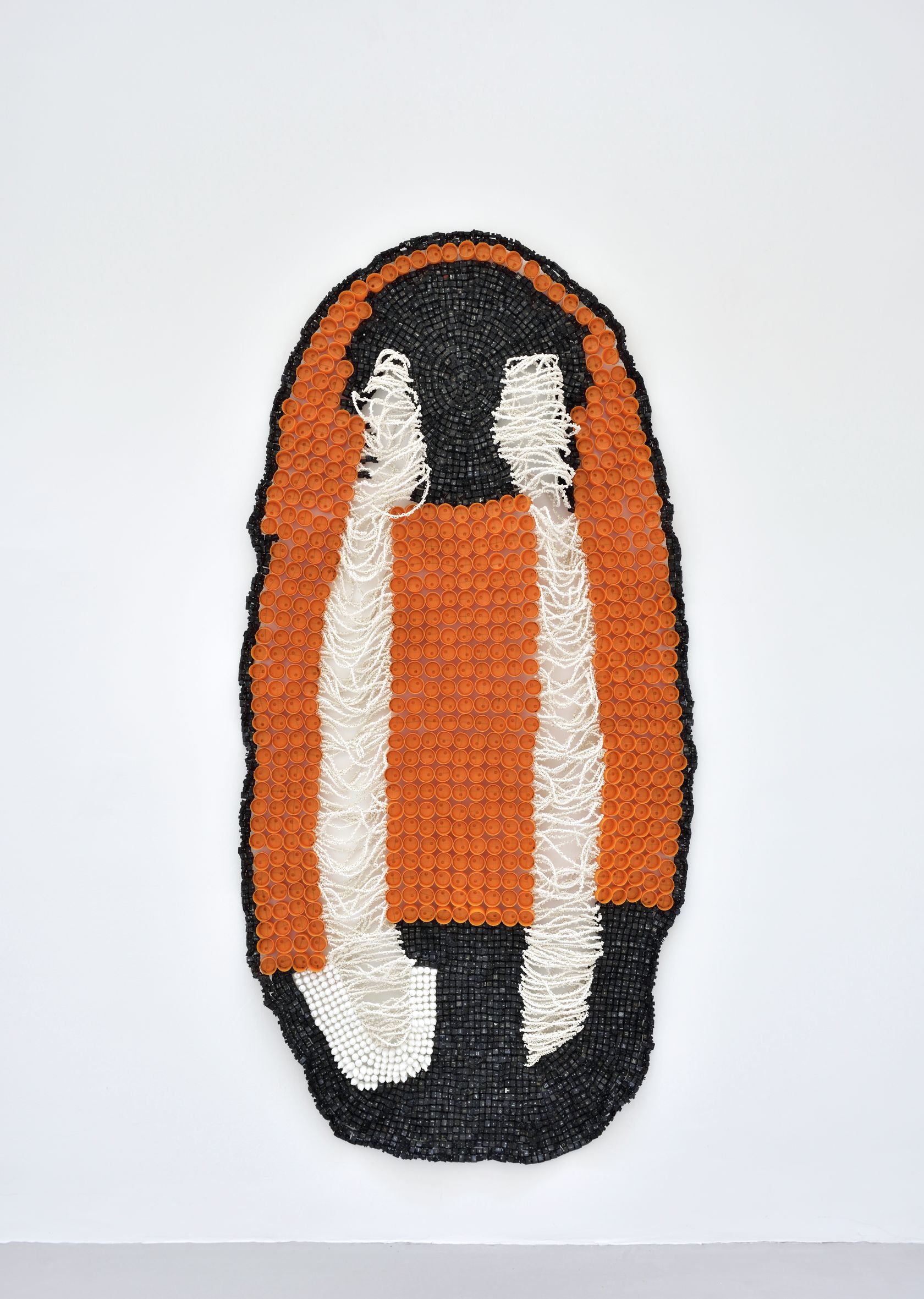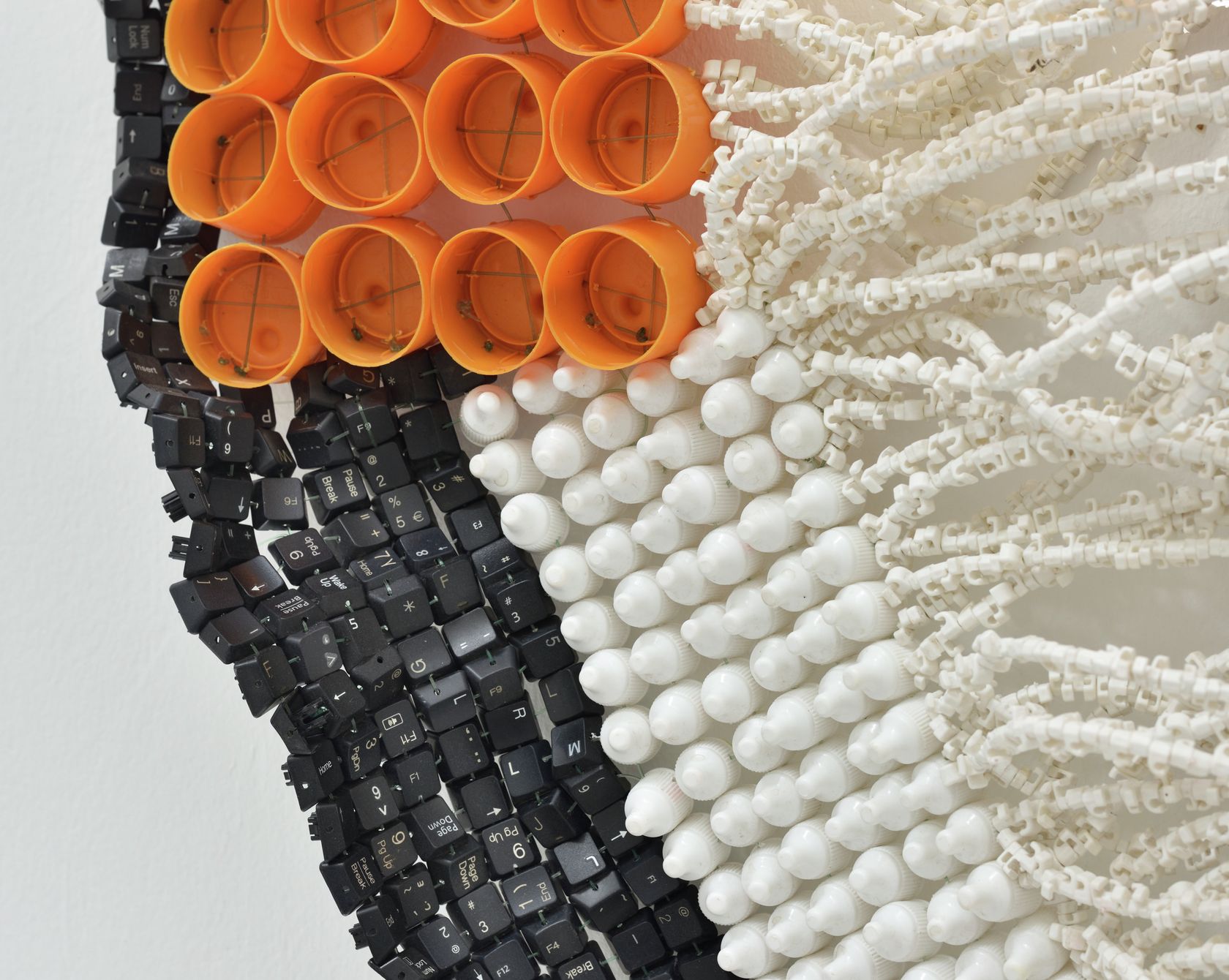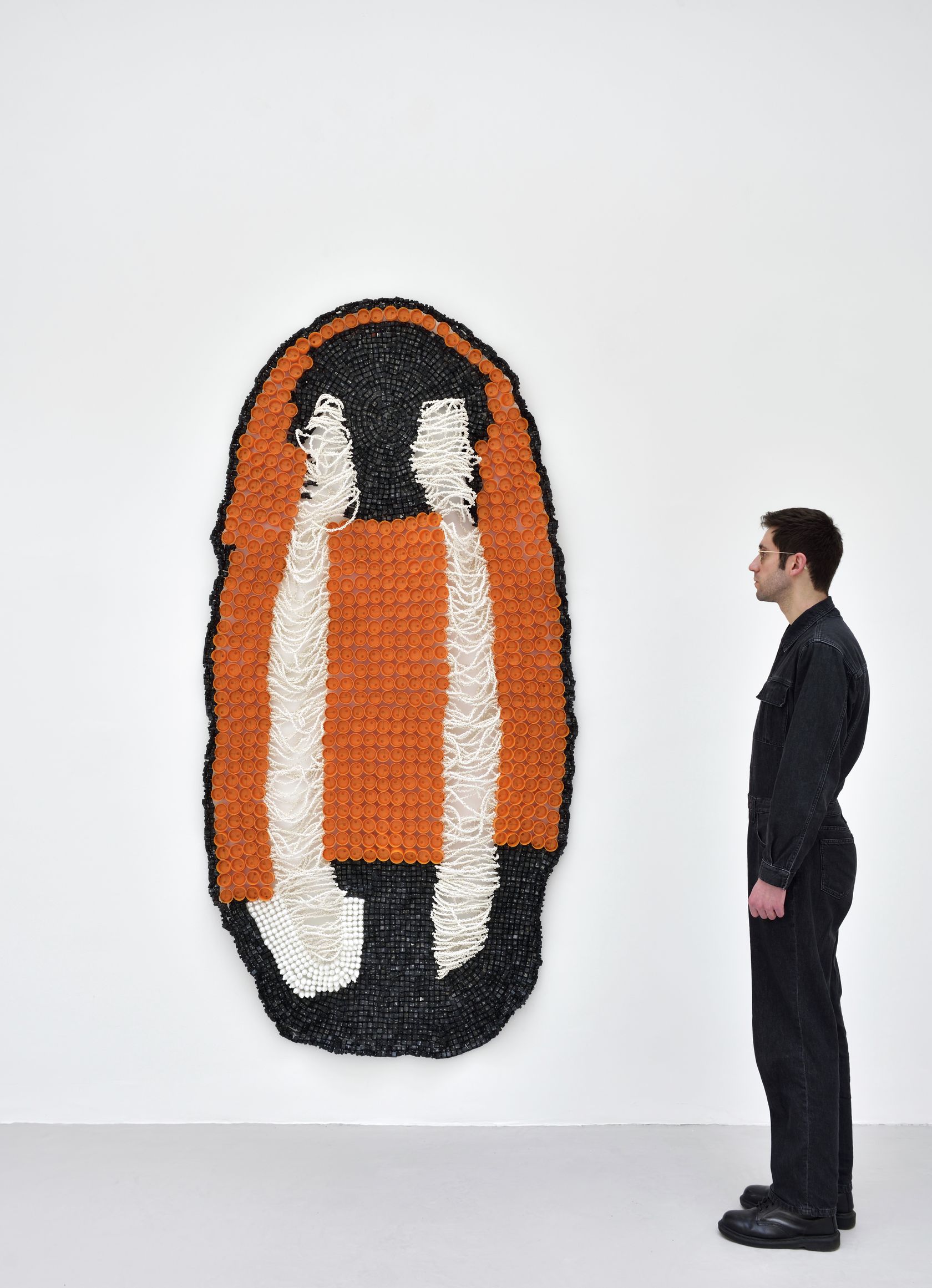 Moffat Takadiwa
Parallel Market , 2023
Plastic computer keyboard keys and plastic caps
Takadiwa's oeuvres constitute a poetic chronicle of contemporary society. At a time when ecology is increasingly under threat and new technologies are transforming the world as we know it, Moffat Takadiwa grasps the situation, embodies it and denounces it, while avoiding any descent into nihilism. Uncompromisingly critical of the world, yet imbued with an almost totemic aura, his works convey a preciosity and presence that demand meditation. By conferring dignity on waste, by intermingling revolt and contemplation, they offer a ray of hope and poetry in the midst of a fragile and threatened society. His works operate as a silent manifesto for a coming revolution.
— Jérôme Sans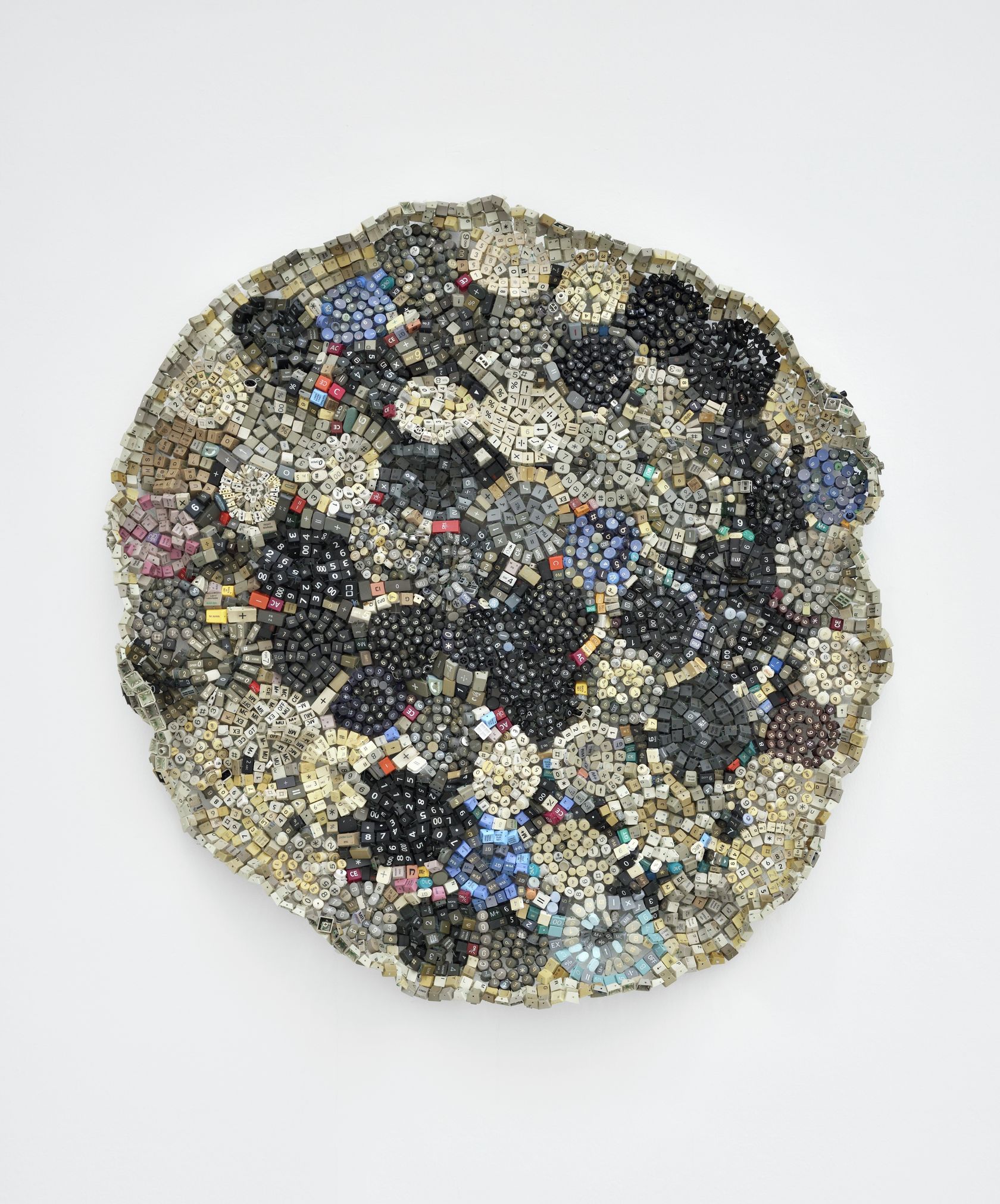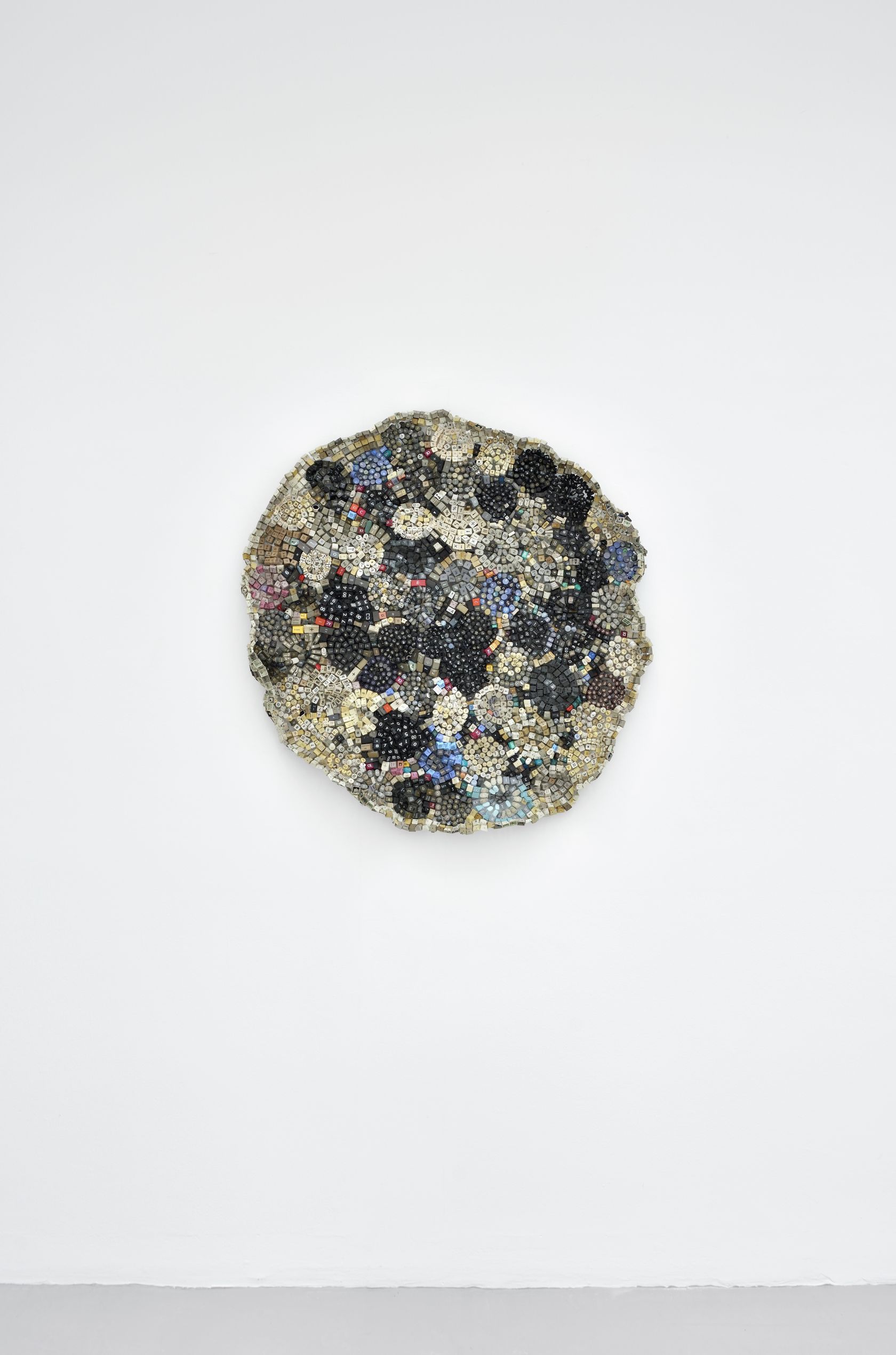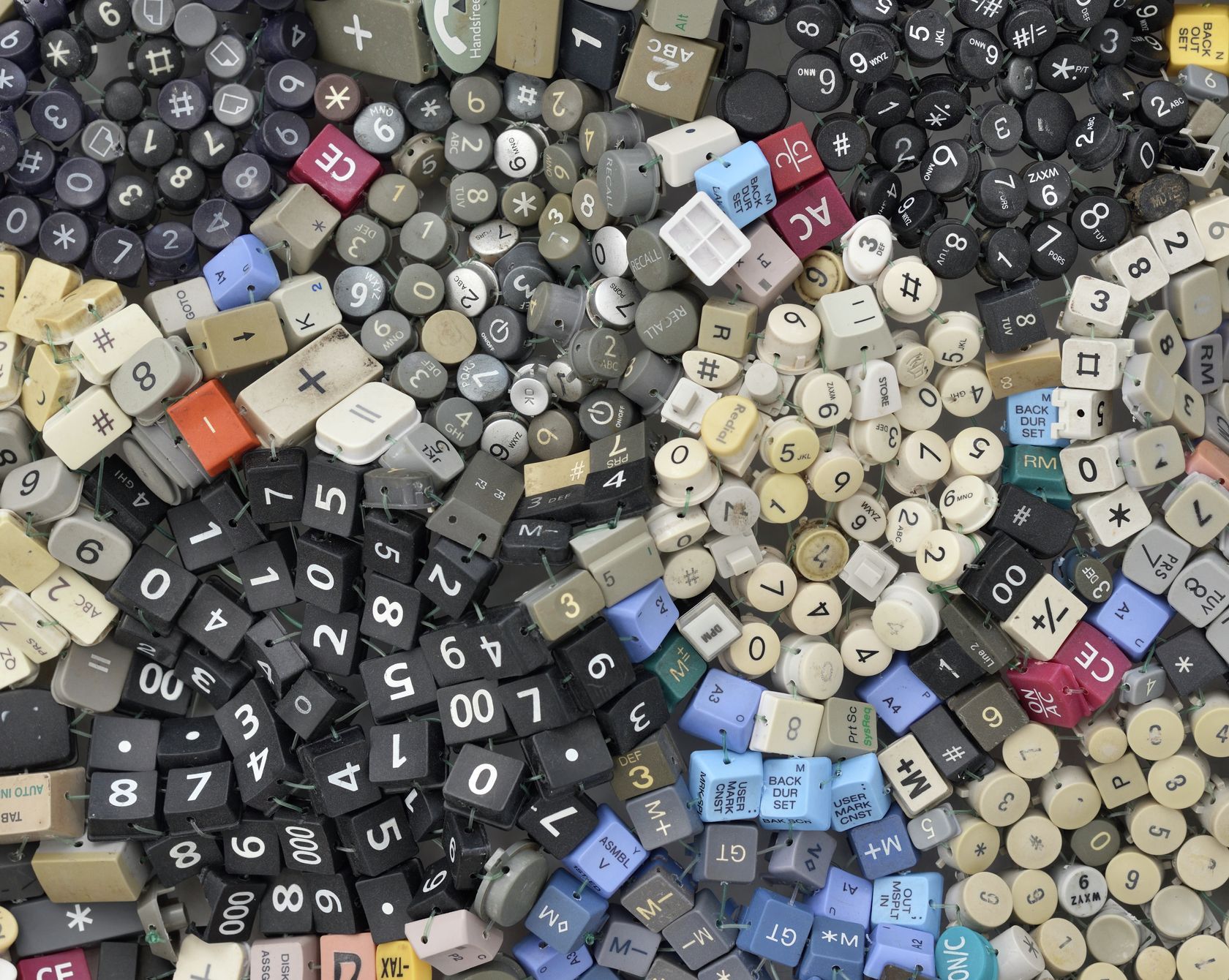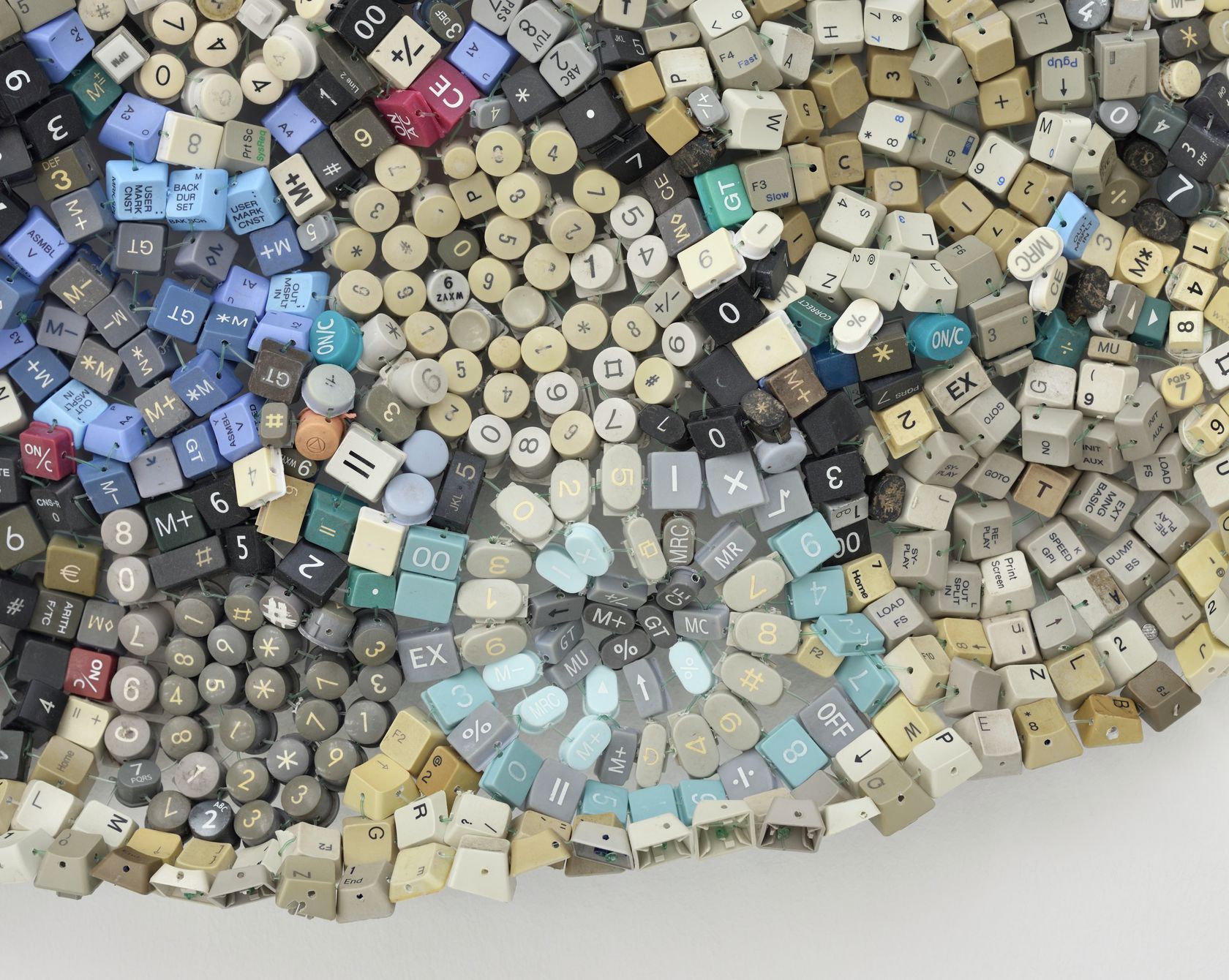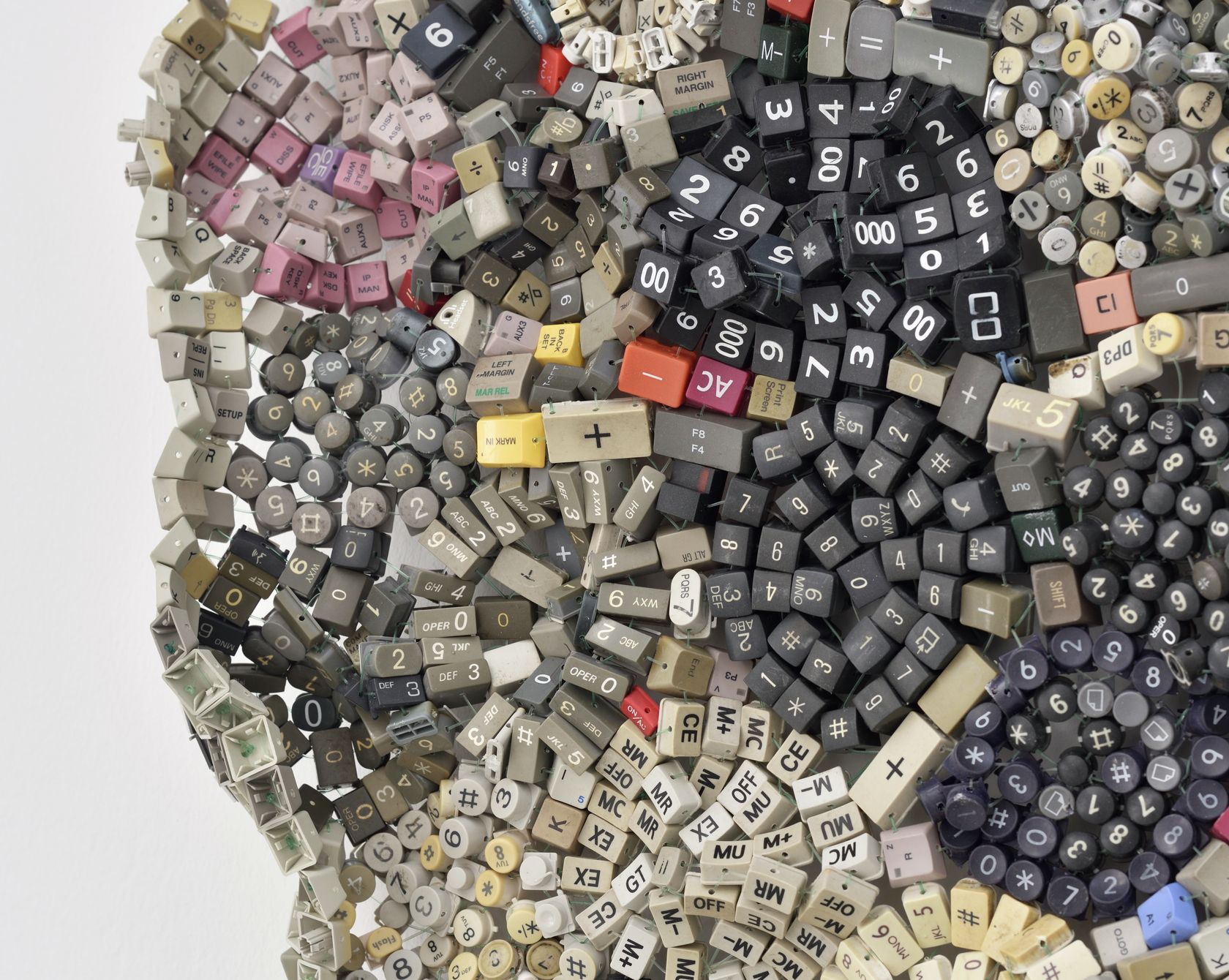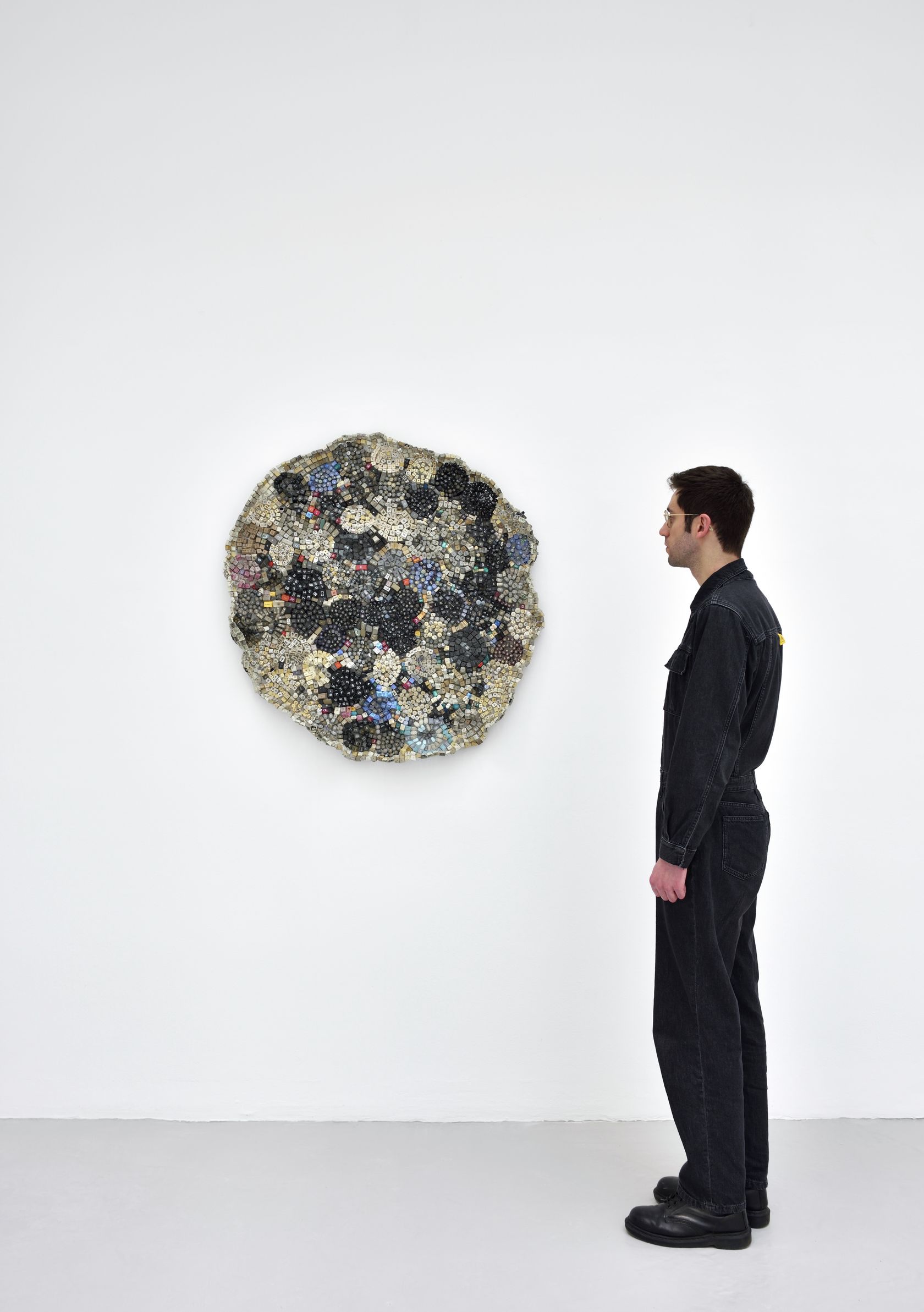 Moffat Takadiwa
Bling bling , 2023
Plastic computer, phone and calculator keyboard keys
Moffat Takadiwa creates large format sculptures from materials found on garbage dumps, notably computer parts, plastic bottle-caps, toothbrushes and toothpaste tubes. After gathering great quantities of these small objects and sorting them by color and shape, the artist weaves these discarded scraps into rich wall hangings. Once suspended, these post-industrial fabrics, through their intricate beauty, acquire an aura of ritual or totemic artifacts.

Born in 1983, Moffat Takadiwa lives and works on the outskirts of Harare in Mbare, one of the largest recycling centers in the country and an important hub for the informal economy. Belonging to the post-independence generation, his work reflects his preoccupation with issues such as consumerism, inequality, post-colonialism and the environment. Since the earliest days of his artistic career, he has used his practice as a platform for the rehabilitation of his community, working with young local artists and designers, with a view to founding the world first artistic center based on the use of reclaimed materials.

Moffat Takadiwa has exhibited his works in the major institutions of Zimbabwe as well as abroad, most notably at the Craft Contemporary (US), during the exhibition organized by Jeffrey Deitch and Gagosian at the Moore Building in Miami (US), at the ARoS Kunstmuseumat, Aarhus (DK), the Jameel Arts Center, Dubai (AE), the MACAAL, Marrakesh (MA) and the Arnhem Museum (NL). His works are included in numerous public and private collections including the CNAP, Paris (FR), the FRAC Alsace (FR) The Fondation H, Antananarivo (MG), The Jameel Arts Center, Dubai (AE), The Arsenal Contemporary Art, Toronto (CA) and the CC Foundation, Shanghai (CN).