To learn more about available works, please provide your contact information
Laurent Proux's recent paintings, created at the Casa de Velázquez, are flooded with sunlight. Madrid's climate is obviously no stranger to the sunburned element that has given a new twist to his art. Proux's large-format, sun-drenched paintings play on naturally contradictory levels of intensity. Light cascades through them, bathing everything in its aura, or on the contrary, carving out and incising shadows and figures. Through this approach, the exhibition Sunburn highlights two seemingly opposite scenarios: on the one hand naked characters frolic in natural surroundings, while on the other, figures labor in weaving or sewing workshops.
"Burning passion" on the one hand, productive reason and its calculation on the other. It is clear that Proux's paintings burn or are illuminated by what is in most cases crepuscular light. The two series reflect this naturalistic repartition, each having its own luminescence. The stylized bacchanalian romps are set in an imaginary décor, while the workshops betray a more tangible, photographic source, originating from documentary photographs of certain social settings, taken by the artist since the beginnings of his practice. Sunburn offers the spectator a vision of fiery yet tangible painting: the characters are completely absorbed in their activities, naked in the throes of sexual abandon for some, concentrated on their workplace machines for others.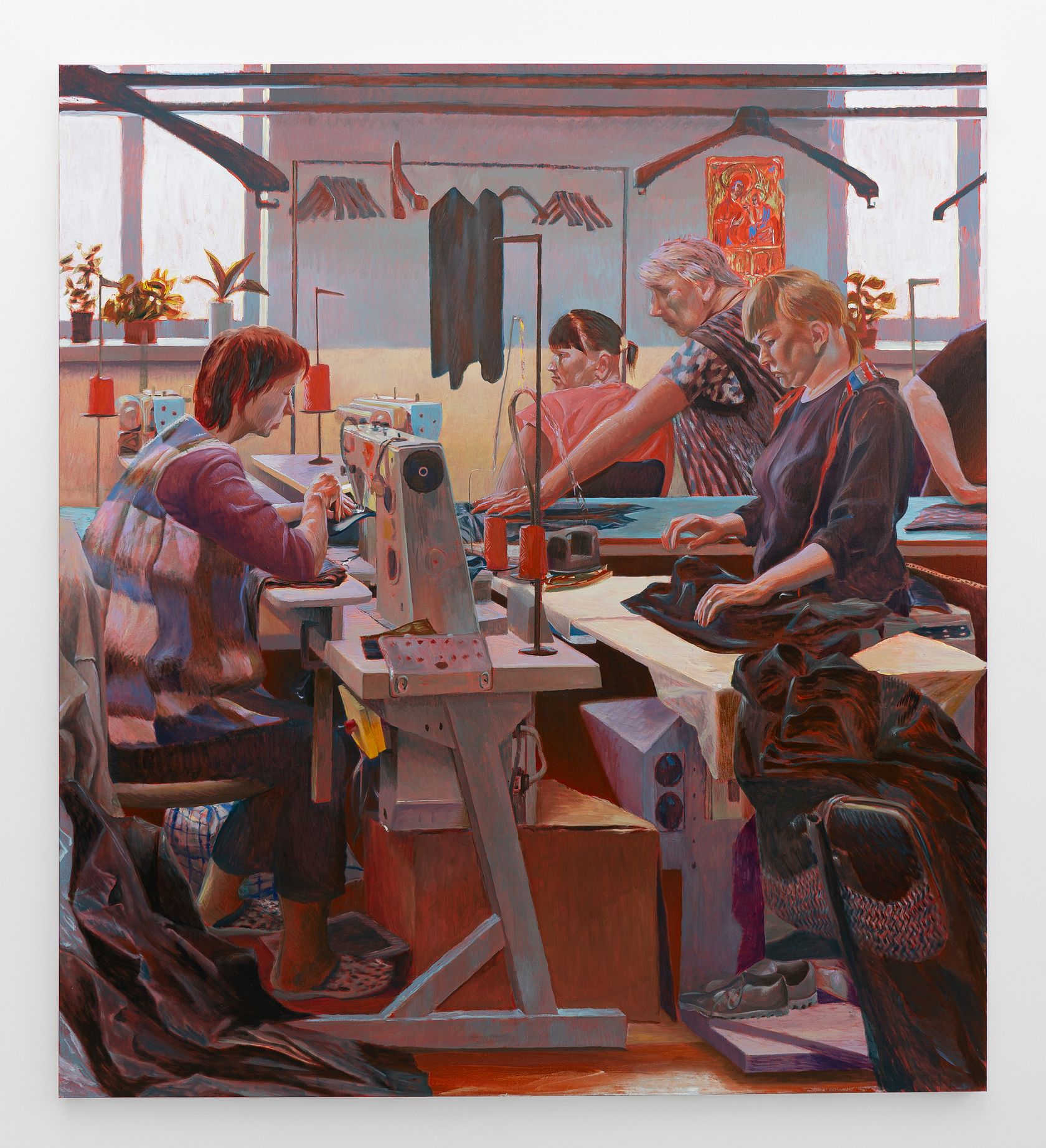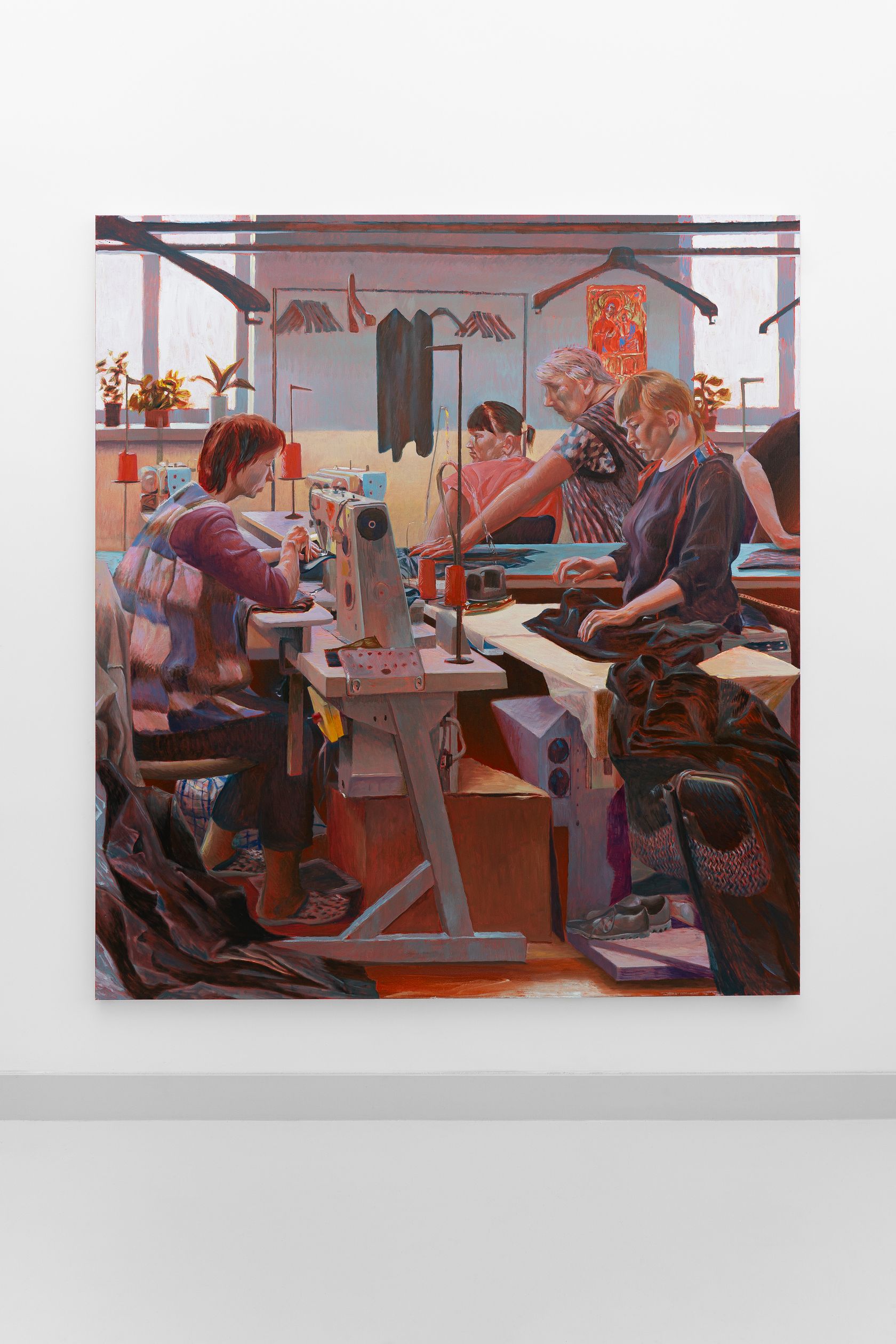 Laurent Proux
Textile Workers II , 2023
Oil on canvas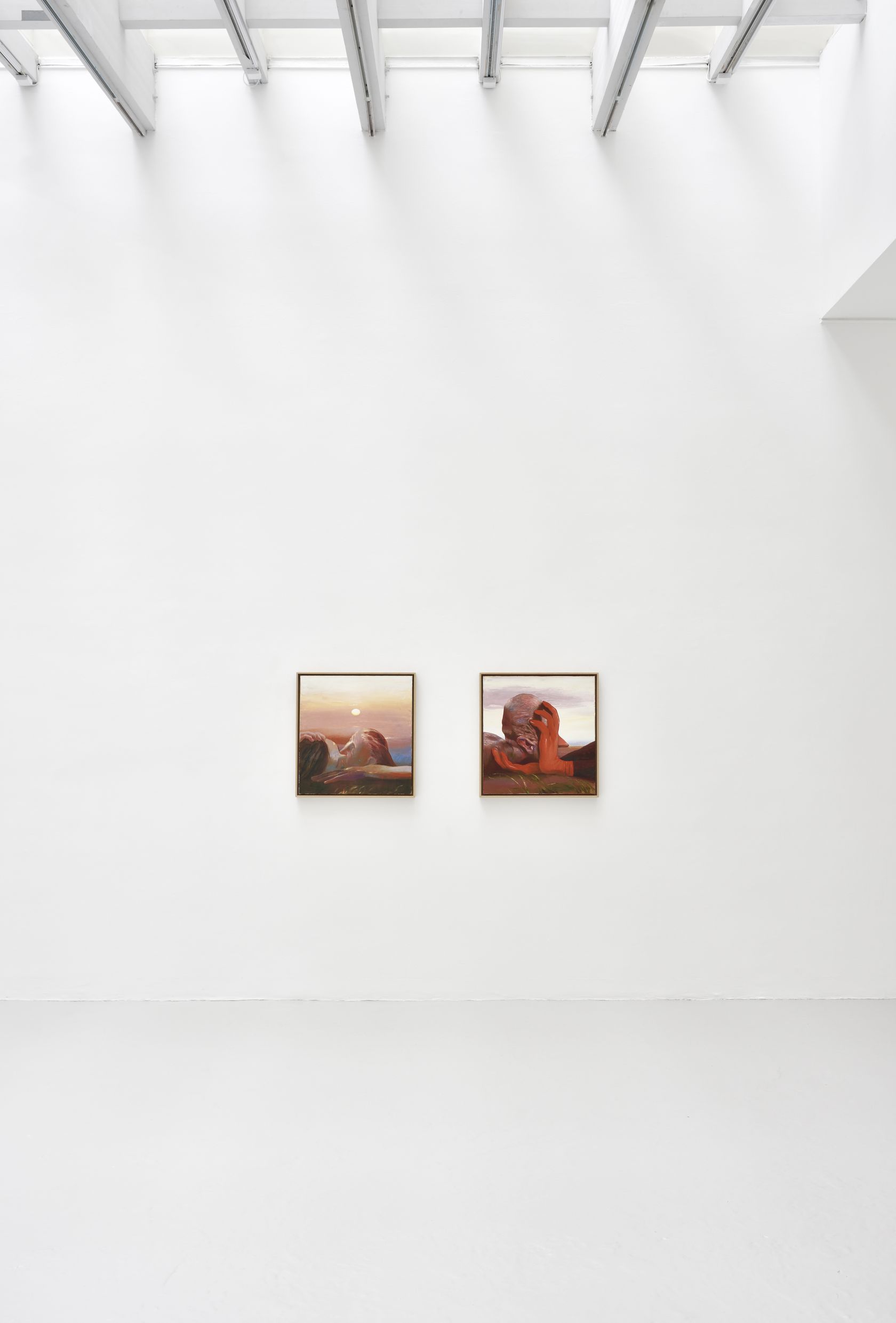 Two universes sit side by side, the first a product of fantasy, the other one of realism. Light plays an essential, dramatic role: Proux has come up with contrasting storylines, alternating between naturalism and the supernatural. The exhibition Sunburn transports us into an overheated world that is at once familiar and discordant.
The sun acts as the director of photography for the exhibition: its works, that one might describe as photosensitive, radiating a paradoxical energy, exuding a certain strangeness within clear, straightforward compositions. Its astral luminosity disrupts any initial evidence of a particular scene. Its mobile and intrusive eye penetrates the heart of each situation, insinuating itself between bodies, twisting and capturing them from any number of points of view at the same time, from above, frontally and from behind, as is the case with the bucolic frolicking. Proux approaches lighting like a baroque or classical painter, or perhaps more like a theatrical or movie director, constructing a precise scenic space with its own action, atmosphere and characters. One activity can conceal many others. — Anne Bonnin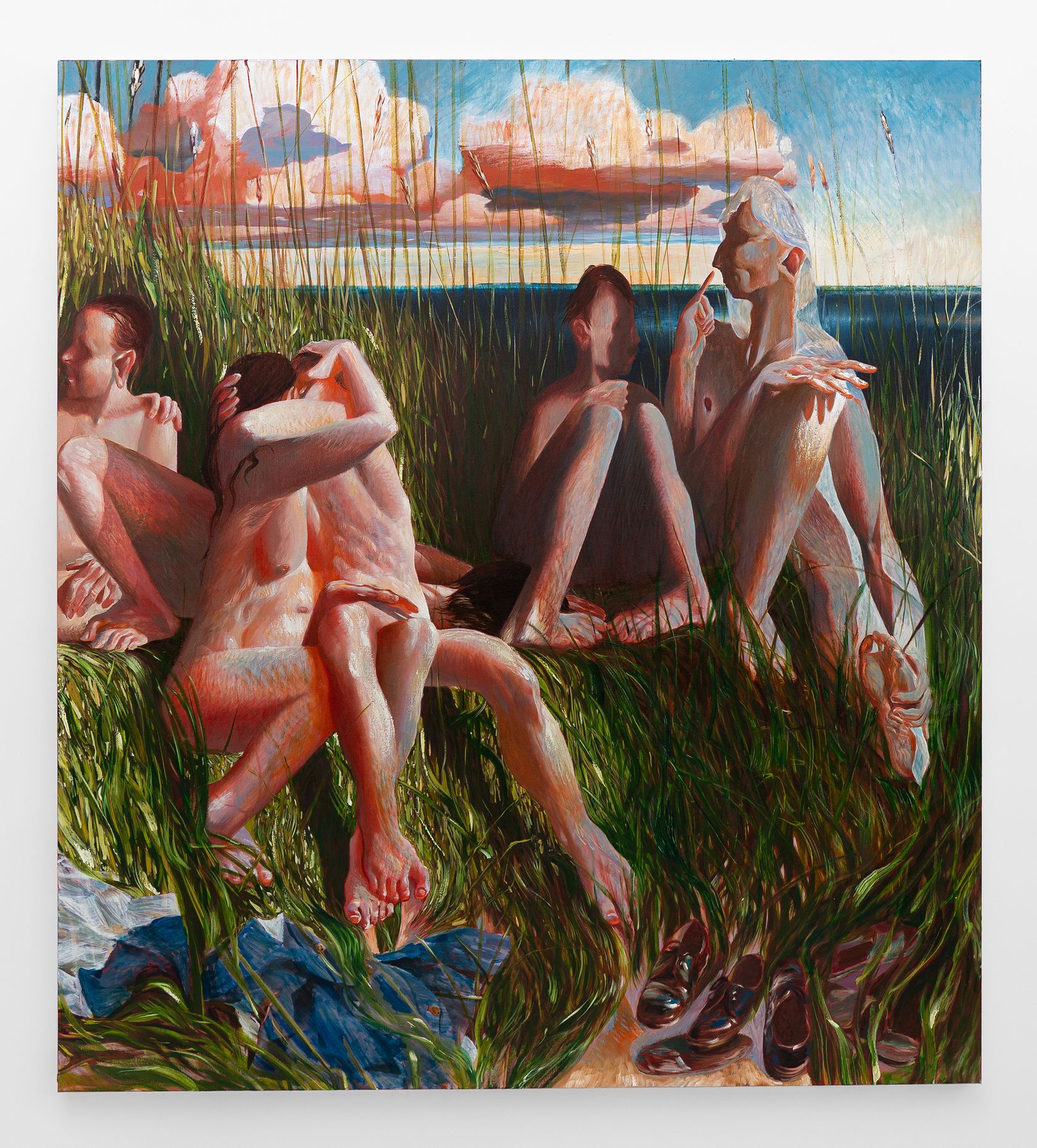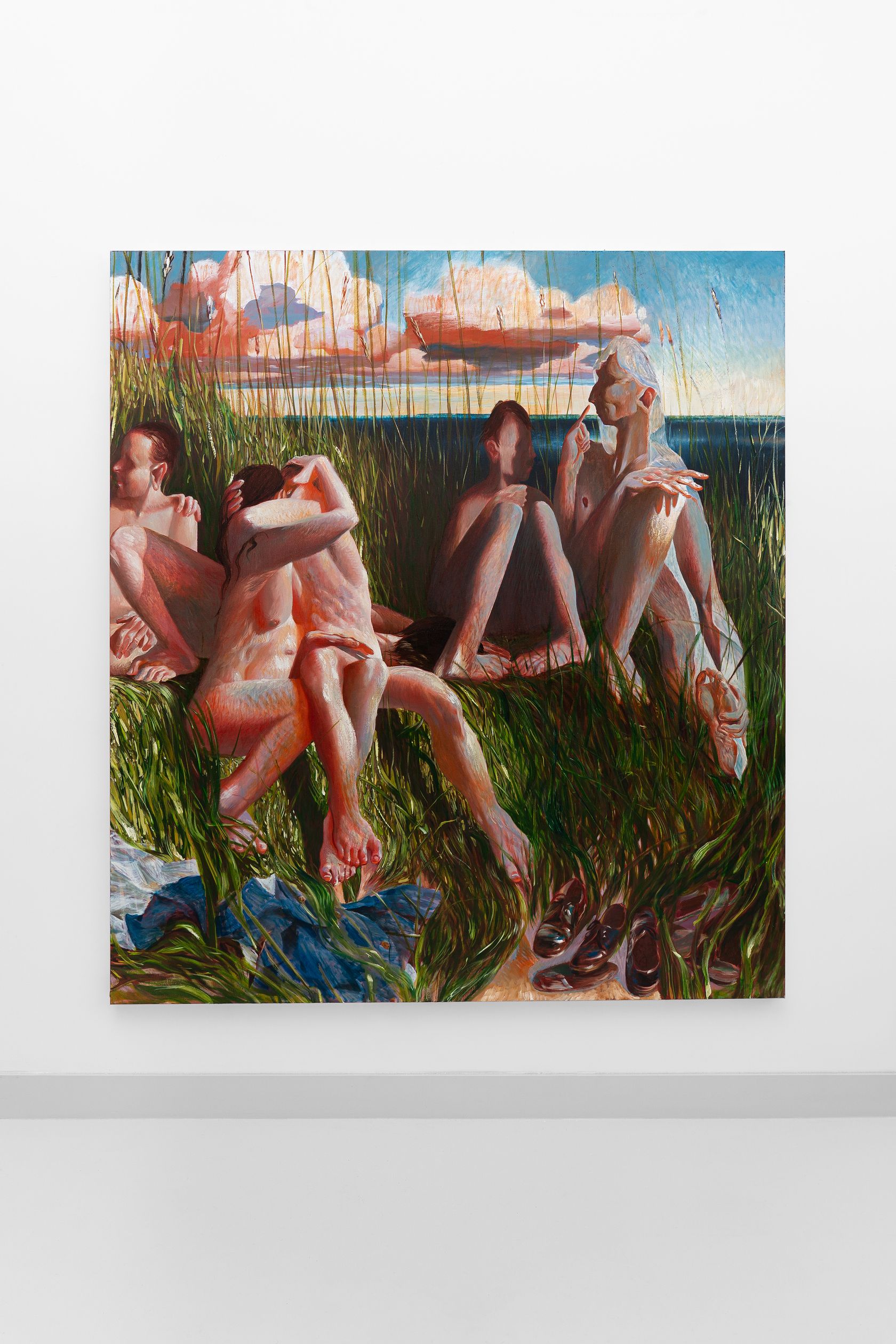 Laurent Proux
Abendland , 2023
Oil on canvas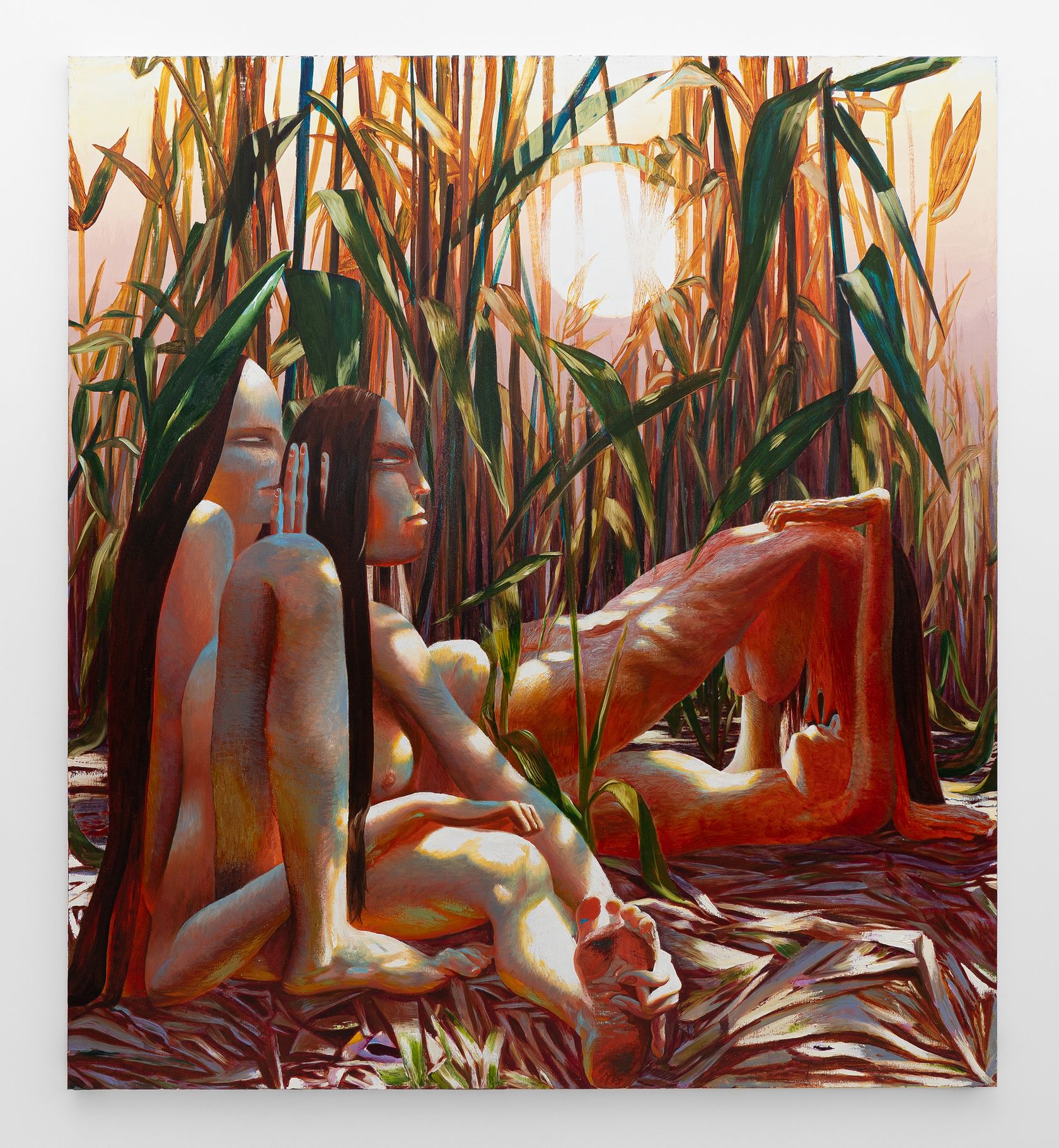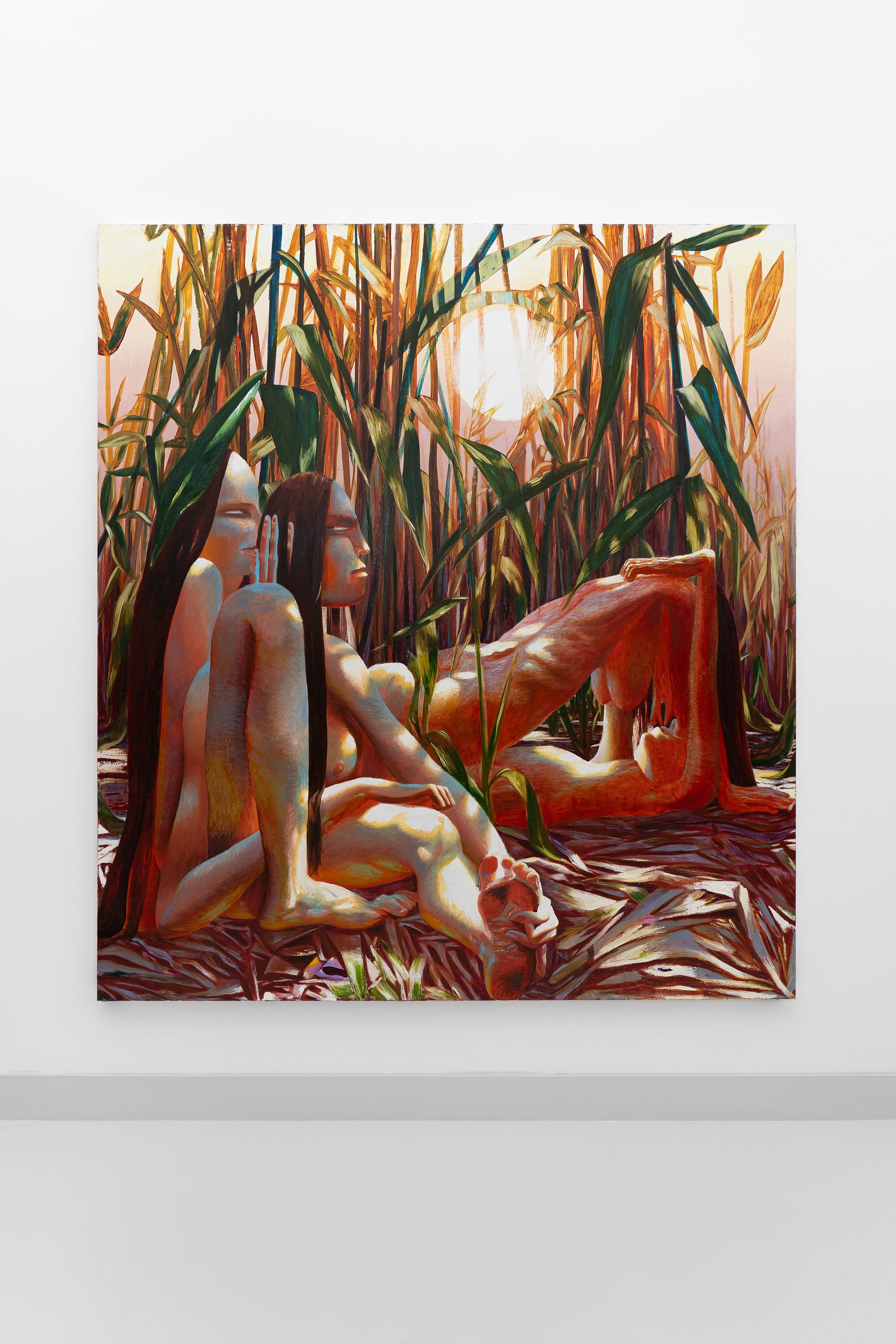 Laurent Proux
Amazons , 2023
Oil on canvas
Born in Versailles in 1980, Laurent Proux lives and works in Paris.

In his painting and drawing, Laurent Proux produces powerful and original imagery that seeks through his formal choices to resolve the questions raised by his subjects. Described by some as a realist due to the subjects he depicts—industrial machinery, workstations, sexualized bodies, etc.­—his style finds its emancipation through his never-ending exploration of pictorial solutions, the integration of aberrations, bringing planes into collision, the use of artificial colors, all freeing his oeuvre from the opposition between figuration and abstraction. He approaches the human form through fragments, exaggeration and the use of silhouettes to create a kind of body-cum-machine, politicized and under assault, often disturbing and occasionally sentimental. His canvases take the form of a stage, in an altered perspective and the artist addresses the spectator with a visual and intellectual enigma running through the image.

Laurent Proux's oeuvres are included in the collections of the National Center for Visual Arts (CNAP), the Occitan, Limousin and Nouvelle-Aquitaine regional contemporary art collections (FRAC) and the Paris Municipal Collection (FMAC). His work has been exhibited at the Mana Contemporary in Chicago (US), the Shanghai Art Museum (CN), the Moscow Center for Contemporary Art (RU), the Musée d'Art Contemporain in Lyon (FR), the Limousin FRAC in Limoges (FR), at the Lieu Commun in Toulouse (FR) and at the Musée d'Art moderne et contemporain de l'Abbaye Sainte-Croix aux Sables-d'Olonne (FR). Laurent Proux is currently a resident of the Casa de Velázquez in Madrid (ES).