To learn more about available works, please provide your contact information
The majority of Philemona Williamson's drawings and paintings depict young girls, children or teenagers involved in playful scenes, which often involve dolls. The artist explains that she never really experienced that carefree age of innocence and was thrust into the adult world at an early age. The children and dolls that populate her works seem to incarnate this dreamed-of childhood, an ideal time and space that Philemona Williamson can only reach by means of her work.

Philemona Williamson (b. 1951, New York, USA) lives and works in Montclair in New Jersey. She obtained a Master of Fine Arts degree at the University of New York in 1979. Her first museum exhibition took place in 1988 at the Queens Museum of Art in New York. She has worked in a number of prestigious art schools in New York since the end of the 1980s, teaching several generations of artists. In 2022, she was one was one of the fifteen beneficiaries of the Anonymous Was A Woman prize, an award that has been allocated annually since 1986 to women over the age of 40, in recognition of their past work and of that to come.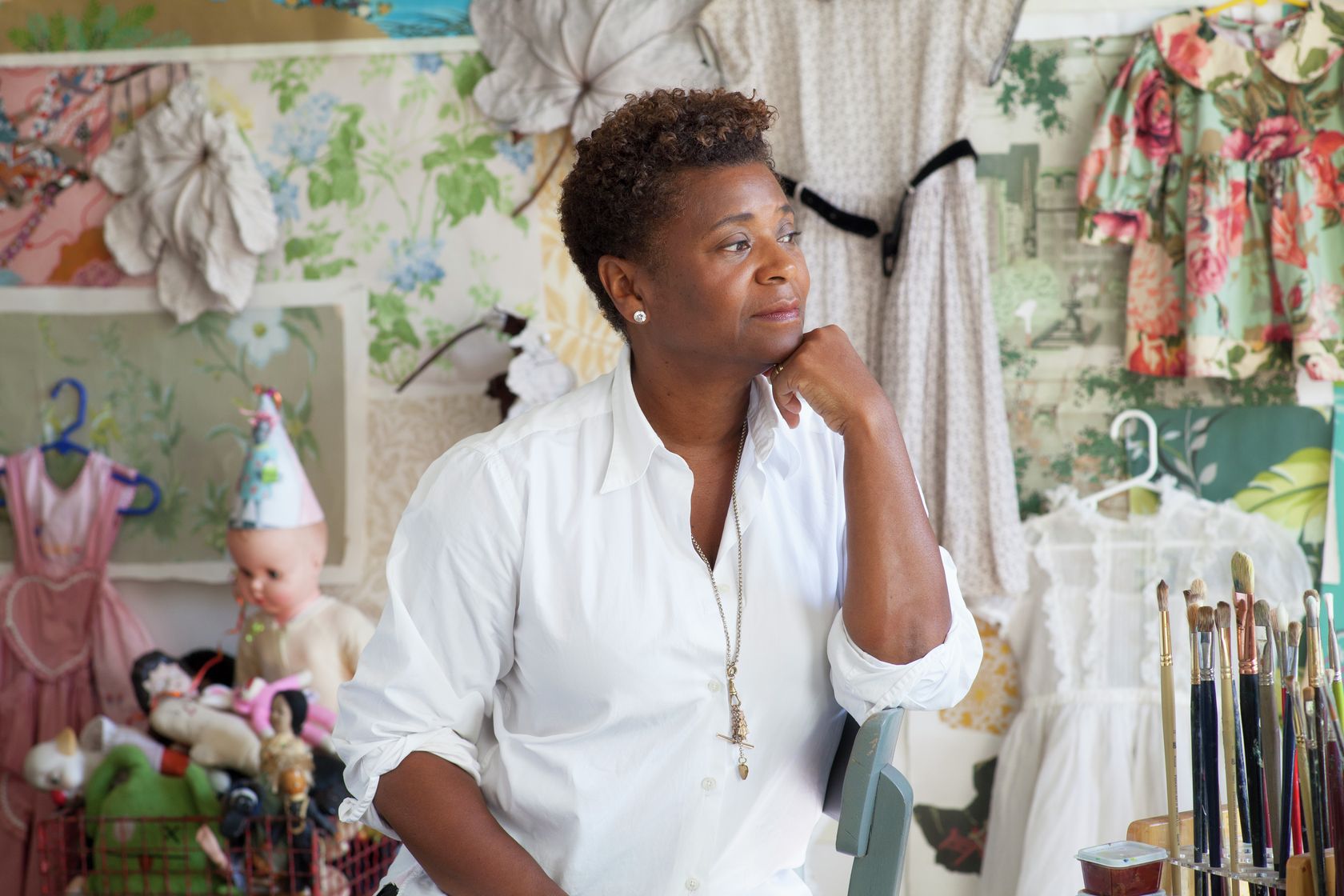 Amy Bravo is a New York based artist of Cuban Italian origin. Her works combine symbolism—stylized palm trees, roosters, horses and waxed mustaches—artifacts from Latin American religious and popular culture and family stories, to create her own intimate and imaginative vision of the island of Cuba, a mixture of the familiar and the unknown, of beauty and bewilderment.

She has an unconventional approach to painting, preferring irregular shaped canvasses to the classic stretcher forms, and mixing black and colored pencil drawings with various other disciplines such as painting and collage using materials such as string, leather, dried leaves and lace amongst other diverse objects drawn from her personal and family history. This very particular combination of techniques, where pride of place is given to DIY and popular culture, fits in perfectly with the intentions of her work: to bring together complex identities, to rebuild a family lineage interrupted by exile, to reimagine her ancestral home and to sketch the outlines of a mythical world. Thus, her works have given birth to a rural community populated by Amazons, women wrestlers and cowgirls; proud and liberated women at the crossroads of the three communities asserted by the artist: Women, Brown and Latinx.

Born in 1997 in New Jersey, Amy Bravo lives and works in Brooklyn, New York. After graduating from the Pratt Institute, she obtained a MFA at Hunter College in New York in 2022. Amongst recent exhibitions, she had a solo show at Nada Miami and a duo show at Swivel Gallery in New York in 2022. In 2022, she also benefitted from a residency at the Fountainhead Residency in Miami.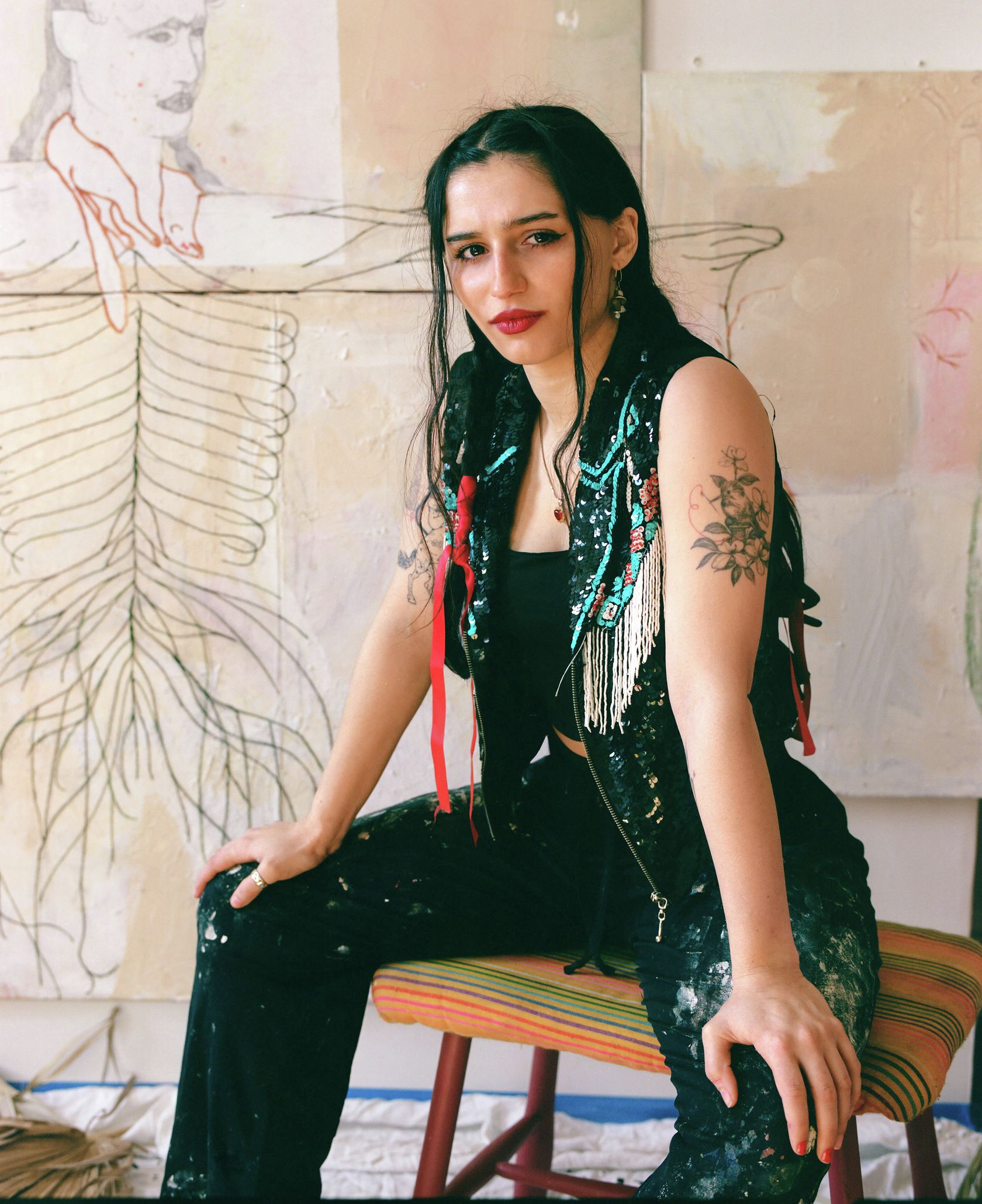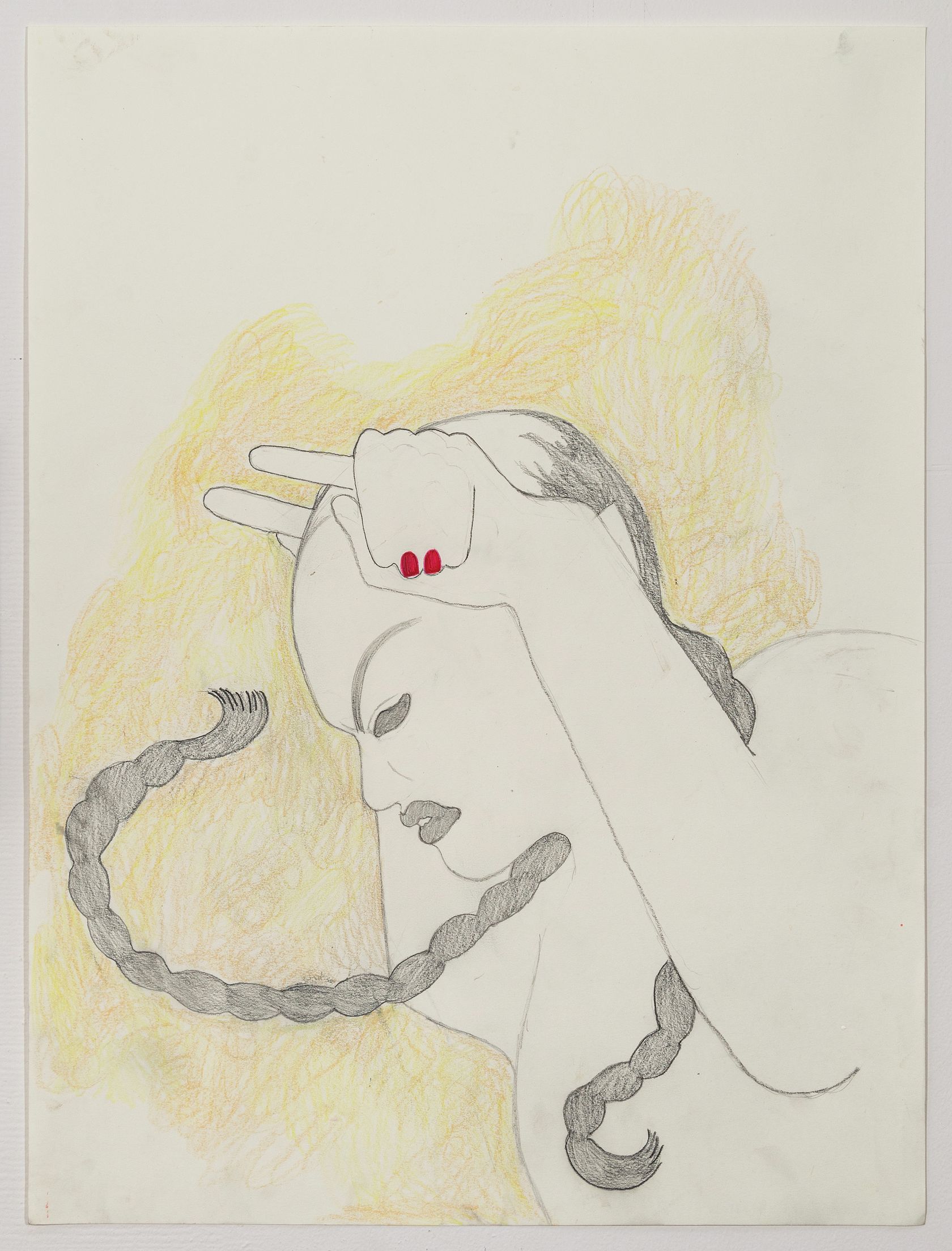 Amy Bravo
Como Tu , 2023
Graphite, wax pastel, ink and colored pencil

/

27 1/2

×

21 5/8

×

1 1/8

×

in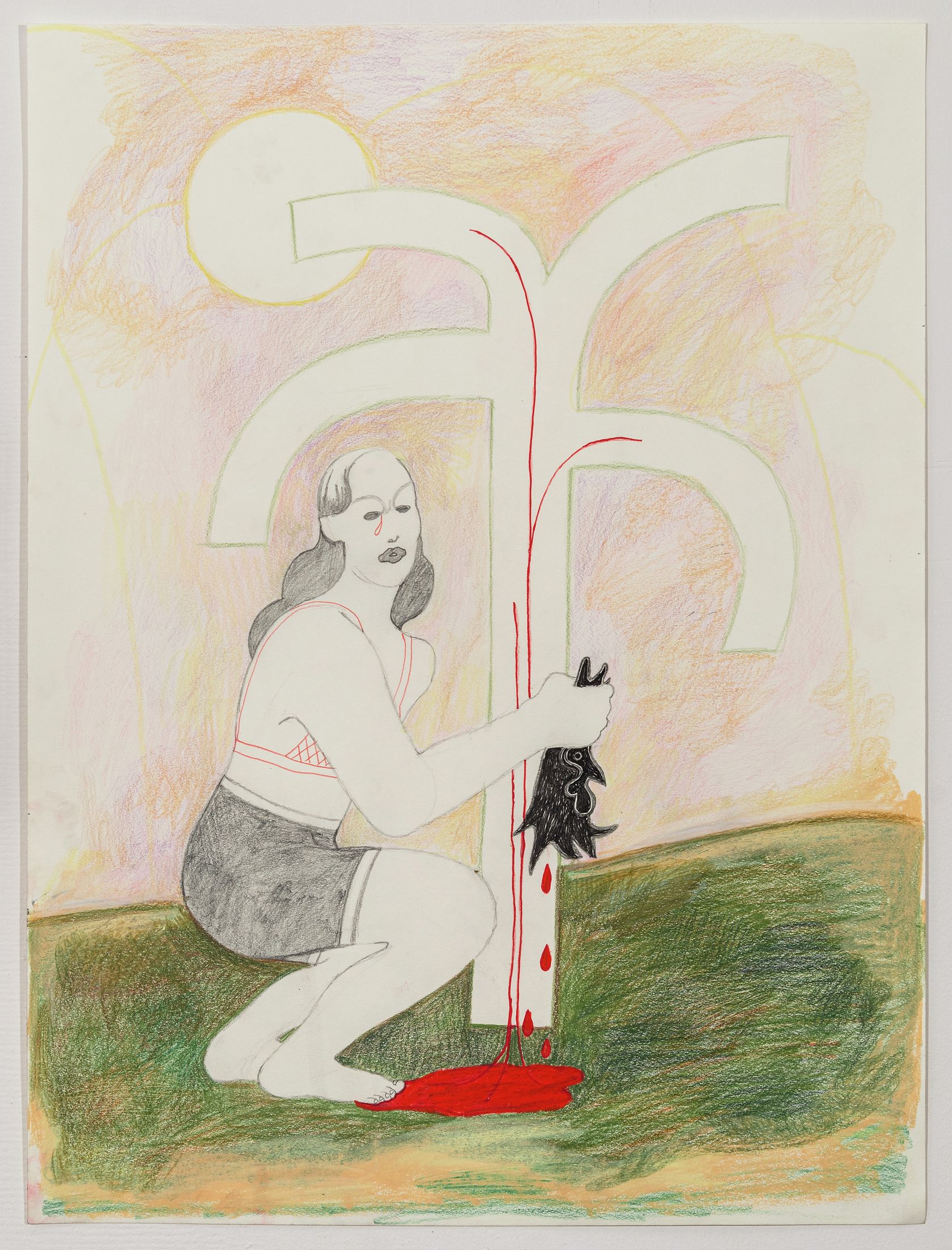 Amy Bravo
Bloodroot , 2023
Graphite, wax pastel, ink and colored pencil

/

27 1/2

×

21 5/8

×

1 1/8

×

in
A major figure of 20th century literature and ingenious inventor of the cut-up technique, William S. Burroughs (1914-1997) has achieved iconic status within the American counter-culture, whose influence reaches far further than just the world of literature. He almost exclusively dedicated the last fifteen years of his life to painting, from 1982 onwards experimenting with a series of techniques including his shotgun paintings and subsequently combine paintings, that brought together collage, stencils, ink drawing, spray paint, painting.

True to his non-conformist thinking, Burroughs painting sat outside any form of tradition or pre-established set of rules, using what he had on hand: suction cups, mushrooms… on completely unexpected supports: cardboard folder sleeves, doors… Automatic works, random processes and found materials, the artist's oeuvre is shot through with shamanistic thought and porous to invisible and magic worlds.

William S. Burroughs' oeuvre has been the subject of many retrospective exhibitions in both the USA and Europe, at the LACMA, Los Angeles (US), the ZKM, Karlsruhe (DE), the Deichtorhallen, Hamburg (DE), the Photographer's Gallery, London (UK) and the Espai d'Art Contemporani in Castellón de la Plana (ES). His works are included in the collections of the Whitney Museum of American Art, New York (US), the LACMA, Los Angeles (US), the British Museum, London (UK), the Kochi Museum of Art, Kochi (JP), the Kunsthalle Wien, Vienna (AT), the Museet for Samtidskunst / Museum of Contemporary Art, Roskilde (DK) and the Museum für Moderne Kunst (MMK), Frankfurt/Main (DE).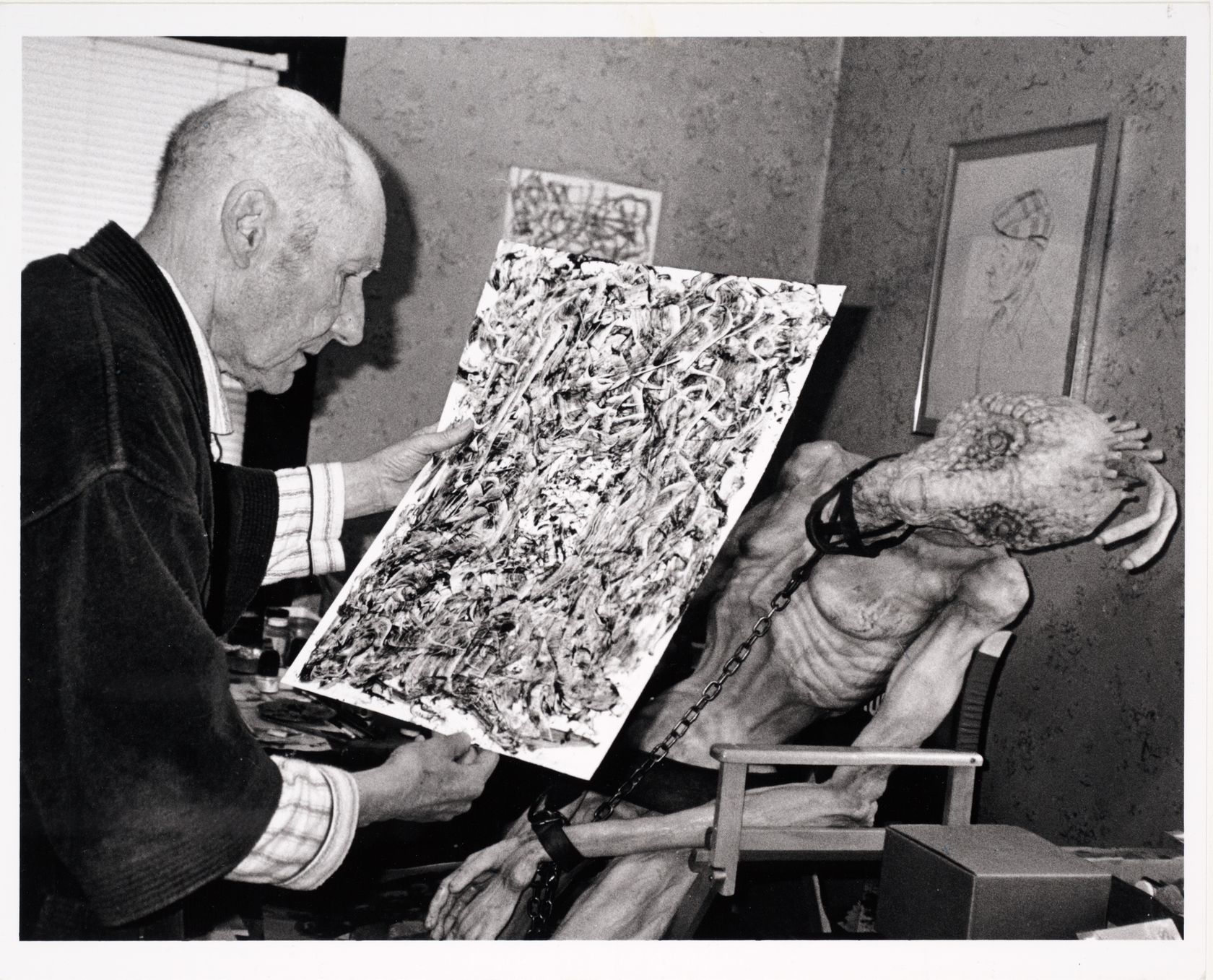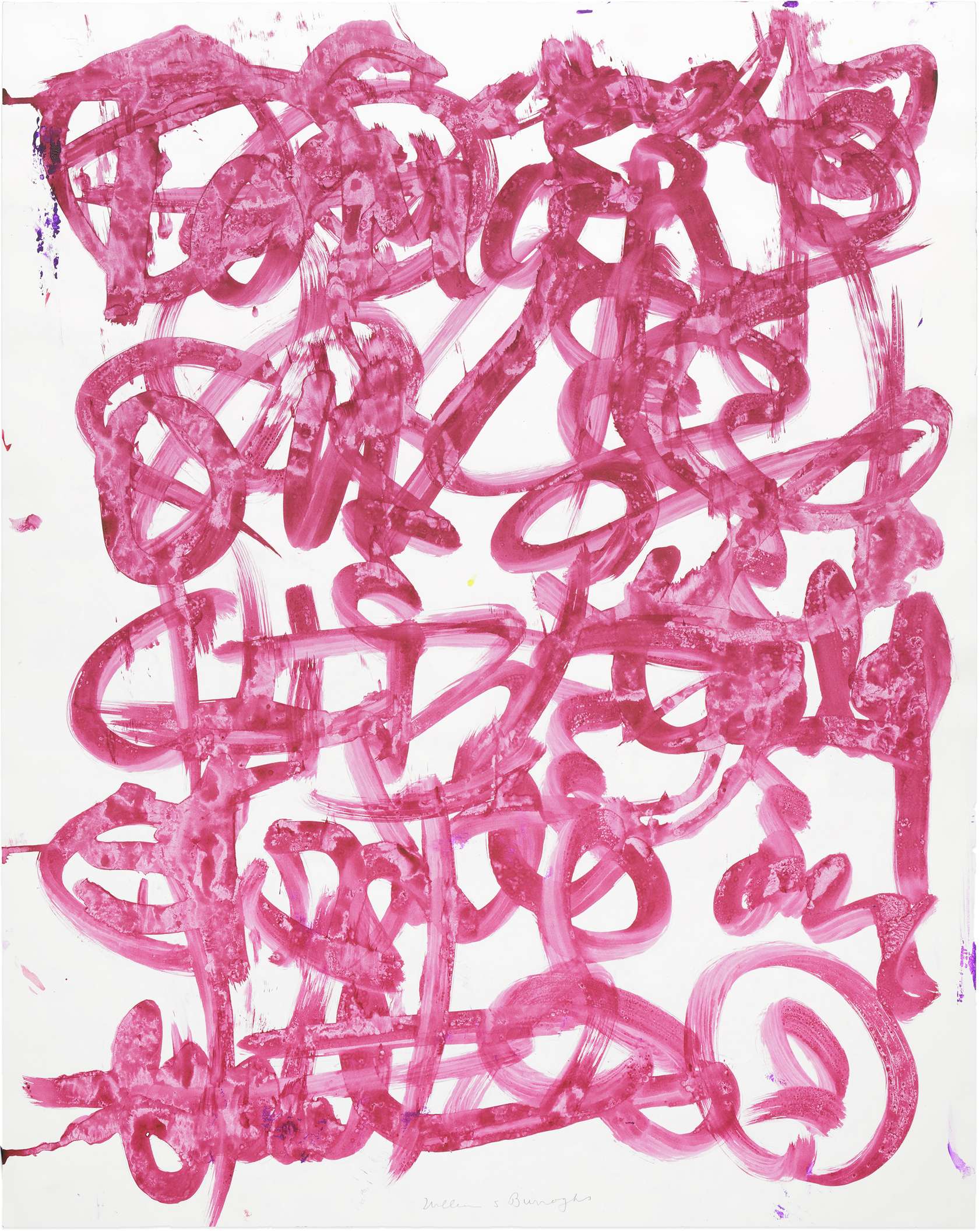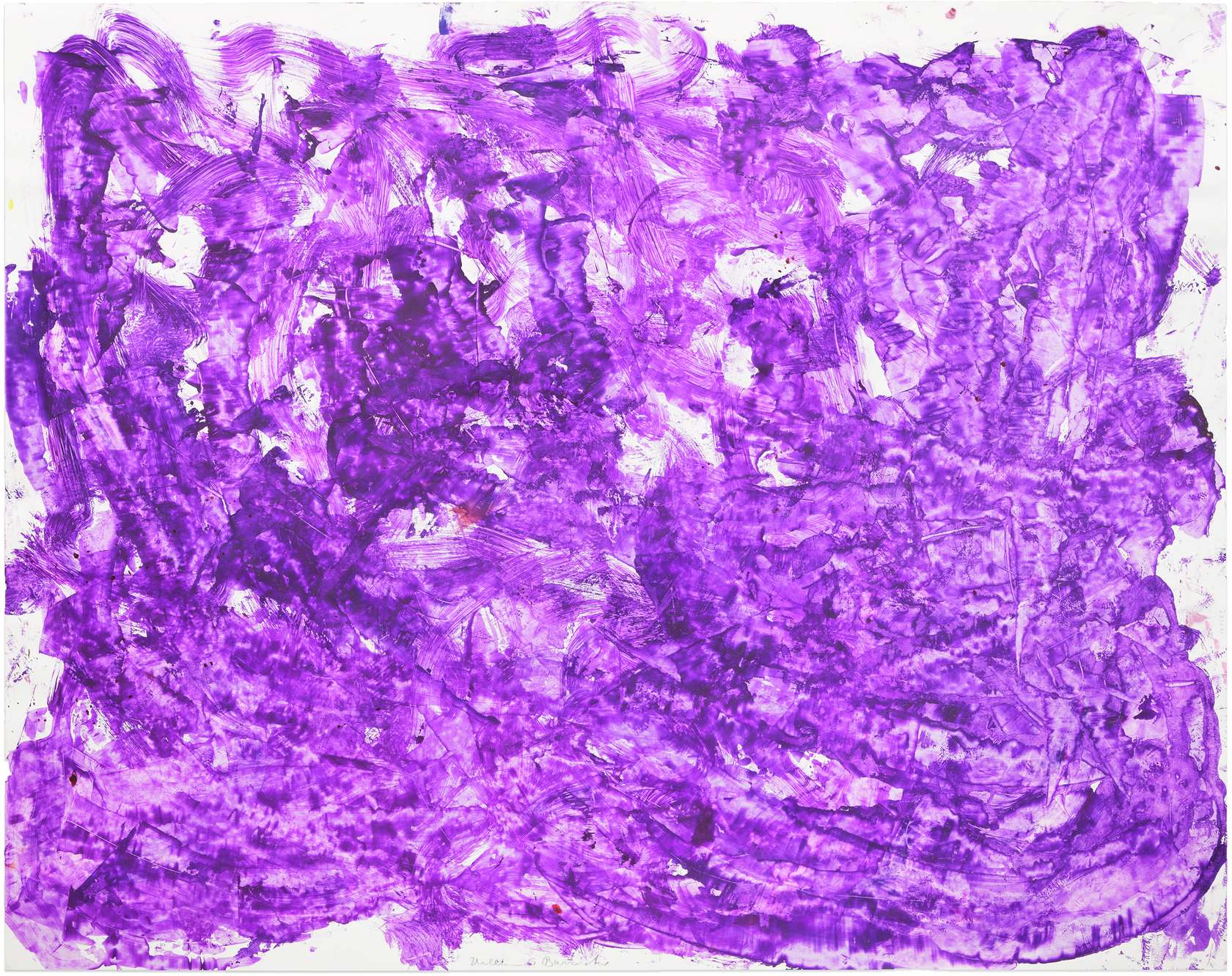 William S. Burroughs
Untitled (TOMORROW...) , 1992
Ink on file folder, double-sided

/

36 5/8

×

30 3/8

×

15

×

in
Born in 1967, Guillaume Dégé began by studying Chinese at the Langues O' School in Paris where he acquired a reputation as a distinguished Sinologist. Co-founder in 1994, with Daniel Vincent (alias Tom de Pékin), of the publishing house Les 4 Mers, he is also a discerning collector of images, antique alphabet primers and prints, which he uses to feed his practice of drawing and collage.

Since the publication of his first book, Un artiste à monter chez soi in 1993, Guillaume Dégé has written over thirty works published by amongst others Seuil and Gallimard. During his life as an illustrator that preceded that of an artist, he was commissioned by the Comic Opera in Paris as well as the MAC/VAL and regularly worked for the newspaper Le Monde over a period of ten years. His drawings have also appeared in several press publications such as Libération, Beaux-arts Magazine, La Tribune, etc.

Guillaume Dégé taught at the Haute École des Arts du Rhin in Strasbourg for nearly fifteen years, where he directed the illustration department and in 2019, he was appointed to the École Nationale Supérieure des Arts Décoratifs in Paris. Over the years, he has trained generations of artists, graphic designers and illustrators. He has also been a teacher and associate professor at the Xi'an academy of Fine Arts in China since 2015. He has been represented by Semiose Gallery (Paris) since 2007. He has enjoyed exhibitions at amongst other venues, the Fondation d'Entreprise Ricard, Paris and the Musée de Sérignan (FR) and his works are included in the collections of the Musée d'Art Moderne et Contemporain de Strasbourg (MAMCS), the Haute-Normandie and Ile-de-France FRACs and the CNAP. In his role as an exhibition curator, he organised "Dessins Pointus" at the Halle Saint-Pierre in 2004 and "Doré and Friends" at MAMCS in 2014.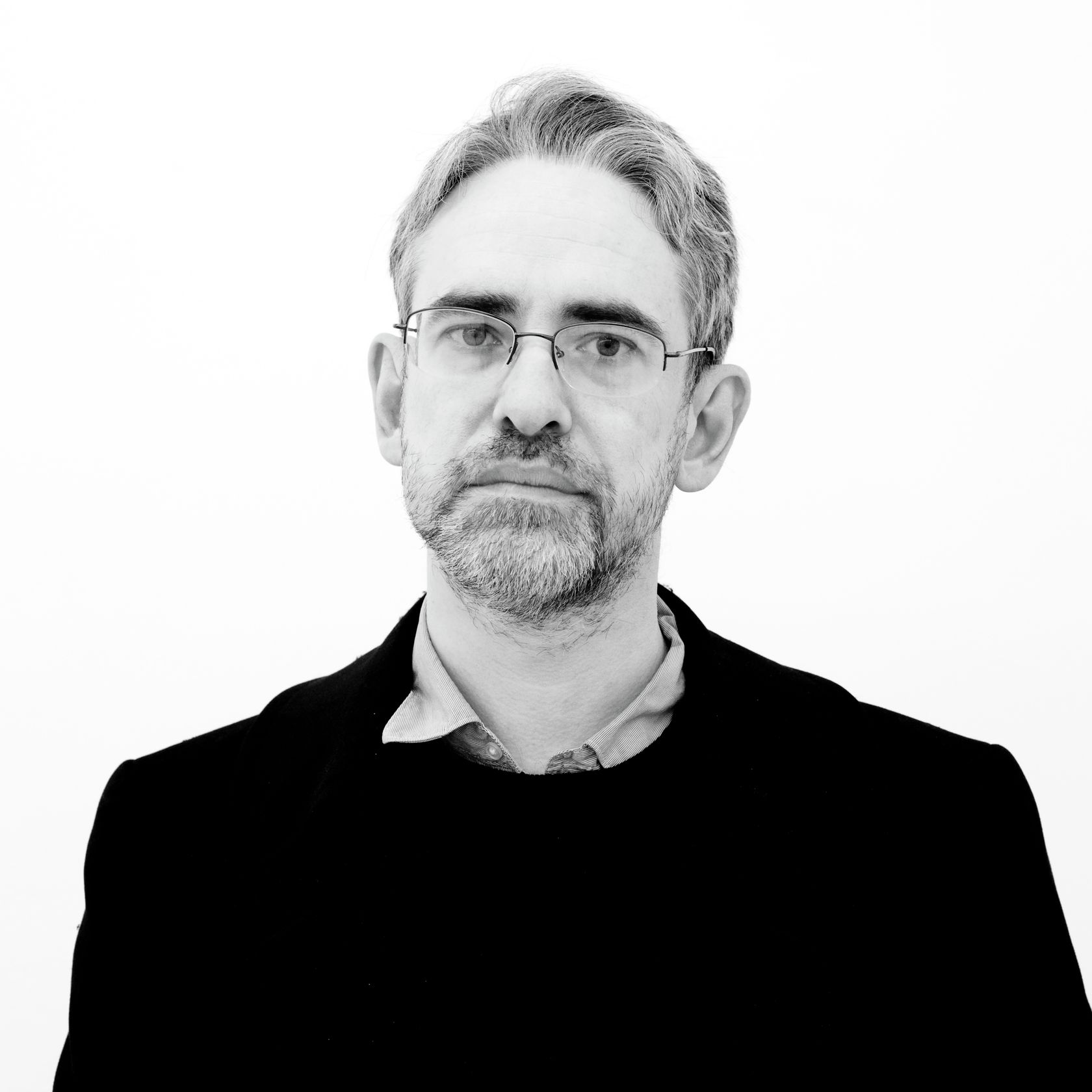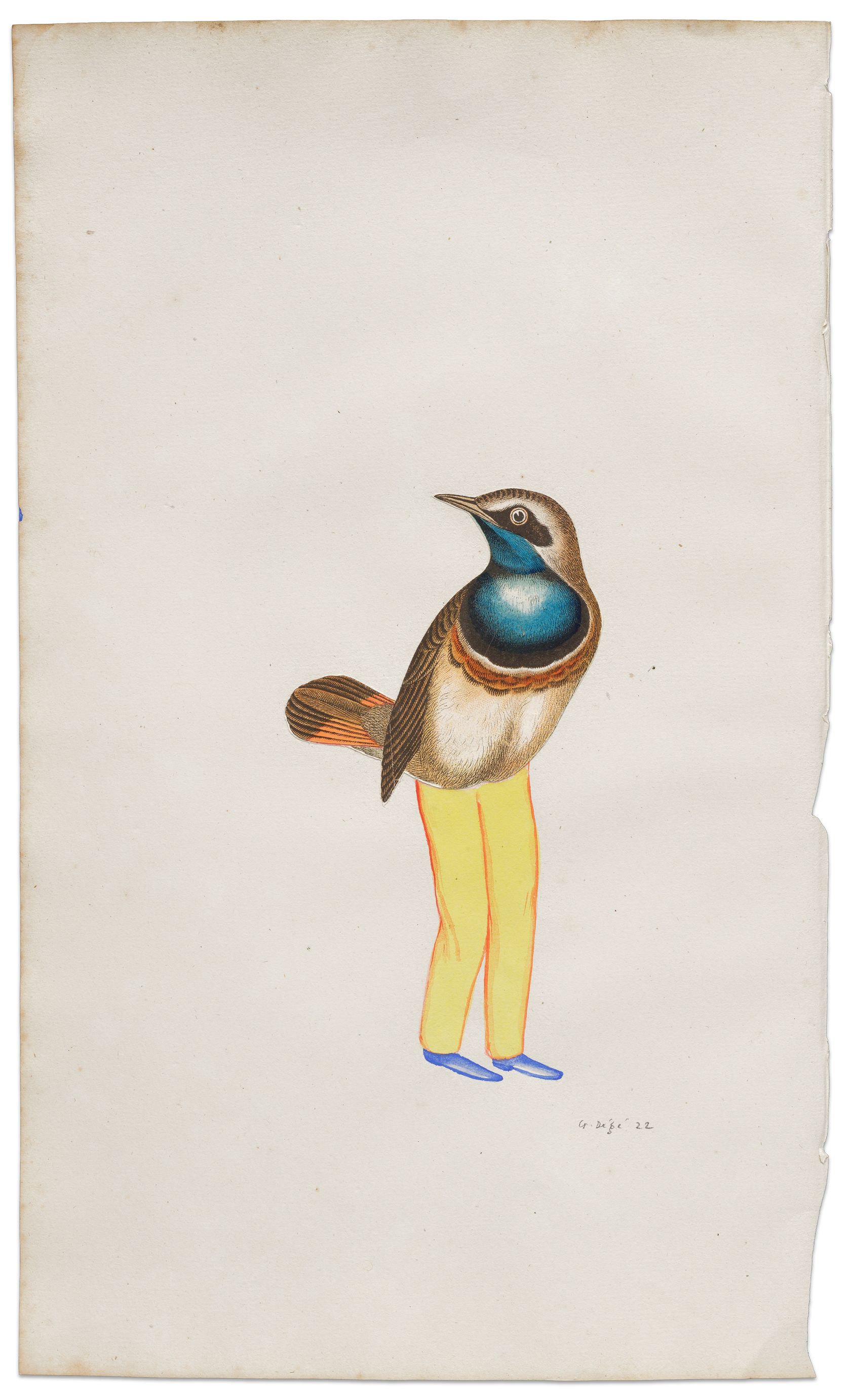 Guillaume Dégé
Sans titre , 2022
Gouache and collage on 18th century paper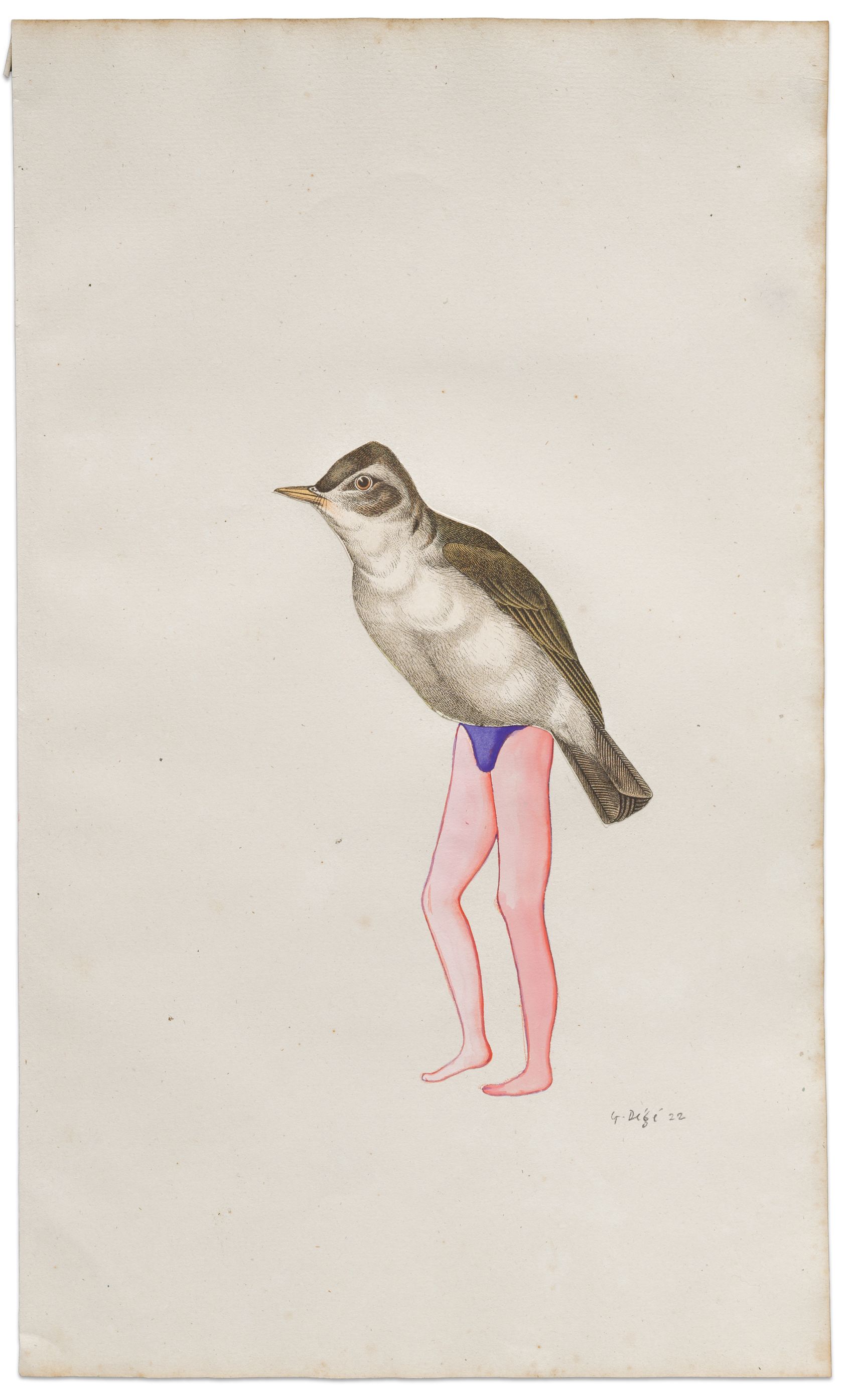 Guillaume Dégé
Sans titre , 2022
Gouache and collage on 18th century paper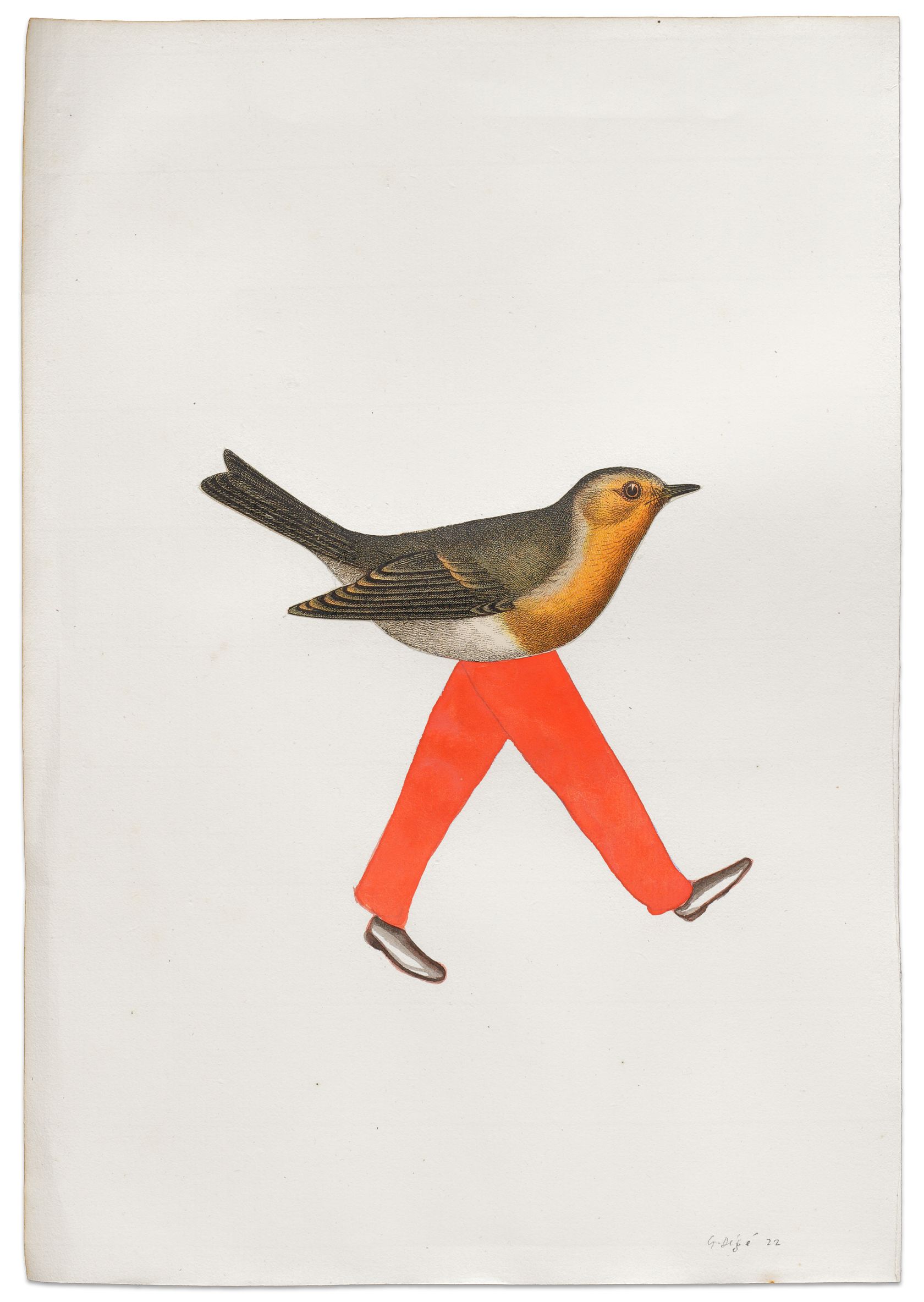 Guillaume Dégé
Sans titre , 2022
Gouache and collage on 18th century paper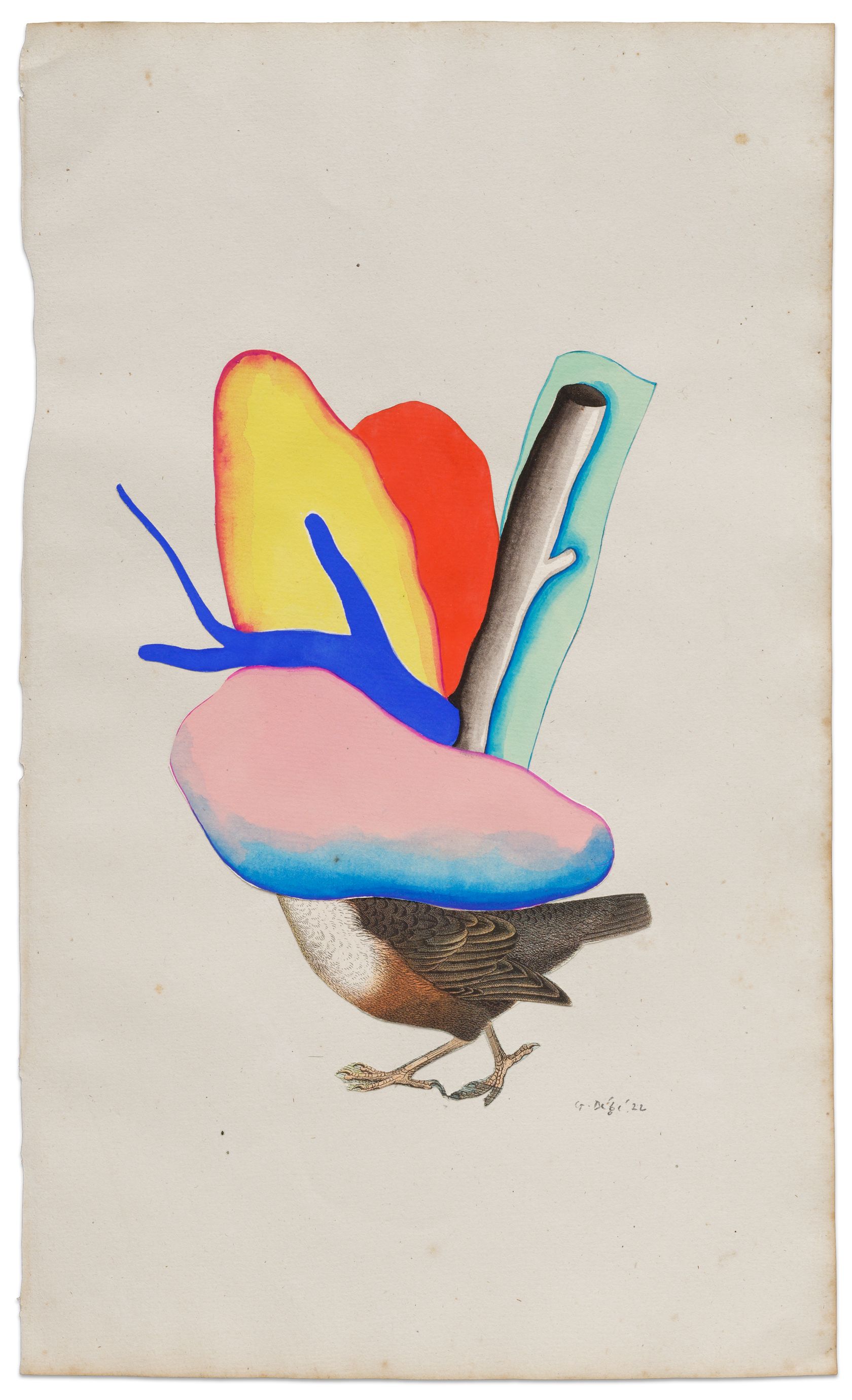 Guillaume Dégé
Sans titre , 2022
Gouache and collage on 18th century paper
Born in 1938, the New York artist Steve Gianakos began developing his artistic language in the mid-1960s, in the midst of the Pop Art explosion on one hand and during the early days of Minimal Art on the other. From the clean brushstrokes of his paintings from the 1970s and 80s to the photocopied collages that began to proliferate later in his career, his lines have always remained sober and precise, distilling his trivial truths with a visual efficiency worthy of commercial art. As a Pop artist, Gianakos delves into a variety of sources­—adult comics and 1950s children's books amongst others—while encompassing references to Dada as well as Surrealism, his oeuvre is denoted by its overtly erotic and gory, punk attitude, leading to its qualification as underground. The most obscene, comical and cruel scenes are depicted in the naïve style of vintage comic books, joyfully undermining the American Dream.

Gianakos' works feature in the most prestigious American public collections—MoMA, the Guggenheim, the New York Whitney Museum—as well as the CNAP collections in France. During the 1970s and 80s, he enjoyed exhibitions at PS1 in New York, Metro Pictures and the Marian Goodman and Barbara Gladstone galleries. In more recent years, he has participated in collective exhibitions at the MoMA, the Brooklyn Museum and the Queens Museum in New York and the Bonnefantenmuseum in Maastricht with Richard Artschwager, Peter Saul and John Wesley. In 2017, the Musée des beaux arts de Dole (FR) held a large retrospective exhibition of his oeuvres.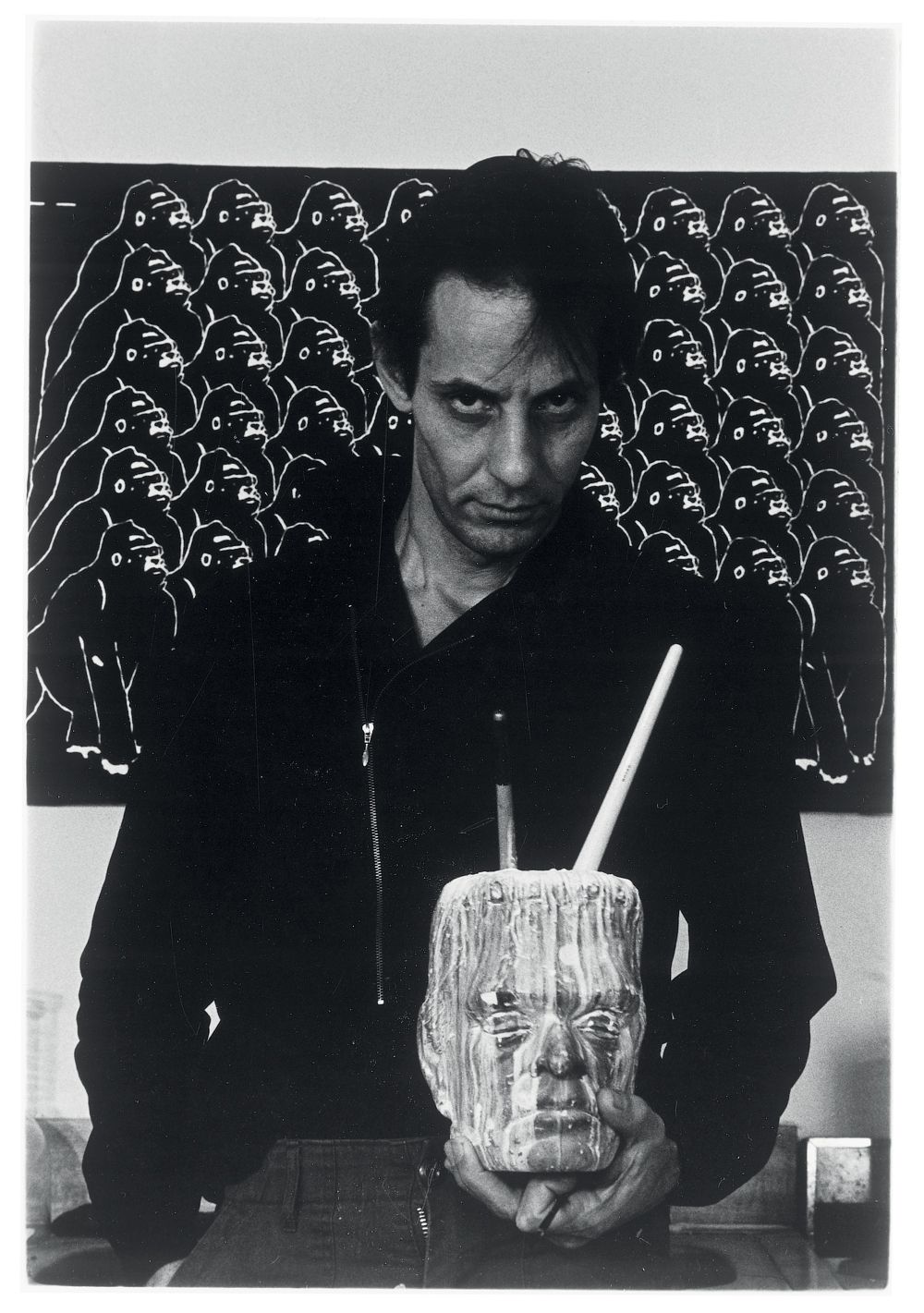 Hippolyte Hentgen is an artistic duo made up of Gaëlle Hippolyte and Lina Hentgen. Brought together under this fictitious name, which they consider as a space for their shared work as well as a means of distancing any notion of authorship, the two artists explore a field of research that mainly revolves around the image. While their practice is principally rooted in drawing, they also venture into other areas of representation such as performance, stage design, film and sculpture. Through their appropriation of the codes of the comic strip and cartoons from the press, they employ a wide range of tones (from the burlesque to the naïve) and references (from Jim Shaw to the cartoons of the 1930s, from the underground to modernism, from textile patterns to Japanese decorative paper) and by means of the transposition and grafting of images, have brought back to life a field of mass visual culture. Drawing on the history of art as well as popular culture, they seize upon iconic images anchored in the collective consciousness and render them in an immense protean and composite collage of great stylistic freedom. Cultural clichés, worn down to the bone, take on a new life under the pen of Hippolyte Hentgen. Employing a wide range of media, formats and styles, their work is pleasing to the eye, yet never ceases to surprise with its colorful, amusing and sometimes acerbic verve.

Hippolyte Hentgen's work has been shown in numerous solo exhibitions and has recently been exhibited at the MAMAC in Nice, the Printemps de Septembre Festival in Toulouse, at the Abbaye Sainte-Croix Museum in les Sables-d'Olonne and at the Hors-Pistes Festival at the Pompidou Centre in Paris. Their work is held in the collections of the CNAP, Paris, the Abbaye Sainte-Croix Museum, Les Sables-d'Olonne, the MAC/VAL, Vitry-sur-Seine and numerous FRACs.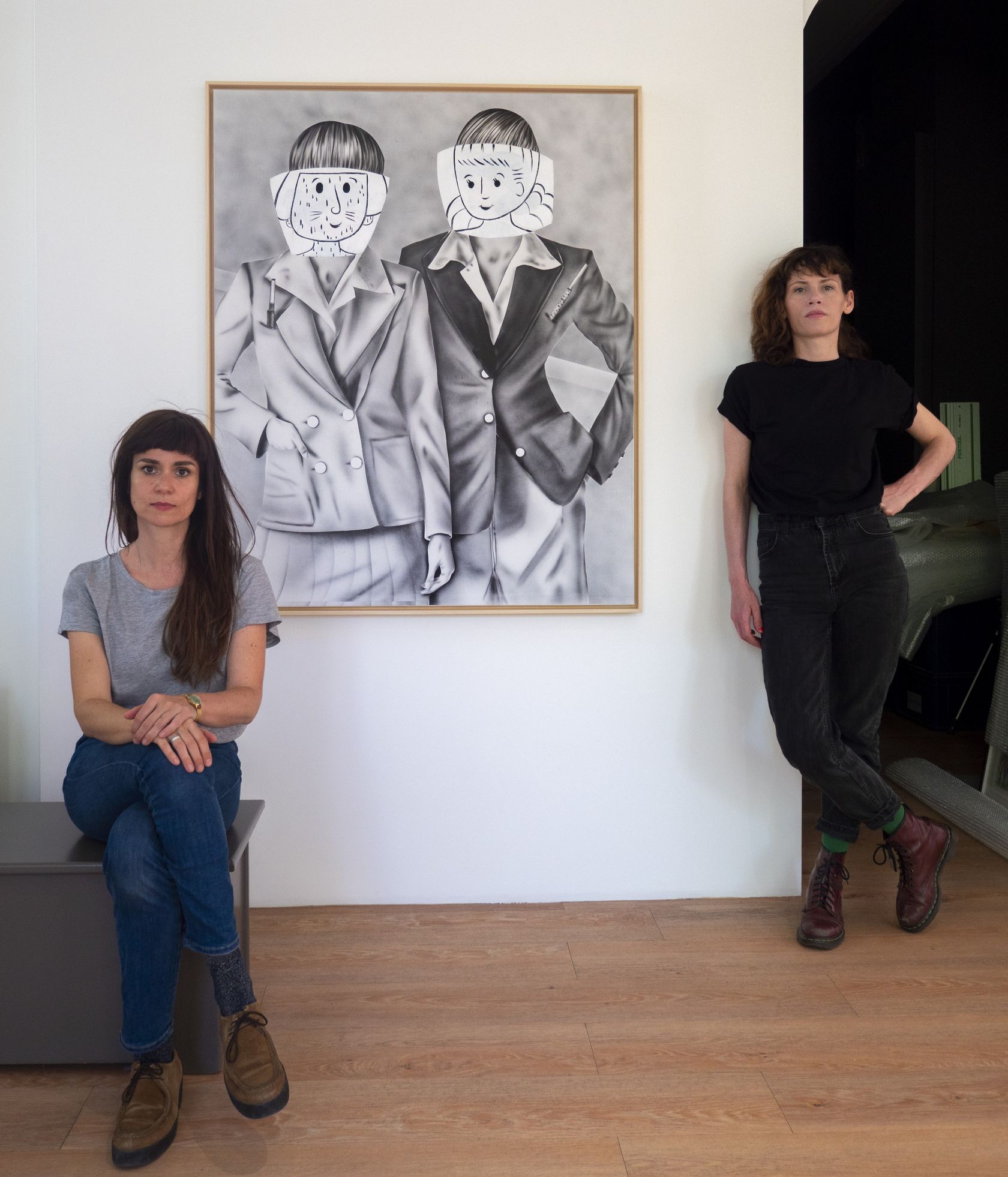 Justin Liam O'Brien is a narrative painter. His works portray characters, mainly male, within spaces inspired by the artist's everyday life as well as historical painting. The artist delights in depicting the ambivalence of intimate emotions, often at bursting point or in the second after the explosion. He explores the psychological dimension of the relationship between bodies and architecture, where an individual is depicted in the solitude of an apartment or perhaps multiplied in the setting of a crowd. Justin Liam O'Brien's very particular style of painting is immediately recognizable through its rounded forms, typical of the computer software he used as a 3D animator. His characters often bear the features of the artist himself or his family members and close friends, whereas the curvaceous lines and smooth skin of their bodies, painted in flat color tints, using a bold palette, with very few effects apart from the use of subtle color gradients, evoke the architypes of classical painting. The compositions condensed within the paintings and the rounded perspectives generate a claustrophobic and disorienting effect. As part of a lineage of Queer artists, O'Brien explores the subjects of identity, isolation, sadness and humor, set in a changing world.

Justin Liam O'Brien was born in 1991 in Flushing, New York and lives and works in Brooklyn. After graduating from the Pratt Institute in 2016, his work was exhibited at the Richard Heller gallery in Los Angeles and the Monya Rowe gallery in New York. He also participated in a group show on the subject of the self-portrait, curated by Sasha Bogojev at High Line Nine in New York. He has featured in articles in Elephant Magazine, Artforum and Juxtapoz.
Since the 1990s, Françoise Pétrovitch has produced one of the most powerful bodies of work on the French art scene. Amongst the numerous media she has explored—ceramics, glass, ink washes, painting, print and video—drawing retains pride of place. In constant dialog with the artists who have preceded her, she has been able to measure herself against the incontrovertible motifs of "high art"­­—Saint Sebastian, still lifes, etc. Pétrovitch's art reveals an ambiguous world, willingly transgressive, playing with conventional boundaries and eluding any interpretation. Intimacy, fragments of life and disappearance, alongside the themes such as the double, transition and cruelty run through her work, which is inhabited by animals, flowers and beings, and whose atmosphere fluctuates between light and dark, rarely leaving the spectator unmoved.

She has enjoyed numerous solo exhibitions both in France and abroad. The FHEL in Landernau (FR) hosted a major retrospective of her work and a monographic exhibition was dedicated to her at the BnF, Paris in 2022. In 2018, she was the first contemporary artist to be awarded a solo exhibition at the Louvre-Lens. Over the past few years, Pétrovitch has produced monumental wall drawings and large format ensembles, for the Galerie des Enfants at the Centre Pompidou, the West Bund Museum, Shanghai, or for the Ballets du Nord Company. Her works are included in many private and public collections, most notably the Centre Pompidou, Paris (FR), the Voorlinden Museum, Wassenaar (NL), the National Museum of Women in the Arts, Washington D.C. (US), the Musée Jenisch, Vevey (CH), the Musée d'Art Moderne et Contemporain of Saint-Etienne (FR) and of Strasbourg (FR), the MAC VAL (FR) and numerous regional art centers throughout France as well as the Salomon and Guerlain Foundations.